A new 2022 Valorant Pride bundle is coming for Pride Month.
The new Pride bundle features eight different player cards and a gun buddy, part of Riot Games' rollout of Pride items across all its games including League of Legends, Teamfight Tactics, Legends of Runeterra, and Wild Rift.
Each player card features a different Pride flag, representing different identities in the LGBTQ+ community, including transgender, non-binary, pansexual, lesbian, bisexual, and asexual.
Seven of the flags were already available last June, but there is a new addition in the form of the Pride flag for gay men.
Here's how to get the bundle for yourself.
---
---
The 2022 Pride bundle is available for free in the store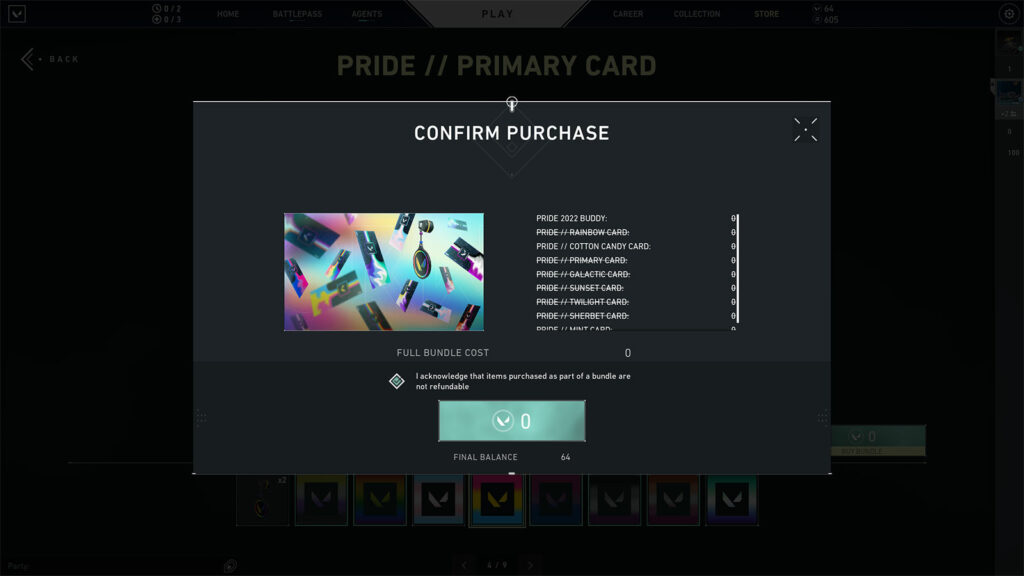 Riot has made it easier for players to obtain the Pride cards this year. While you had to enter a code to redeem the cards individually the year before, the entire collection is now available directly in the in-game store as a featured bundle.
But don't worry – it is completely free. All you have to do is click on the bundle, check the purchase acknowledgment, and then click on the green price button.
All eight cards and the gun buddy will be automatically added to your collection.
"We want all players to feel their identities are represented," said Riot in a blog post. "No matter where you live, who you are, or who you love, we want to make sure you can see yourselves while you play."
READ MORE: VCT APAC Stage 2 Challengers Play-ins: Schedule, results, teams, where to watch