The Filipino gaming community was struck with sad news when popular Twitch and Valorant streamer, Kyedae "Kyedae" Shymko, announced her withdrawal from CONQuest Festival 2023 because of ongoing health issues.
On March 3, she revealed that she was diagnosed with acute myeloid leukemia (AML), a form of cancer that impacts the blood and bone marrow, and she has been receiving medical treatment ever since.
Kyedae hinted more than two weeks ago on her stream that she may be unable to attend the Filipino gaming convention this year. Later, she made an official announcement, informing her Filipino fans about her withdrawal from the event.
---
---
Kyedae addresses her Filipino fans regarding her CONQuest Festival 2023 appearance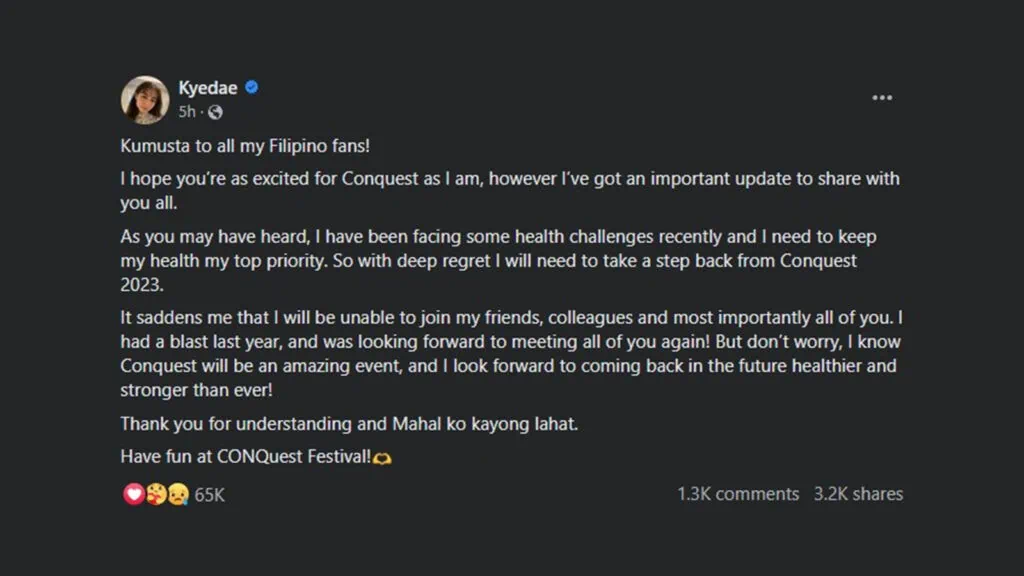 The 100 Thieves content creator has been struggling with cancer, and her condition has been a major concern. She addressed her Filipino fans in a post on her Facebook page on May 5 and explained her situation.
"As you may have heard, I have been facing some health challenges recently, and I need to keep my health my top priority," she said. "So, with deep regret, I will need to take a step back from Conquest 2023."
"It saddens me that I will be unable to join my friends, colleagues, and most importantly, all of you," she continued. "I had a blast last year and was looking forward to meeting all of you again! But don't worry, I know Conquest will be an amazing event, and I look forward to coming back in the future healthier and stronger than ever!"
Last year, Kyedae watched the Alliance Games finals, participated in the influencer Valorant showmatch, and hosted a meet-and-greet with her fans.
After the end of CONQuest Festival 2022, Kyedae promised her Filipino fans that she would return the following year. She even took to Twitter, mentioning that she would bring her fiance and Valorant superstar Tyson "TenZ" Ngo.
CONQuest Festival 2023 is scheduled to take place from June 2 to 4, and it has an impressive lineup of headliners this year, including some of the biggest names in the gaming industry.
Rachell "Valkyrae" Hofstetter, Leslie Ann "Fuslie" Fu, Imane "Pokimane" Anys, Lily "LilyPichu" Ki, Michael Reeves, Sykkuno, Angela "AriaSaki" Don, and Jaime "iGumDrop" Tan are some of the major guests attending the event.
READ MORE: You must visit T1's PC bang the next time you're in Seoul, for it's an experience like no other