Riot Games will award FunPlus Phoenix 200 VCT circuit points and US$25,000 in prize money, even though the organization will miss out on VCT Stage 1 Masters Reykjavik.
This is the equivalent of an eighth-place finish at Masters Reykjavik, the lowest placement they could have gotten at the event.
The CIS squad was set to attend the first international Valorant LAN event as EMEA's top seed, after beating G2 Esports 3-1 in the grand final of the VCT EMEA Stage 1 Challengers playoffs.
Unfortunately, FPX was unable to find a way around the travel restrictions affecting its Russian and Ukrainian players, which meant that it could not field a complete roster in Iceland. Instead, Team Liquid will take its place as the third EMEA representative.
---
FunPlus Phoenix to receive VCT circuit points and US$25,000 despite missing Masters Reykjavik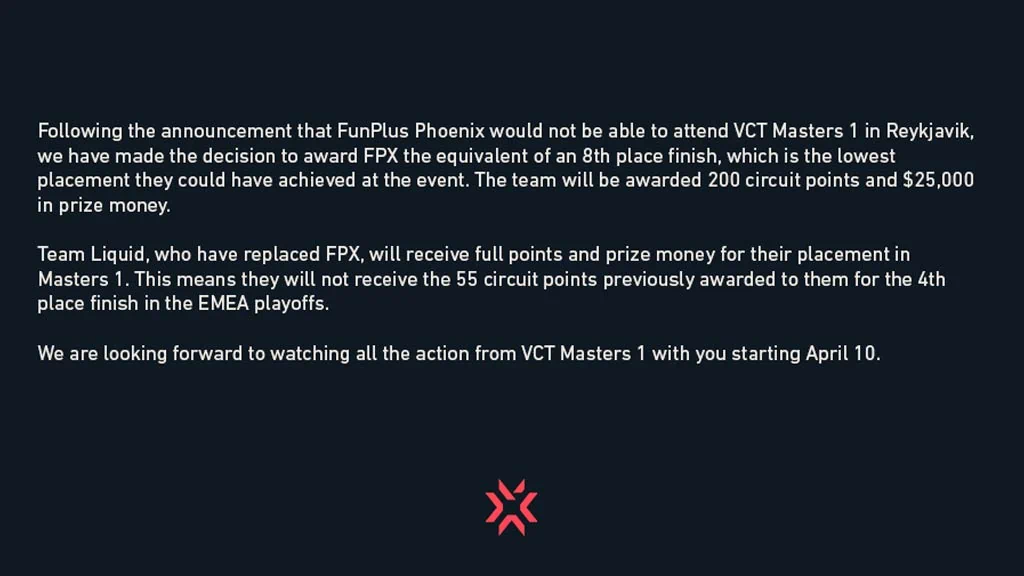 After their strong performance at VCT EMEA Stage 1 Challengers, which included a 13-0 map win against a Fnatic team that went undefeated in the group stage, FPX had been pegged as one of the favorites to take the entire tournament in Iceland.
Unfortunately, despite Riot's best efforts to find a solution to allow the roster to attend the tournament, the team was eventually unable to overcome its travel challenges. Andrey "Shao" Kiprsky, Dmitry "SUYGETSU" Ilyushin, and Kirill "ANGE1" Karasiow were among the players affected by the travel restrictions due to the ongoing conflict between Ukraine and Russia.
Shao and SUYGETSU are Russian and could not make their way to Iceland after the bans on Russian airlines, while ANGE1 is Ukrainian.
---
---
Riot Games will allow Team Liquid to receive the full points and prize money as EMEA's third representative at Masters Reykjavik. However, the European squad will not get the 55 VCT circuit points it was previously awarded for finishing fourth at the VCT EMEA Stage 1 Challengers playoffs.
Masters Reykjavik 2022 begins on April 10 with the group stage matches.
READ MORE: Hiko likely to depart 100 Thieves Valorant, according to report