Newly crowned VCT EMEA Stage 1 Challengers Playoffs champions FunPlus Phoenix will not be able to attend Masters Reykjavik 2022 due to ongoing issues faced by the CIS roster.
Riot Games cited the travel restrictions in Ukraine and Russia, along with existing COVID-19 regulations, as the primary concerns which have prevented the team from making it to Iceland.
"Over the past few weeks, our events, competitive operations, and mobility teams worked to find solutions to ensure the FunPlus Phoenix roster could attend Masters Reykjavik," Riot Games explained. "Unfortunately, and through no fault of their own, FunPlux Phoenix will not be able to field a complete roster in Reykavik."
---
---
FunPlus Phoenix pulled from VCT Stage 1 Masters Reykjavik due to travel restrictions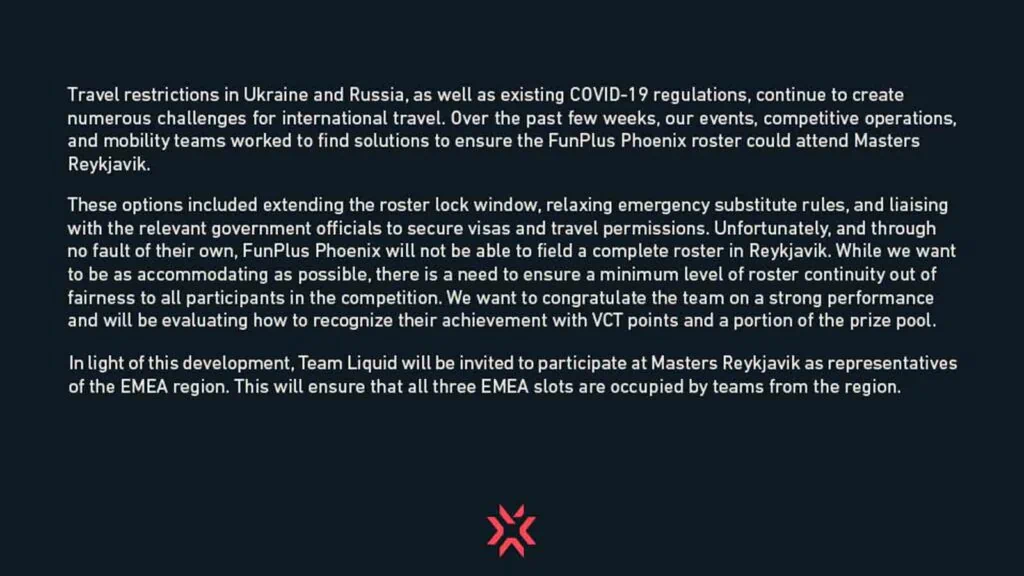 Three of FPX's members have had to deal with the aforementioned travel restrictions due to the ongoing conflict between Ukraine and Russia. Andrey "Shao" Kiprsky and Dmitry "SUYGETSU" Ilyushin are from Russia, while Kirill "ANGE1" Karasiow is from Ukraine.
"While we want to be as accommodating as possible, there is a need to ensure a minimum level of roster continuity out of fairness to all participants in the competition," Riot Games stated.
ANGE1 was initially unable to play for FPX in the VCT EMEA Stage 1 Challengers Group Stage when the conflict between Russia and Ukraine began. The Chinese-based organization then signed Kamil "baddyG" Graniczka as their substitute player.
ANGE1 rejoined the squad upon fleeing from Kyiv after the team qualified for Iceland. He was with his team when they won their last two matches against Fnatic and G2 Esports, eventually earning the VCT EMEA Stage 1 Challengers' champions title.
After the event concluded, reports began to surface that Riot Games had asked teams to prepare substitutes for players from Russia and Ukraine because they would not be able to travel to Iceland.
Riot Games is currently evaluating how to recognize the CIS squad's achievement of winning VCT EMEA Stage 1 Challengers with VCT points and a portion of the prize pool, but FPX's Pontus "Zyppan" Eek stated on Twitter that the decision didn't seem fair.
Team Liquid to replace FPX in Iceland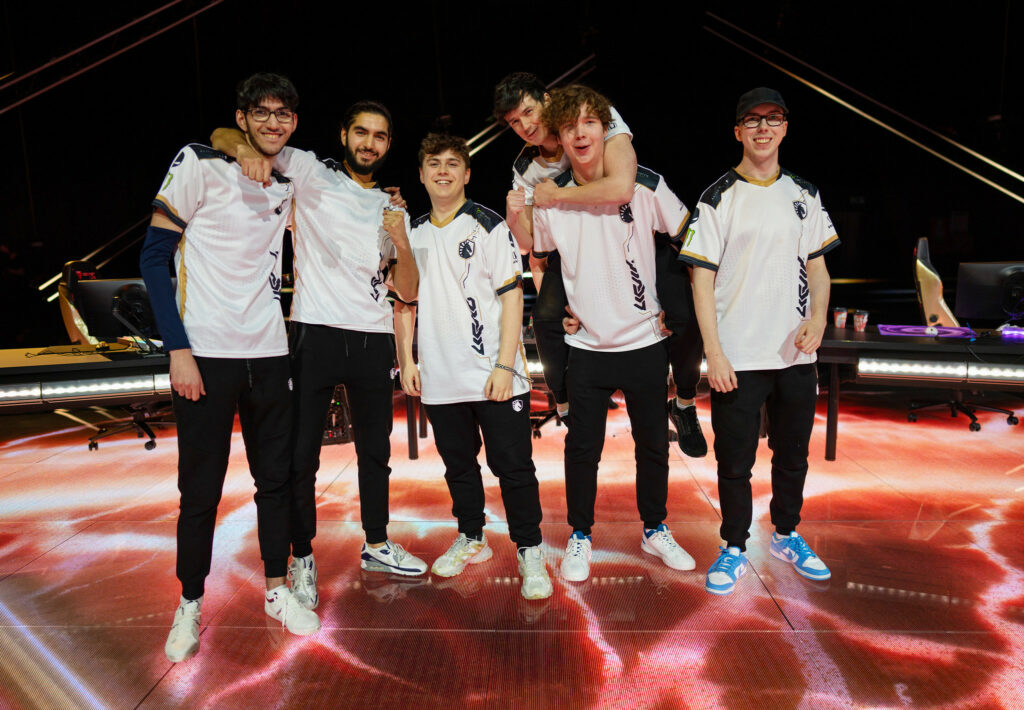 Team Liquid has since been invited as a replacement by Riot Games to participate at Masters Reykjavik as representatives of the EMEA region. The European squad initially fell short of qualifying for the event after losing to G2 Esports in the lower bracket semifinal, 0-2. But since they finished in fourth place, they were the next team in line to advance.
"This will ensure that all three EMEA slots are occupied by teams from the region," Riot said in the announcement.
Team Liquid will join the 11 elite teams at VCT Masters Reykjavik, which is set to take place from April 10 to 24. All teams will be competing for a pool of 3,400 circuit points that will go toward qualifying for Valorant Champions at the end of the year.
READ MORE: The best Valorant crosshair codes used by pro players: TenZ, Asuna, Hiko