Sweden-based esports organization Alliance has benched its entire Valorant roster, according to its players. All five players said on Twitter that they have been allowed to explore their options with new teams.
Alliance has not officially announced the move on any of its social channels.
The team played its last match in the Valorant Regional League (VRL) Northern Europe: Polaris in March, where they exited in fourth place after losses to Tundra Esports and EXCEL.
---
---
All players on the Alliance Valorant roster are now allowed to explore their options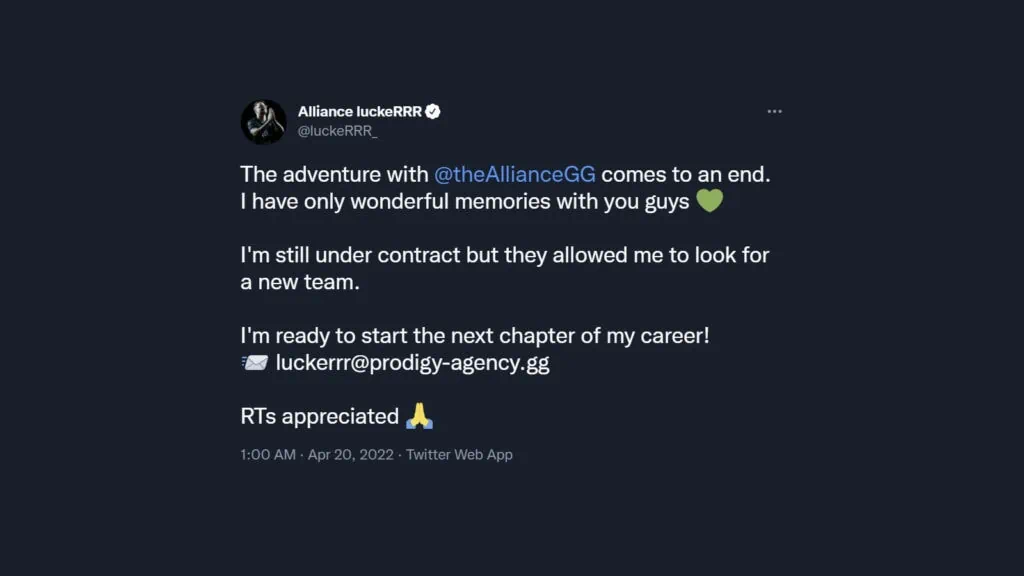 Mathias "SEIDER" Seider was among the first to break the news. "The entire Alliance Valorant roster have been allowed to explore our options. I am still under contract with Alliance but am allowed to explore my options," the Danish player wrote.
Alliance has been struggling to break into the Tier 1 of the EMEA Valorant scene. Earlier this year, the team took part in the closed qualifiers for VCT Europe Stage 1: Challengers 2, where they failed to make it past Team Vitality and eventual EMEA top seed G2 Esports.
The organization recently loaned Enzo "Fearoth" Mestari to Fnatic, so he could play as a stand-in for Russian player Andrey "BraveAF" Gorchakov at VCT Stage 1 Masters Reykjavik 2022.
Fnatic ended up having to play with two stand-ins and are out of the tournament after two straight group stage losses. Nevertheless, Fearoth put on a respectable performance in Iceland, with a 230 Average Combat Score (ACS) across four maps.
The Alliance in-game leader is now also on the lookout for new opportunities, alongside teammates Tautvydas "hype" Paldavicius, Niels "luckeRRR" Jasiek, and Sigurd "Zik" Jensen. Zik had originally been benched in late March, and it looks like the rest of the team will also seek new homes.
Coach Casper "Desmo" Rasmussen confirmed his free agency as well, and said he was looking for a new role as coach, assistant coach, or analyst.
READ MORE: Paper Rex notch Yoru's first-ever win on VCT international stage