Jaccob "yay" Whiteaker expressed his disappointment after DSG (Disguised) was knocked out of North America's Challengers League following their 2-0 loss to MAD Lions in the play-in relegation tournament.
The former Cloud9 superstar tweeted that he's never been so depressed in his entire life and that they were making such careless mistakes that even ranked players could do better than them.
---
---
Yay and Disguised are eliminated from the NA Challengers League
Jeremy "Disguised Toast" Wang's Valorant team was considered one of the favorites to qualify for the VCT Ascension Americas tournament after they added Valorant superstar yay to their lineup before Split 2.
Yay was a standout player for OpTic Gaming in 2022, earning the title of best Valorant player in the world that year. He was crucial to OpTic's success, powering them to a championship win at Masters Reykjavik and top-three finishes at Masters Copenhagen and Valorant Champions 2022.
However, yay wasn't able to achieve the same success with Disguised, as they finished their group stage run without a single win. They lost five straight matches, which dropped them to the play-in relegation tournament, where they lost two more matches that eliminated them from the NA Challengers League.
Aside from expressing his frustration about the team's run, yay explained that he will be donating his last paycheck from Disguised to charity.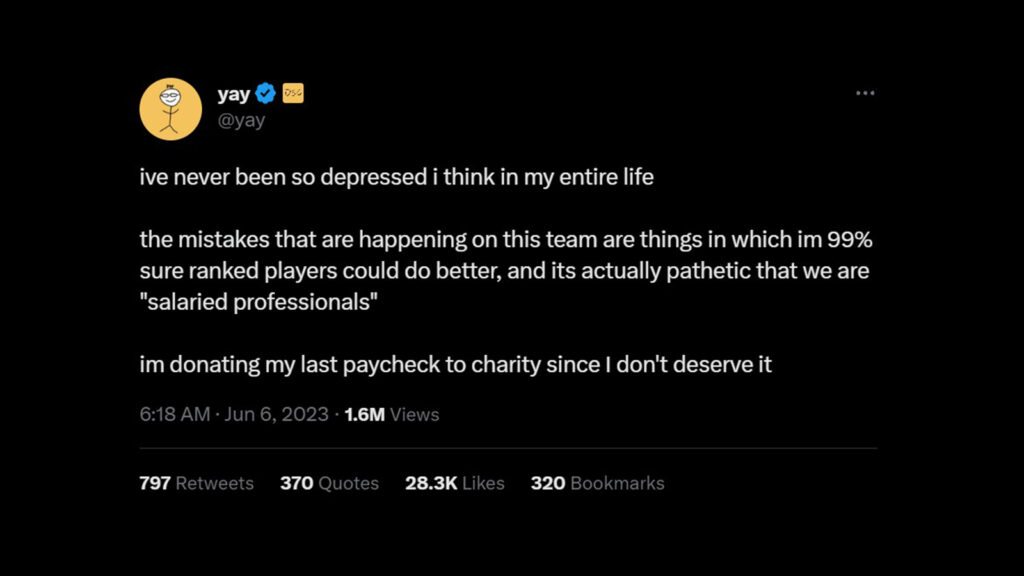 "I don't deserve it," he said.
There has yet to be an official announcement from the organization's owner, Disguised Toast, if plans to keep the team together.
READ MORE: Valorant Operator guide: 5 ways to become a sniper god, according to Wardell