Jaccob "yay" Whiteaker, one of the most talented and accomplished Valorant players, has officially joined Disguised (DSG) after a brief stint with Cloud9.
El Diablo's arrival brings a wealth of experience to DSG's already talented lineup. He was a standout player for OpTic Gaming in 2022, earning the title of the best Valorant player in the world for that year.
He was a crucial component in OpTic's success, powering them to a championship win at Masters Reykjavik and top-three finishes at Masters Copenhagen and Valorant Champions 2022.
Yay will bring additional firepower to DSG when they compete in the next Valorant NA Challengers split.
---
---
Yay joins Disguised Valorant roster and returns to pro play after a short stint with Cloud9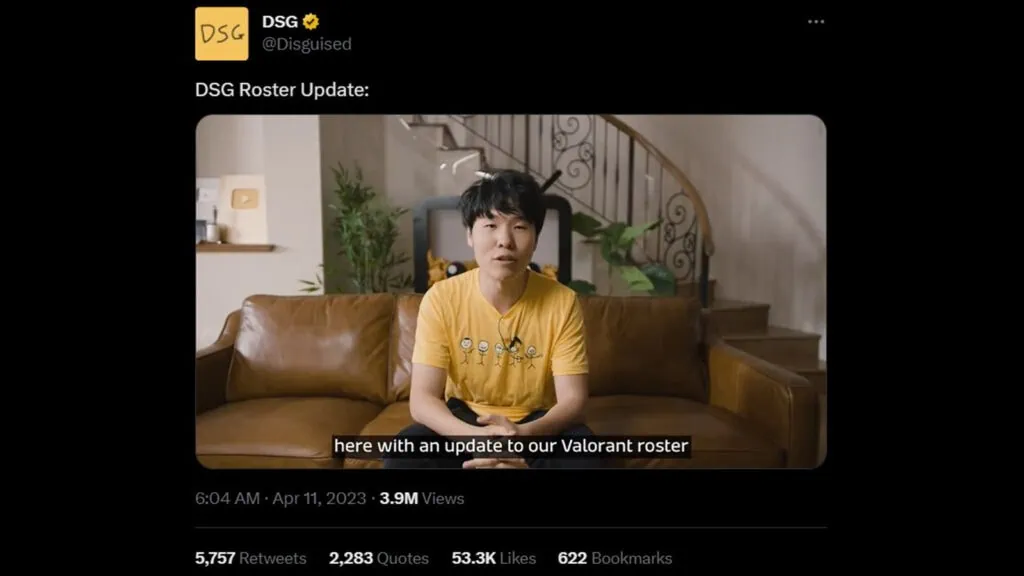 After a successful run in 2022, yay was signed by Cloud9 ahead of Riot Games' new franchise league for the VCT 2023 season. The organization decided to part ways with yay after they finished in 9th-16th place at VCT LOCK//IN.
After the VCT Americas roster spots were filled before the international leagues began, yay found himself excluded from the highly competitive tier 1 Valorant scene.
A month following his departure from Cloud9, Jeremy "Disguised Toast" Wang, the founder and operator of the tier 2 DSG Valorant team, made an April Fool's Day joke in a tweet that claimed he had signed El Diablo to his team.
Although initially believed to be a prank, it was later revealed that the tweet was, in fact, legitimate, as the Valorant superstar officially joined DSG around a week after the tweet was posted.
DSG Valorant roster
Joseph "clear" Allen
Amgalan "Genghsta" Nemekhbayar
Joshua "steel" Nissan
Damion "XXiF" Cook
Jaccob "yay" Whiteaker
Chris "riku" Piasecki (substitute)
Kyle "OCEAN" O'Brien (coach)
The recent roster move is a win-win situation for everyone involved. DSG has made a great acquisition by bringing on board a top-tier talent, which significantly bolsters their chances of qualifying for the Ascension tournament at the end of the NA Challengers season.
Meanwhile, yay's arrival is expected to generate more buzz and interest in the tier 2 scene.
Yay will debut with DSG in the NA Challengers Split 2, set to take place from April 18 to May 19.
Follow ONE Esports on Facebook and Twitter for more news on the DSG Valorant roster in the Valorant tier 2 scene.
READ MORE: The 3 best Valorant agents to counter Jett — stop her in her tracks!