This is part of "EEvo's Top Contenders", a series on the top fighting game players competing at Evo 2019 where we look at their year so far, their strengths, weaknesses and how likely they are to win the biggest fighting games tournament of the year.
Every sport has its legendary rivalry. In basketball, you have Magic Johnson and Larry Bird. In tennis, you have Nadal and Federer. As for Tekken? Right now, Bae "Knee" Jaemin rules the Tekken World Tour, but Kim "JDCR" Hyunjin is right there beside him.
JDCR is a legend in the world of Tekken. He has been at top of the pro scene for nearly a decade, and is a two-time Evo champ, winning in Tekken Tag Tournament 2 in 2017, and Tekken 7 in 2017.
His rivalry with Knee dates back to Tekken 5. With only national and regional tournaments to go to, the two clashed often on the final stage.
When Tekken 7 was first released, Knee and JDCR dominated the scene. JDCR's best year came in 2017, when he won an unprecedented eleven tournaments, including Evo. Additionally, with Knee in a slump that year, there was nobody to challenge JDCR.
But 2018 was a down year for the Korean pro. With the release of the Season 2 patch update, several balance changes to JDCR's main, Heihachi, made him unviable in pro play, and JDCR managed only one major win at the Korea Masters tournament in Seoul playing Dragunov.
JDCR's slump continued until the end of 2018 when the DLC character pack for Season 2 was released. The pack added JDCR's favorite character, Armor King, to the game.
Armor King was JDCR's best character in previous Tekken games, and he took quickly to the new character, and has been maining him ever since.
---
Year in review
JDCR sits in third place on the Tekken World Tour leaderboard, with one Challenger championship win under his belt right now.
As for his Masters tournaments, his furthest run was at Battle Arena Melbourne 11, where he placed second.
While JDCR hasn't won many championships this year, he has been quite consistent, and always makes it to at least top eight.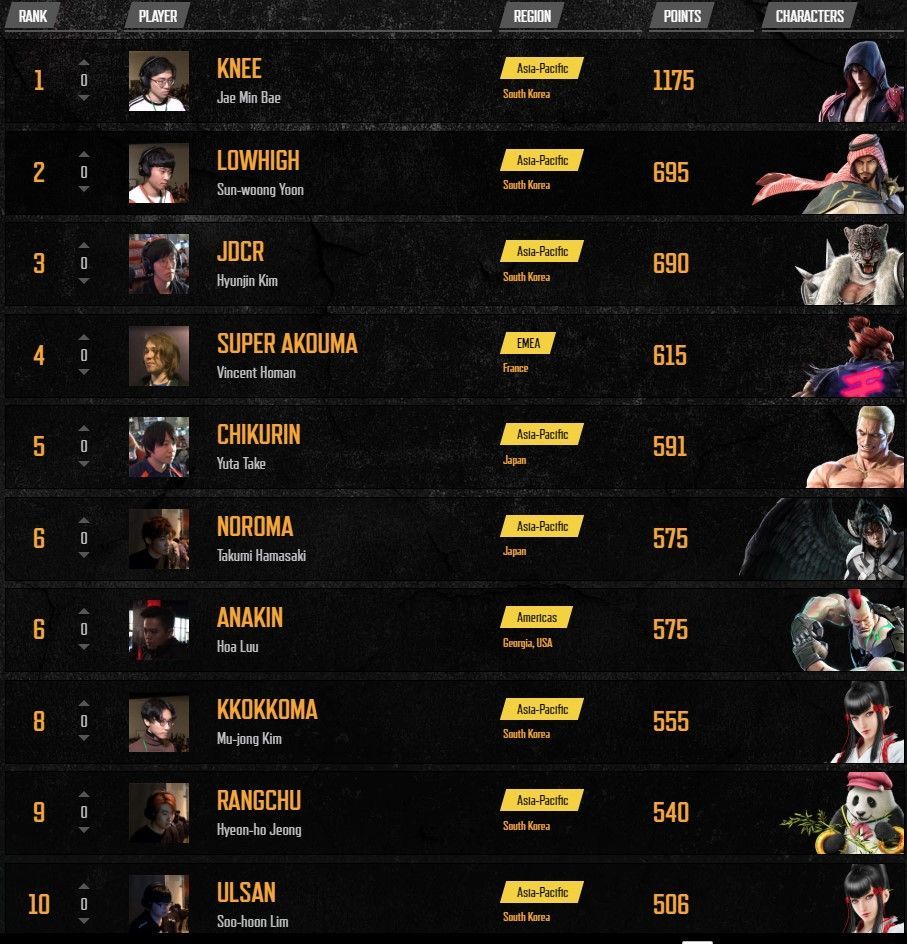 Battle Arena Melbourne 11 (Master)
JDCR is an immense damage dealer with Armor King. He makes good use of the grapple-heavy move set, and tends to utilize running grapples to finish off rounds.
However, JDCR struggles at maintaining defense. He tends to rely on Armor King's wavedash, and uses a lot of rundown combos and techniques rather than spacing and defense.
In the grand finals of BAM, he lost to Soo-hoon "Ulsan" Lim from a simple jab punish.
Electric Clash (Challenger)
JDCR's best tournament this year was Electric Clash. Despite losing to Marquis "Shadow 20z" Jordan in the winners quarterfinals, he fought his way back to the grand finals, where he met Shadow 20z again.
JDCR even brought back Heihachi for a set.
JDCR showed that he can still play Heihachi, and won six games straight for the championship. With Heihachi's heavy hits, JDCR ended the tournament with a devastating Rage Art.

World Showdown of Esports 7 (Independent)
During WSOE 7, commentators Steve "Tasty Steve" Scott and Reepal "Rip" Parbhoo talked about JDCR's limited use of Armor King's move list, but Rip also pointed out that JDCR has been expanding his moves, added new tech like multi-grabs and Armor King's sidestep kick to his arsenal.
With JDCR's expertise in damage heavy characters, you can never count him out, as he's always capable of making a huge comeback, as evidenced by this insane Rage Art comeback against Hoa "Anakin" Luu in the losers finals.
---
Evo prediction
JDCR's consistent play will likely get him to at least the top eight of the tournament. With more experience in playing against American players, he'll have no trouble facing against America's best.
He will have to look out for his long-time rival Knee, but other than that, JDCR has a good chance to bag his third Evo title.
READ MORE: Evo's top contenders: The Tekken God, Knee