This is part of "Evo's Top Contenders", a series on the top players competing at Evo 2019 where we look at their year so far, their strengths, weaknesses and how likely they are to win the biggest fighting games tournament of the year.
At just 20, Victor "Punk" Woodley is one of the youngest pros on the CPT, but he has already risen to the top of the competitive Street Fighter V scene. Punk started playing competitively in 2016 when he earned a third-place finish at the Red Bull Battle Grounds 2016.
In 2017 Punk won his first major tournament at the NorCal Regionals, and also took home gold at NEC, Winter Brawl, West Coast Warzone, DreamHack Austin, and ELEAGUE.
Punk was considered one of the favorites to win EVO 2017, but ended up falling short against Hajime "Tokido" Taniguchi in the grand finals.
In the latter half of 2017, Punk continued to dominate the American competitive scene, winning Absolute Battle, East Coast Throwdown, Northwest Majors, and Red Bull Battle Grounds.
As a result of Punk's immediate success, plenty of pro-Japanese players have been obsessed with his playstyle. And most of them consider him the ultimate opponent in tournaments.
Along with his in-game skills, Punk is well known for his brash personality and is not above trash talking other players and taunting his opponents in-game. He often refers to himself as The Alpha, which should give you an indication of his level of self-confidence.
---
Year in Review:
Based on the current CPT rankings, Punk is still the best in the world, by a wide margin. He has earned 3,195 points this season and at one point, he had more CPT points than the 2nd, 3rd, and 4th global points leaders combined.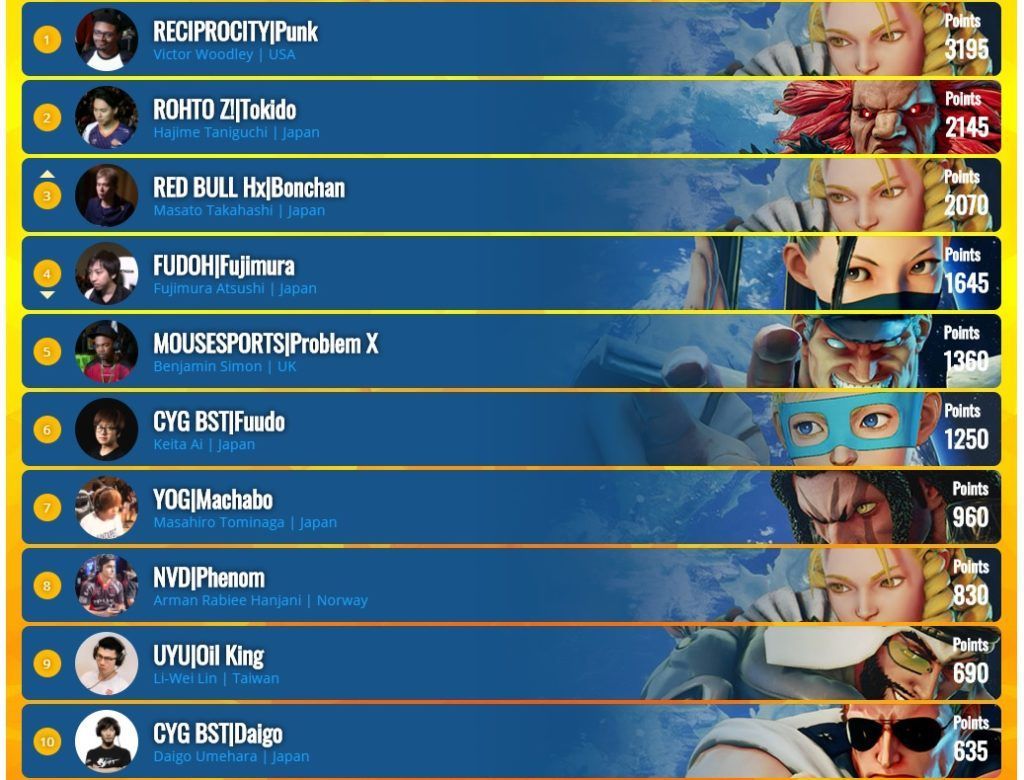 Punk has had, quite possibly, the best and most consistent season we've ever seen on the CPT.

---
Final Round (CPT Premier event)
Punk won Final Round by defeating Yusuke "Momochi" Momochi in dominating fashion. Punk was able to reset the bracket with a 3-0 score. After that, he won the final set of the tournament with a 3-1 score.
---
Combo Breaker (CPT Premier event)
Punk's best tournament performance of this year's CPT season was at Combo Breaker. Punk ran through all his opponents until he faced his good friend, Benjamin "Problem X" Simon.
Punk was initially caught off guard when Problem X decided to go with Abigail instead of M. Bison. As a result, Problem X was able to reset the brackets easily. But after the reset, Punk managed to adapt and adjust, which resulted in a 3-0 win in the final set of the tournament.
---
DreamHack Dallas (CPT Ranking event)
Punk then won DreamHack Dallas, which didn't feature as many talented players compared to the previous tournaments.
Punk faced Yeh "HotDog29" Man Ho during the grand finals and was able to reset the brackets with a 3-1 score. Shortly after, Punk decided to finish the tournament earlier than expected with a quick 3-0 score for the final set.
---
Evo Prediction
Punk is another top contender who has yet to win an Evo title. After coming in second place against Tokido in 2017, he had a more disappointing performance last year, as he exited the tournament at 49 – 64th place.
No one has ever questioned Punk's Street Fighter V talent. In fact, he is always the clear favorite in any tournament he enters. And that adds an immense level of pressure, even on Punk.
Punk is easily the best Karin player in the world, and is famous for his reaction speed, ability to punish any mistake made by his opponent, and flawless mechanical skill.
Additionally, Punk seems to have a certain mystique to him that often makes his opponents overthink when they're playing against him. This causes them to make simple mistakes, which is enough of an advantage for Punk to win key rounds.
We expect Punk to win it all this year. After his incredible start to the 2019 CPT season, we believe his Karin is still the most well-rounded character in Street Fighter V, and that Punk is still the best player entering Evo.
READ MORE: Evo 2019 primer: How to watch, schedule, game lineup, and more