This is part of "Evo's Top Contenders", a series on the top fighting game players competing at Evo 2019 where we look at their year so far, their strengths, weaknesses and how likely they are to win the biggest fighting games tournament of the year.
Read Part One, Evo's Top Contenders: The Japanese God, Tokido here.
Fujimura "Fujimura" Atsushi is an incredible success story in esports. While Fujimura started out with Street Fighter IV — as a C.Viper specialist — it was only three years ago when Street Fighter V released in 2016 that he started competing professionally, initially using the name "yukadon."
Fujimura started his pro career with a bang, taking third place at Evo 2016, using Nash. Fujimura's only losses were at the hands of Seonwoo "Infiltration" Lee, both in winners semifinals, and again in losers finals. Infiltration would go on to win the entire tournament.
During the 2017 Capcom Pro Tour, Fujimura decided to switch to Ibuki as his main character.
The character change earned him wins at many major tournaments, including Socal Regionals, DreamHack Summer, and Dueling Dragons Dojo. And in the next season, he won Fighter's Spirit, Stunfest, CEO 2018 and the Red Bull Kumite.
In 2018, Fujimura stopped using his "Yukadon" name, and instead decided to just use his actual name as his gamertag. In the fighting game community, and particularly in South Korea, he is nicknamed "The Machine" for his methodical play and flawless mechanical skill.
Fujimura's meteoric ascension through the Street Fighter V ranks in just three years has been nothing short of amazing. For most pros, it takes years of practice and tournament experience to even come close to the top eight at Evo, so for Fujimura to do it in his very first year of pro play is practically unheard of.
---
Year in review:
Fujimura is looking to win his first Evo trophy and this year just might be his year. He's racked up 1,645 points in the current CPT season, putting him in fourth place.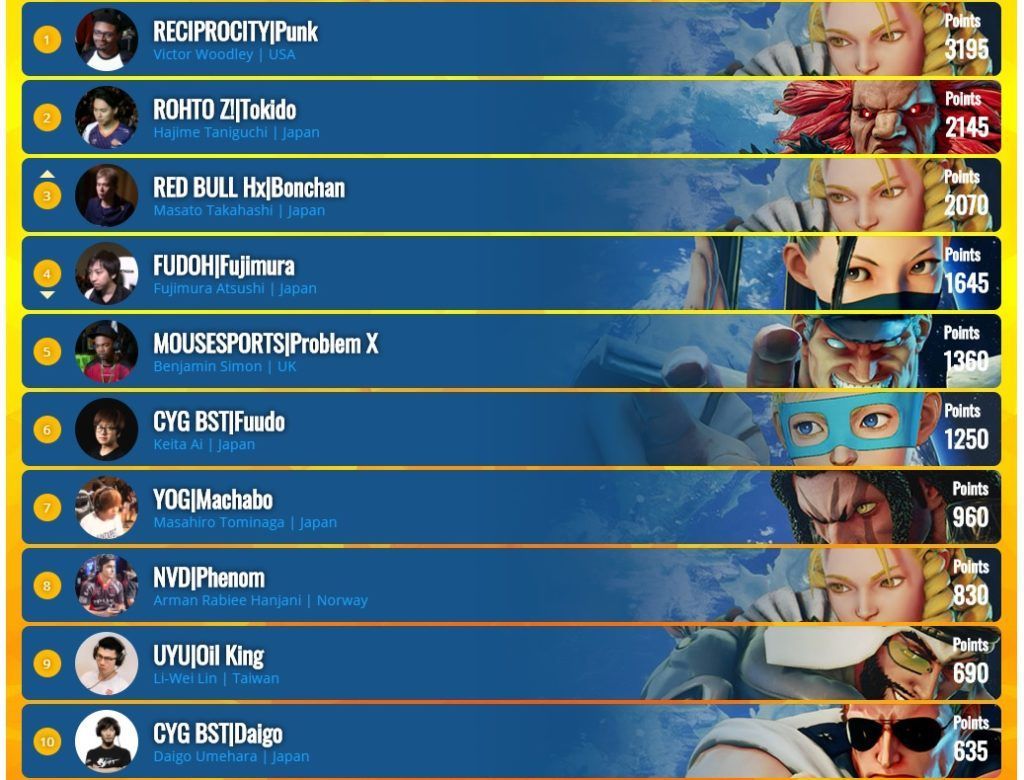 ---
FV X SEA Major (CPT Ranking event)
Fujimura secured his first CPT event of the year at the FV X SEA Major back in March. He defeated Tokido in the winners final with a 3-2 score, but Tokido battled his way back into the grand finals where he narrowly reset the bracket with another 3-2 score.
However, Fujimura recomposed himself and took the final set 3-1 to win the tournament.
---
Taipei Major (CPT Ranking event)
Next, Fujimura won the Taipei Major in June, defeating Keita "Fuudo" Ai in a thrilling 3-2 grand finals. Fujimura was in top form and did not lose a single set throughout the whole tournament.
Fujimura was also able to outshine the more popular Ibuki player, Kun Xian "Xian" Ho, during the tournament. Fujimura blocked an insane instant overhead and cross up Fuma Shuriken attack, and reacted with his own punish.
Fujimura also defeated fellow top Japanese pro, Masato "Bonchan" Takahashi. He was able to showcase Ibuki's unbelievable offensive firepower by making an incredible comeback, twice.
---
Fighter's Spirit (CPT Ranking event)
The weekend after Taipei Major, Fujimura flew to Korea and won the Fighter's Spirit tournament by defeating one of the Japanese Gods of Fighting Games, Tokido. Fujimura narrowly won the final set with a 3-2 score.
During the grand finals, we saw how exceptional Fujimura's corner pressure can be, as he brutally punished any unsafe normals. Fujimura has a knack for reading his opponent, and this match showcased just how scary he can be.
---
CEO (CPT Premiere event)
The last CPT event Fujimura attended before Evo was CEO. He finished in second place after losing to Bonchan. Fujimura was able to reset the bracket on the very last round of the first set by capitalizing on a perfectly timed crush counter.
Any opponent who faces Fujimura should be ready for anything. During his set against Bonchan, he threw a medium kick on wake up that countered Bonchan's attack. These are the types of moves that could easily throw an opponent off their game.
In his match against Bonchan, Fujimura showed he is also capable of dazzling V-Trigger cross-up attacks that would win him crucial rounds.
---
Evo prediction
Fujimura is hungry for his first Evo title and has a good track record against the best players in the world, especially Tokido. However, he has not faced top-ranked Victor "Woodley" Punk at all this year, so that matchup remains a mystery.
He will need to be careful of Evo 2013 champion, Xian, who is another Ibuki main who he can potentially face during the winners quarterfinals. He could also face Fuudo in the winners quarterfinals, who might make life difficult for Fujimura by picking R. Mika.
If Fujimura stays on the winner's side of the bracket, he could face Tokido in the semifinals and then Punk in winners finals, which would be a match all Street Fighter V fans would love to see.
Looking back at his accomplishments this year, Fujimura is in a great position to add an Evo title to his trophy case. He hasn't got the easiest quarterfinals bracket, but we believe he will reach at least top 6.
READ MORE: Is Punk still the best Street Fighter V pro on the planet?