Despite having only a 7% probability by virtue of their 7-9 regular season record, Washington, DC-based Wizards District Gaming snagged the first overall pick in the 2020 NBA 2K League Draft.
Knicks Gaming and Hawks Talon GC, two other lottery teams who respectively held 4-12 and 5-11 records, got the second and third picks.
The unlucky Pistons GT and Lakers Gaming had 15% chances at bagging the top pick after having last season's two worst records with 2-14 and 3-13, respectively. But in the end they settle for the fourth and seventh picks.
---
---
The fifth and sixth picks will go to the league's two newest teams for the upcoming season — the Shanghai franchise under Gen.G Esports and the Charlotte Hornets affiliate Hornets Venom GT. Those teams will participate in an expansion draft, with the Hornets winning the first pick.
While the expansion draft is set for October 18, the date of the 2020 NBA 2K League Draft has yet to be announced.
Here's the full draft order for the first round of the draft:
1st Pick: Wizards District Gaming
2nd Pick: Knicks Gaming
3rd Pick: Hawks Talon GC
4th Pick: Pistons GT
5th Pick: Gen.G
6th Pick: Hornets Venom GT
7th Pick: Lakers Gaming
8th Pick: Heat Check Gaming
9th Pick: NetsGC
10th Pick: Jazz Gaming
11th Pick: Raptors Uprising GC
12th Pick: Bucks Gaming
13th Pick: Cavs Legion GC
14th Pick: Magic Gaming

15th Pick: Grizz Gaming

16th Pick: Pacers Gaming

17th Pick: Kings Guard Gaming

18th Pick: Mavs Gaming

19th Pick: Blazer5 Gaming

20th Pick: Warriors Gaming Squad

21st Pick: Celtics Crossover Gaming

22nd Pick: 76ers GC

23rd Pick: T-Wolves Gaming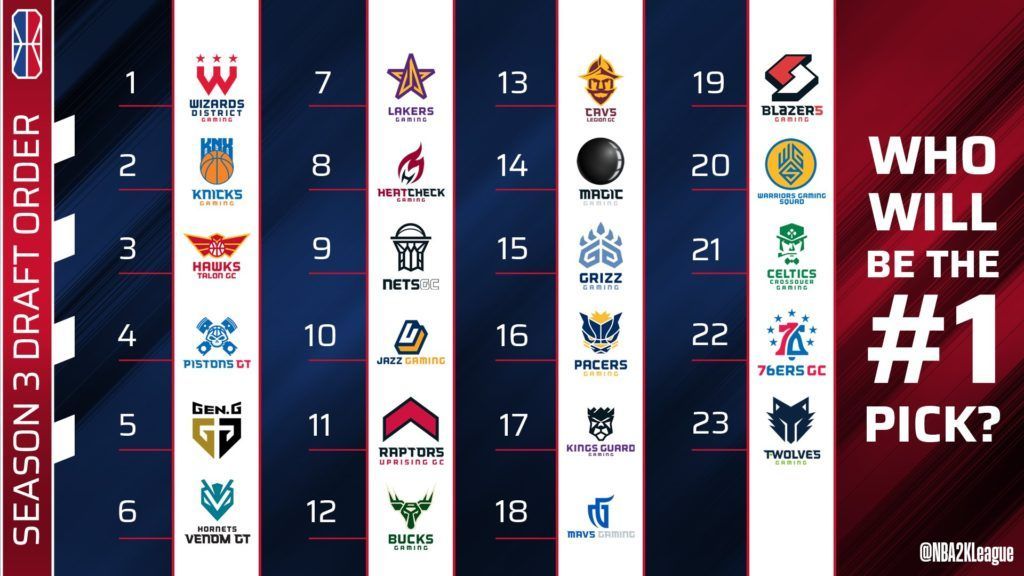 READ MORE: Hornets Venom GT win NBA 2K League Season 3 expansion draft