Singapore's Resurgence (RSG) finished second in the MPL MY/SG Season 6 regular season just behind Todak. With a high seeding, they entered the playoffs in the upper bracket, but dropped their first match to EVOS SG 2-1.
In the lower bracket, they outmaneuvered Malaysian rivals Geek Fam, but could not withstand Orange Louvre Esports in the lower bracket semifinal where they lost 1-2.
There, their journey ended.
Feeling dejected, the squad needed time to cool down in the post-season because the players were affected by both team and personal issues, Ho "Sync" Ee Hong told ONE Esports. "We took a break to find ourselves before coming back to the scene."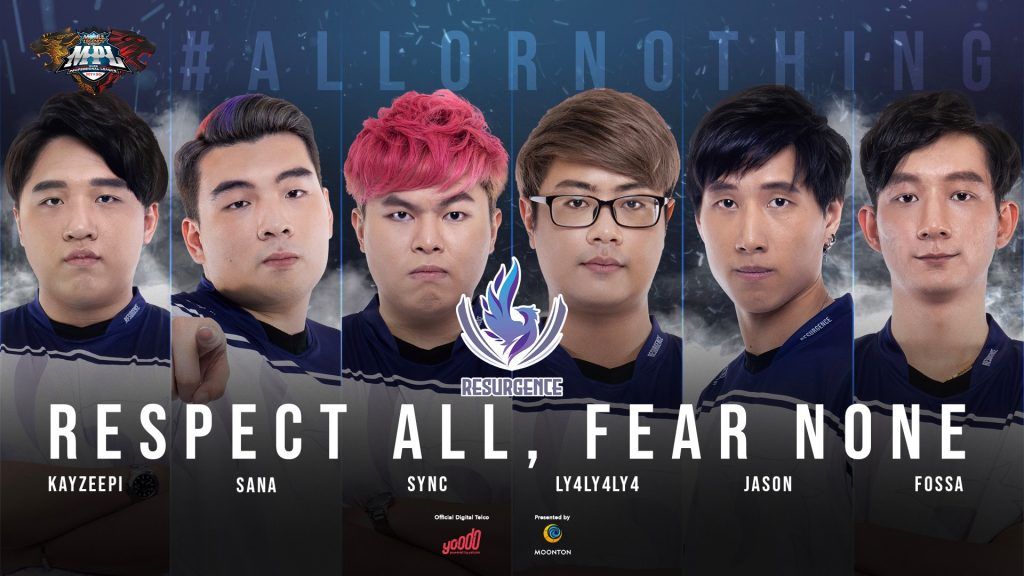 Like any other team, RSG too, had their own set of challenges in Season 6, Taking full responsibility for their performance, they are done "crying over split milk". Looking to redeem themselves at the ONE Esports MPL Invitational, Sync is confident that RSG will be able to pull out better drafts.
"Our captain has taken back charge of analyzing teams," explained Sync. "He has quite a few seasons of experience doing this, so I believe that our drafts will be much better."
With team captain Eugene "Kayzeepi" Kong at the helm during picks and bans, Sync hinted that he may not be using the same fighters that we saw him excel on in MPL MY/SG Season 6. Instead of Uranus, Yu Zhong, and Khaleed, what surprise picks does he have up his sleeve?
Singapore teams like RSG are part-time professional players — where team members balance full-time jobs outside of esports — and naturally spend less time training compared to their full-time counterparts in other regions.
"Even though we Singaporean players are part-time players, but we will prove our worth and not be seen as easy targets," said Sync. As such, RSG has been adapting by working smart, and spending their limited time efficiently during trainings.
The team tends to take heed from other regions, especially MPL ID. To Sync, they are a reference point, acting as a "role model for most of the other regions". He believes they are very, very strong in mechanics because of the sheer amount of time they put into refining their skills.
"For Singapore players, we take what MPL ID plays, then we try to find our style. We change the playstyle slightly here and there," Sync revealed.
As he feels MPL ID is the strongest region, he desires "to beat our role models, to show that we are better". In particular, Sync singled out RRQ Hoshi, because despite them struggling at the start of the season, "they will always pick themselves back up, so they are a team we would like to go against."
---
---
At the same time, he's not counting out MPL PH either because they are also a region of full-time professional players who occasionally create their own meta. It's no surprise then, that he rates MPL ID as the strongest region, followed by MPL PH, then MPL MY/SG, and lastly Myanmar.
Nonetheless, he's keeping an eye on Burmese Ghouls, who he calls the dark horse of the competition, capable of upsetting other teams like in the last MPLI.
In between the end of MPL MY/SG Season 6 and MPLI, Sync has kept himself very busy. His newly renovated apartment was ready just a few days after MPL ended at the end of October. Drilling, putting up paintings, and engaging in DIY projects are some of the things he did as a proud first-time property owner.
A significant improvement was made to his streaming set up. Previously, his work desk and green screen was only three steps away from his bed. Last confined within a single room, he and his wife are definitely feeling more comfortable in their new place.
Meaningfully, Sync also joined Jason "Jason" Koh in fulfilling the wish of a 17-year old teenager, Ryan, who had just recovered from brain surgery. Part of the Make-A-Wish Foundation in Singapore, it was one of his wishes to meet Resurgence, so they spent time playing Mobile Legends with him.
"I think the most significant thing was that he mentioned that it was his best birthday ever. So when we hear it, it's like, I didn't know such a small action from me will actually impact someone so greatly," Sync elaborated. "It's a very great feeling."
Ryan is one of the many fans who have supported RSG over the years despite their placing. "We've all known that most of our fans have supported us from Season 4 or earlier. They have never given up on us despite the situation," said Sync.
"Back then, when we were third to first, then now fourth, all of them have remained and we are very, very grateful for that. As much as we didn't manage to prove ourselves during Season 6, we will do our best to make it work in MPLI, and the upcoming MPL."
READ MORE: Todak's Stoo on MPL PH: 'If they get their hands on any of these heroes, it will be really tough'