Red Reborn, consisting of members from Orange Esports Reborn in Season 5, extend their perfect streak going into MPL MY/SG Week 2 with convincing wins over Team Bosskurr and EVOS SG.
Todak too, rose above the ranks after defeating Orange Louvre Esports and Forsaken. Not far behind are Resurgence, who overcame their loss to Geek Fam last week with two clean wins in Week 2.
---
Results
Team Bosskurr 0 – 2 Red Reborn
Orange Louvre Esports 0 – 2 Todak
Team Bosskurr 0 – 2 Divinity Esports
Red Reborn 2 – 1 EVOS SG
Team SMG 0 – 2 Resurgence
Geek Fam 2 – 0 Divinity Esports
Todak 2 – 0 Forsaken
Resurgence 2 – 0 Orange Louvre Esports
---
Match of the week: Red Reborn vs. EVOS SG
Fans were treated to a Season 5 lower bracket semifinal rematch between former Orange Esports reborn players and EVOS SG. Before the match started, 55% of the audience believed that EVOS SG would take this series.
In game one, EVOS SG allowed Mal to get his hands on one of his trademark heroes, Ling, who was a key factor in their playoffs victory last season. In response, they last picked Baxia.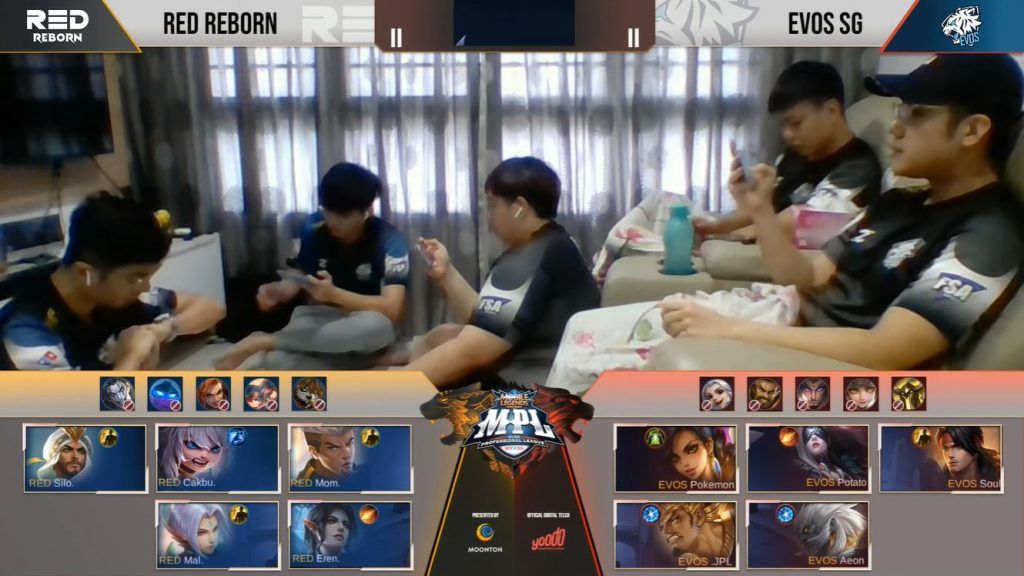 As expected, Mal put on a really good show on his famed assassin, styling on opponents that put him up 2/1/1 in the early game. EVOS SG however, were still in the lead with more kills, turrets and a Turtle.
One last fight in mid lane led to a quick victory for EVOS SG, who had built a team composition around Pharsa. Pokemon on Esmeralda stood out with a massive shield, and was virtually unkillable ten minutes into the game.
Red Reborn adjusted their draft in game two, bringing in Hilda and packing more early game power than EVOS SG. Grouping up in mid as five, Red Reborn pulled off a faster rotation and took a kill lead.
Just 11 minutes into the game, they were up 12 kills to one, with carry Mal sitting on 7 kills on Roger. Two Lords later, it was just a matter of time before Red Reborn evened out the series.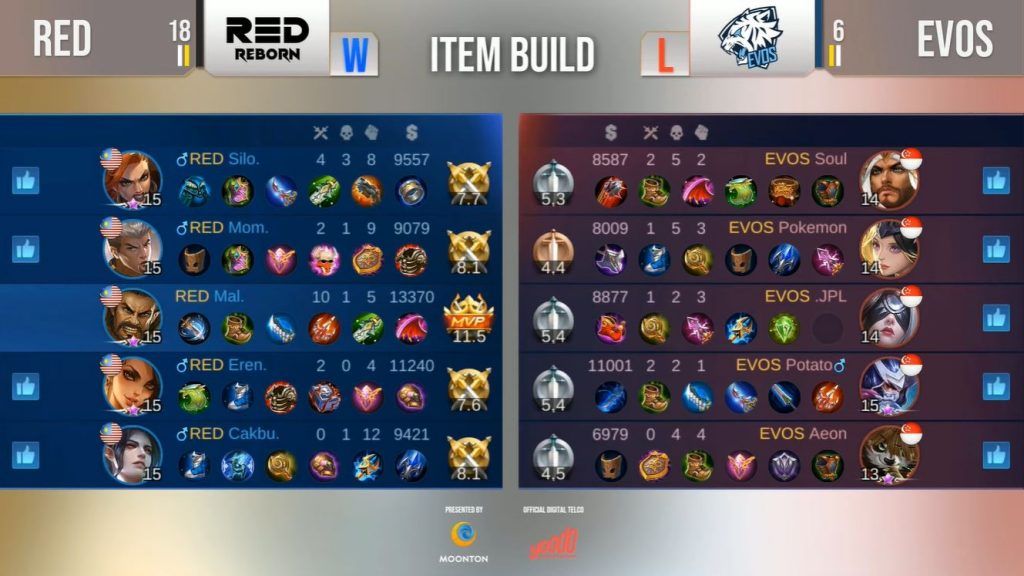 For the third game in a row, EVOS SG chose to draft around Pharsa and this time, gave Roger to Potato. Without banning out Wan Wan, EVOS SG had to face up against another one of Mal's signature carries.
Starting strong, EVOS SG aggressively ganked side lanes in the early game that gave them a four to zero kill lead. In response, Red Reborn turned their sights onto offlaner Soul with a four man dive on Thamuz.
Unfortunately from that point forth, things went downhill for EVOS SG. When the kills were tied 6-6 near seven minutes into the game, they tried to set up an ambush in Red Reborn's jungle, but they were the ones who got baited and got caught out instead.
Red Reborn continued to play around Mal's Wan Wan as she scaled up, while EVOS SG made mistakes, such as holding the outer bot lane turret solo and giving kills over as Red persistently outnumbered them.
In the final fight around the first Lord, EVOS SG knew that Red Reborn had already started it. They tried to get a pick onto Silo's Hilda but she was too tanky. The moment Lord went down, EVOS engaged to make their final stand.
It looked good at first, as EVOS SG traded one for one, but Mal's Wan Wan on one quarter health, had his team peel for him as he spaced out his jumps for a Maniac and the 2-1 reverse sweep!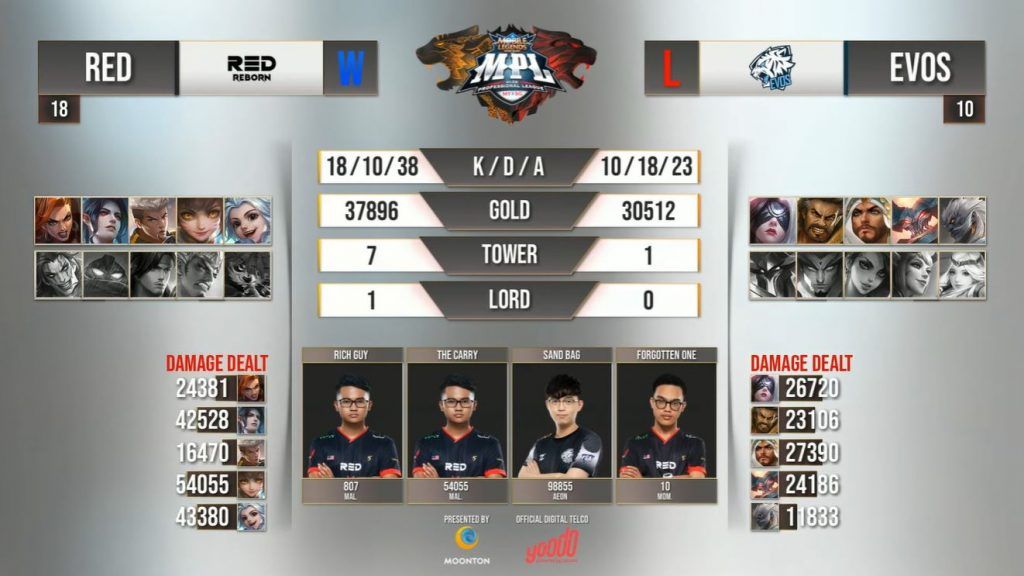 ---
Standings
Red Reborn (4-0)
Todak (3-0)
Resurgence (3-1)
EVOS SG (2-1)
Geek Fam (2-1)
Divinity Esports (1-2)
Forsaken (0-1)
Team SMG (0-2)
Orange Louvre Esports (0-3)
Team Bosskurr (0-4)
READ MORE: MPL MY/SG Week 1: EVOS SG and Red Reborn open strong