For his outstanding performance in the MPL MY/SG Season 5 grand final, Resurgence marksman, Lim "ly4ly4ly4" Yang, was awarded the MVP trophy.
Besides his stellar in-game performance, ly4ly4ly4 also gained attention for playing the grand final from the comfort of his own bed, as seen in Moonton's live camera feed.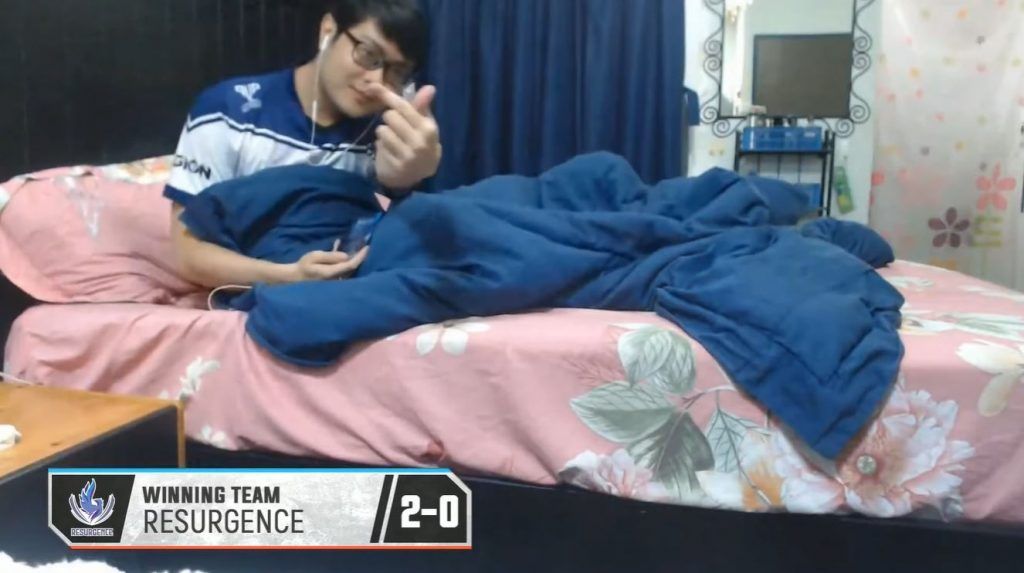 Resurgence's Malaysian opponents, Geek Fam, played from a team house and could be seen sitting together on chairs, sofas, or on the floor.
However, as Singapore is still under Circuit Breaker rules, citizens of different households are not allowed to gather while offices remain closed, so each member of Resurgence had to compete from their own homes.
While most of the team opted for gaming chairs, ly4ly4ly4 was spotted lying on pink floral bed sheets snuggled under a blue duvet to keep him warm.
"When I play on my bed I feel much more relaxed, and sometimes it actually helps me to make better decisions," ly4ly4ly4 told ONE Esports.
The seasoned esports professional is no stranger to competing, whether on the big stage or in the comfort of his home. Ly4ly4ly4's MOBA journey began with Dota followed by League of Legends, where he was best known for his time with the Singapore Sentinels.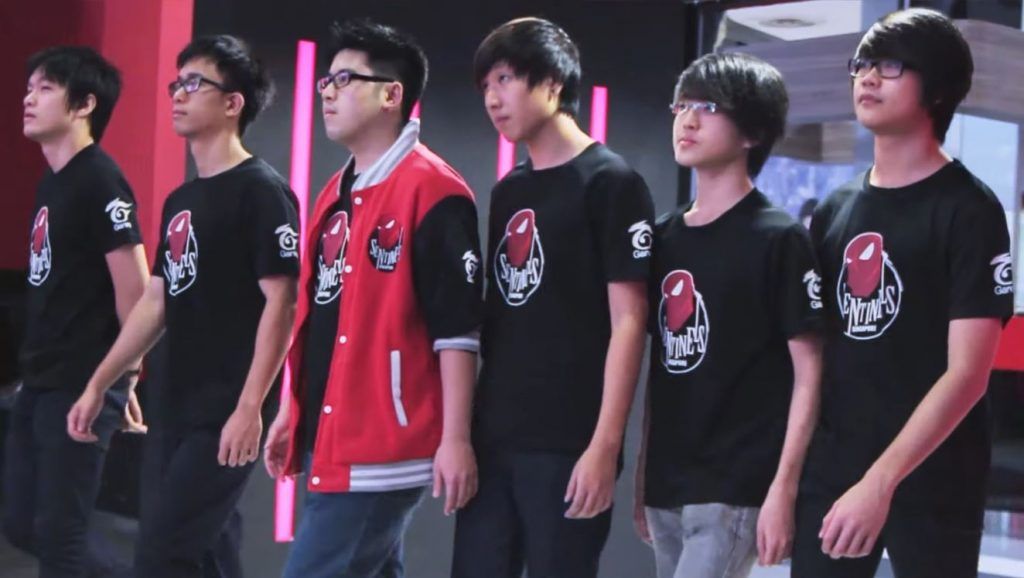 In 2015, he retired from LoL. The next year, a friend introduced him to Mobile Legends: Bang Bang and he instantly became "very hooked onto it".
ly4ly4ly4 realized that not only could he adapt to the game very quickly and climb up the ranks fast, but that he was also better than most players in the top squads that tried to recruit him.
"It was very easy for me to understand the meta, explore heroes, and know which hero is actually good. I decided why don't I do this professionally? Why don't I play this for a living?" said ly4ly4ly4.
---
---
After forming his own squad with a group of friends, his first taste of competitive MLBB was when he lost to Idonotsleep in an online tournament. Part of IDNS at that time included Ho "SyиC" Ee Hong, who invited ly4ly4ly4 to join the team to replace some departing members.
Together with former Singapore Sentinels teammate, Jason "Jason" Koh Wei Hao, previously known as HaRleLuYaR, ly4ly4ly4 and and IDNS won the MPL SG/MY season 1 championship.
In season 2, IDNS joined Bigetron SG, but were unable to defend their title. After disappointing results in season 3 and the departure of "SyиC" in Season 4, Bigetron SG eventually disbanded in 2019. During this time, ly4ly4ly4 also tried his hand competing in Arena of Valor and represented Singapore at the 2018 Asian Games.
In Season 5, ly4ly4ly4 reunited with SyиC and Jason in a newly revamped Resurgence roster. The trio's chemistry was as good as ever, and their combined strength was undeniable, as they went on a perfect run in the regular season until EVOS SG upset them on the final day.
Entering the playoffs as favorites to win the championship, Resurgence surprisingly dropped to the lower bracket after losing 0-2 to Geek Fam in the Upper Bracket Semifinal. Not expecting the Malaysian squad to "be a tier above us", ly4ly4ly4 shared how depressed the team felt after the loss.
"We thought we would at least have a 1-2 series so it was quite surprising when we lost in such a manner," said ly4ly4ly4. "We felt very depressed as well. But because of those losses, we actually realized our mistakes, and from there we learned a lot. So it wasn't that bad in the end."
Low in morale, it was Resurgence's manager, Benjamin "Morning" Lim, who stepped up. Talking to the players, he encouraged them not to give up and keep moving forward. That same night, the squad engaged in a six-hour-long discussion to prepare for the final day of the playoffs.
Resurgence woke up refreshed and with a new strategy for the final day of the playoffs. After wiping Orange Esports Reborn 2-0 in the Lower Bracket Final, their confidence levels soared.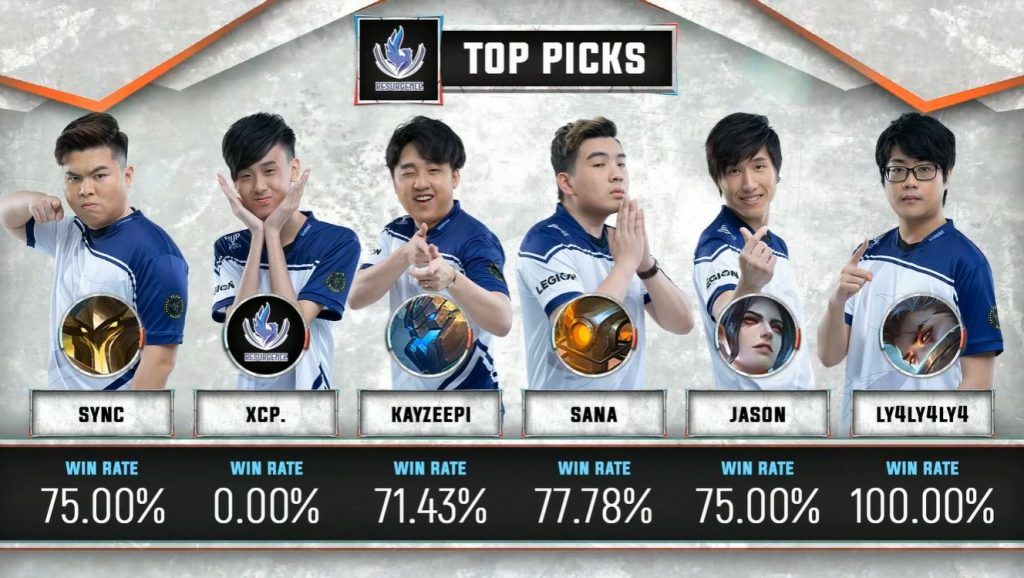 Meeting their rivals again in the final, the team didn't flinch even after losing game two to Geek Fam. Recognizing that it was Geek Fam's unique play style that countered Natalia, Resurgence subsequently banned her and executed their planned strategies for the title win.
Now a two-time MPL champion, the former top, mid, and bot laner in LoL is a marksman player. Considering the investment he was putting into the game and the impact a marksman can make, he initially took up the hardest role in MLBB so that he could carry games.
It's been four years since, and ly4ly4ly4 holds a different view now.
"I actually suggested that I move to the offlane […] I think my reaction is getting slower. No joke. Really. Aging does matter. So if you're getting older, maybe you can consider going into an easier role."
---
You can catch more ly4ly4ly4 on his live streams on Facebook.
READ MORE: Resurgence's SyиC: 'Watching The King's Avatar on Netflix made me return to pro play'