Mobile Legends: Bang Bang Professional League Indonesia Season 8 (MPL ID S8) will be starting soon. Many teams have retained their old lineup while, some added fresh faces to the mix to form new rosters.
MPL ID Season 8 is slated to be a very intense season, for the top two teams will represent their region in the upcoming M3 World Championship.
Here are all the teams and their full rosters competing for the elusive MPL ID S8 trophy.
---
Aura Fire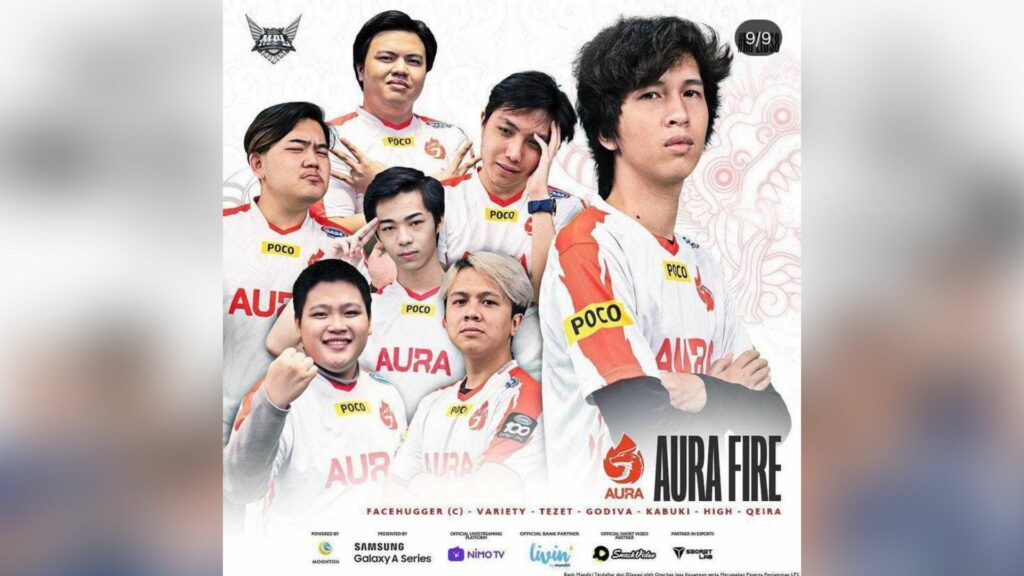 Even though this team did not qualify for the playoffs last MPL ID Season 7, Aura Fire made a surprise move by retaining all of its core starting players for MPL ID Season 8.
We expect Aura Fire to have solid chemistry once the league starts, and it'll be exciting to see what tricks they have up their sleeves.
Aura Fire MPL ID Season 8 roster
Erico "God1va"
Usep "Facehugger" Satiawan
Jehuda Jordan "High" Sumual
Michael Giovanni "Variety" Tjandra
Regi "Qeira" Marviola
Tezet
Kabuki
---
Alter Ego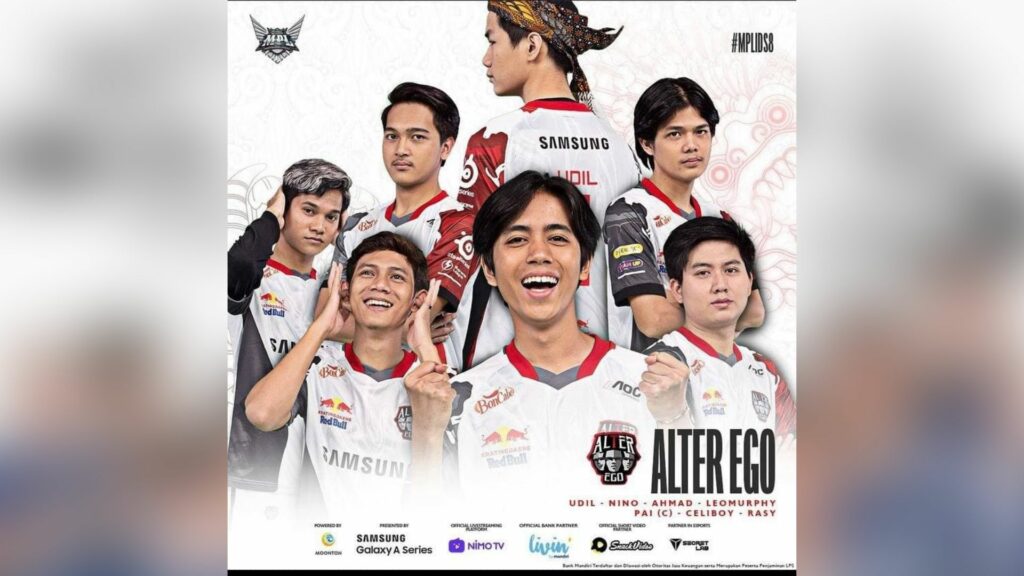 Alter Ego came close to the crown in Season 6 when facing off against RRQ Hoshi in the grand final. It was a different story in MPL ID Season 7 however, for they were eliminated early in the playoffs.
With the addition of Rasya Arga "Rasy" Wisista and Syauki Fauzan "Nino" Sumarno to the Alter Ego lineup, there's no denying that this team wants to reclaim its rightful spot in MPL ID Season 8.
Alter Ego MPL ID Season 8 roster
Rasya Arga "Rasy" Wisista
Ahmad "Ahmad" Abdurrahman
Julian "LeoMurphy" Murphy
Ilyas "Caesius" Rahmanda
Eldin Rahadian "Celiboy" Putra
William "Yam" W
Rafly Alvareza "Pie" Sudrajat
Muhammad "Udil" Julian
Syauki Fauzan "Nino" Sumarno
---
Bigetron Alpha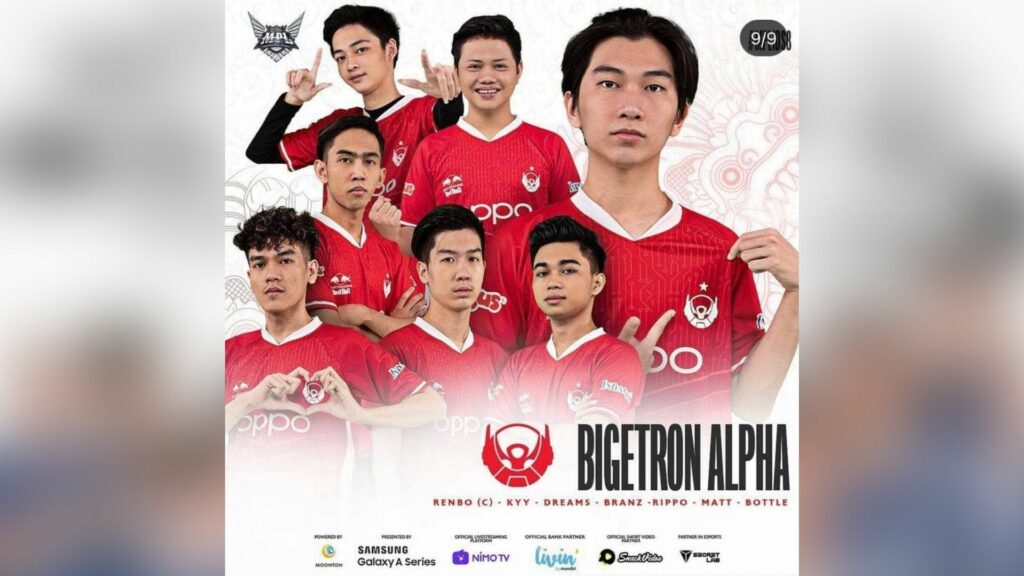 Bigetron Alpha is one of the most dominating teams right now in Indonesia. They were the first-runner up last MPL ID Season 7, after losing to EVOS Legends in an intense grand final battle.
Bigetron Alpha also recruited former Genflix Aerowolf's Agung "Bottle" Dita all while retaining their star-studded starting five.
Will Bigetron Alpha finally be able to capture the championship this season?
Bigetron Alpha MPL ID Season 8 roster
Agung "Bottle" Dita
Great Jabran "Matt" Wiloko
Muhammad Arif Bin "Rippo" Abdul Halim
Matthew "Matt" Geraldo
Deven "Renbo" Markos
Hengky "Kyy" Gunawan
Rachmad "Dreams" Wahyudi
---
EVOS Legends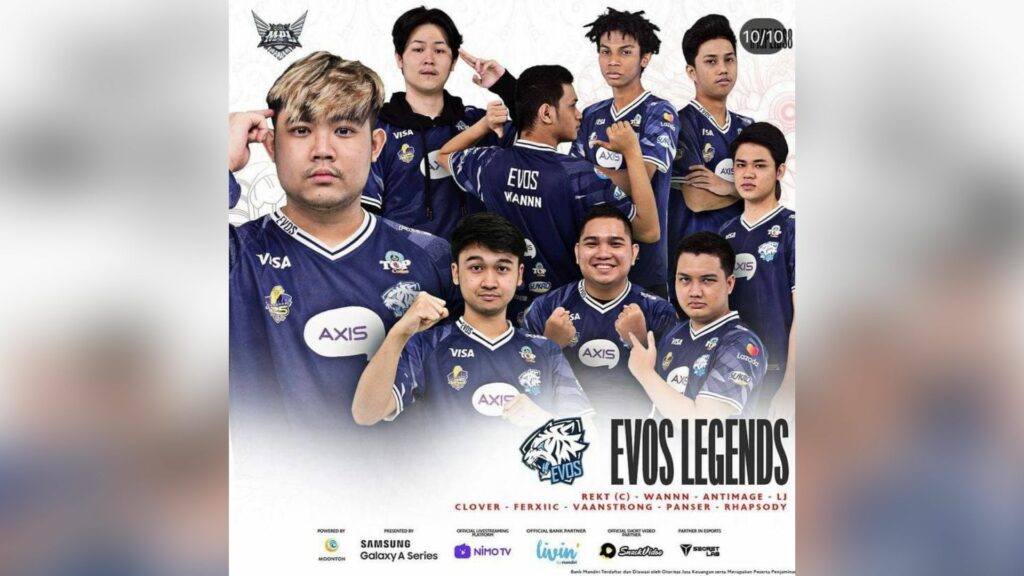 The reigning champions, EVOS Legends, aim to defend the throne. Despite not having veteran Ihsan "Luminaire" Besarik in he lineup this season, EVOS stalwart Muhammad "Wannn" Ridwan has returned after taking a short break last season.
In addition, EVOS Legends has also recruited three new players with Vincentsius Ivan "Vaanstrong" Adrianto, Panser, and Rhapsody to the team. There's no denying that the white lion's squad remains a strong force in the league.
EVOS Legends MPL ID Season 8 roster
Perdyansyah "Ferxiic" Kamaruddin
Muhammad "Wannn" Ridwan
Maxhill "Antimage" Leonardo
Vincentsius Ivan "Vaanstrong" Adrianto
Gustian "REKT"
Joshua "LJ" Darmansyah
Hafizhan "Clover" Hidayatullah Mirzaputra
Panser
Rhapsody
---
---
Geek Fam ID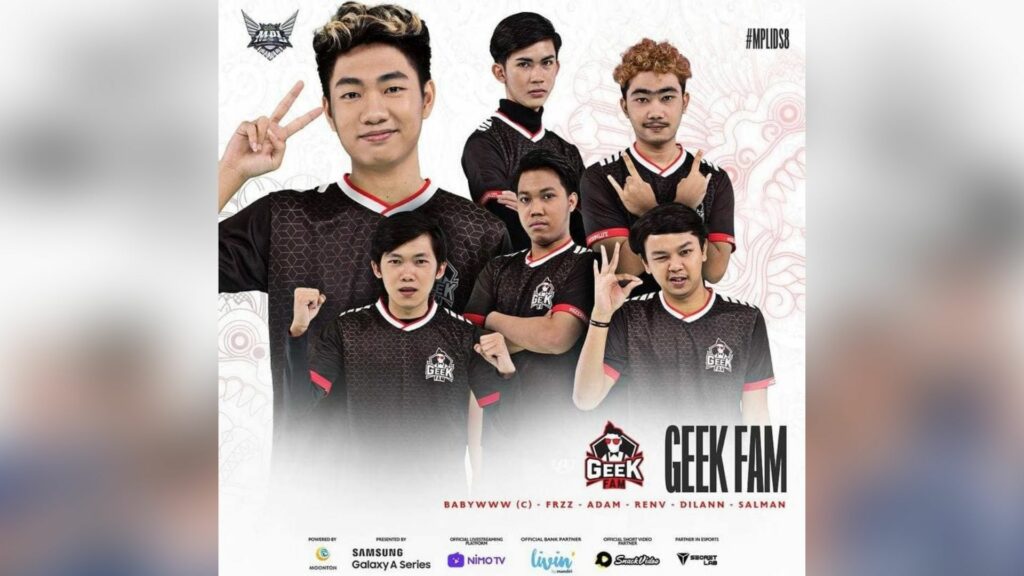 Geek Fam ID hasn't reached the playoffs since Season 4, but it hasn't stopped them from fighting their hearts out in each season.
MPL ID Season 8 is no different, as Geek Fam ID will once again attempt to qualify for the playoffs.
Not much has changed in their lineup, except with the addition of Chiko "Salman" Muhamara and Dilann from Geek Fam Jr.
Geek Fam ID MPL ID Season 8 roster
Chiko "Salman" Muhamara
Rendy "RenV" Kurniawan
Valentino Farrell "Babywww" Rustjo
Muhammad Firza "Frzz" Pahlavi
Bima "Adam" the True Son
Dilann
---
ONIC Esports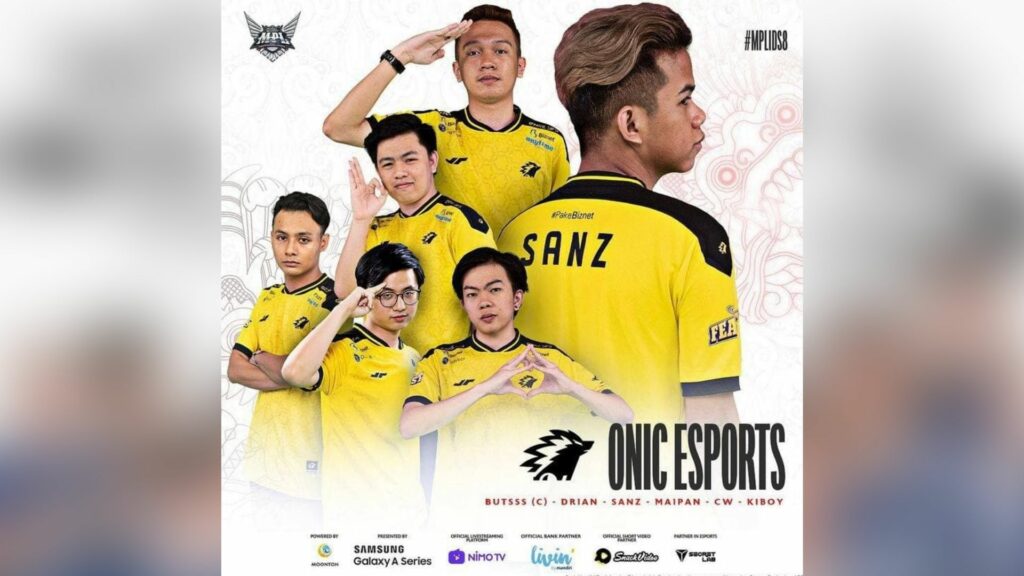 ONIC Esports has been a dominating force in the past MPLs. Unfortunately, the team tends to falter during the playoffs.
With virtually no change in the ONIC Esports lineup, it's exciting what the future holds for the yellow hedgehog squad.
ONIC Esports MPL ID Season 8 roster
Muhammad Satrya "Butss" Sanubari
Calvin "CW" Winata
Gilang "Sanz"
Nicky "Kiboy" Fernando
Adriand Larsen "Drian" Wong
Irvan "Maipan" Yusuf
---
Rebellion Genflix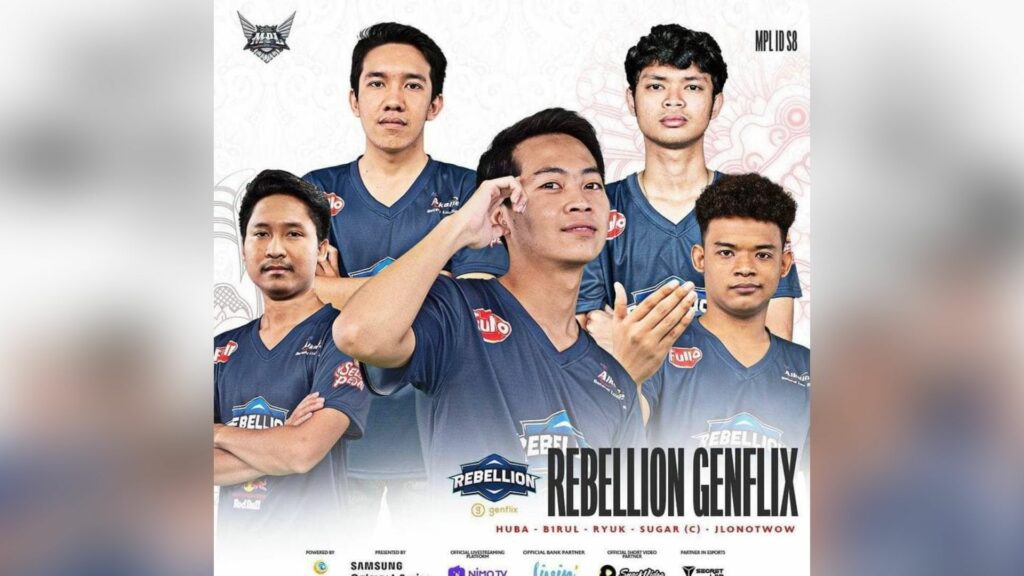 Rebellion Genflix is the newest team to compete in MPL ID S8, replacing Aerowolf last season. They have also recruited fresh faces to the scene.
Whether Rebellion Genflix perform will do well next season remains unknown. What we do know is that these Rebellion Genflix players are locked and loaded, and eager for more.
Rebellion Genflix MPL ID S8 roster
Jlownotow
Ryuk
Huba
Sugar
Birul
---
RRQ Hoshi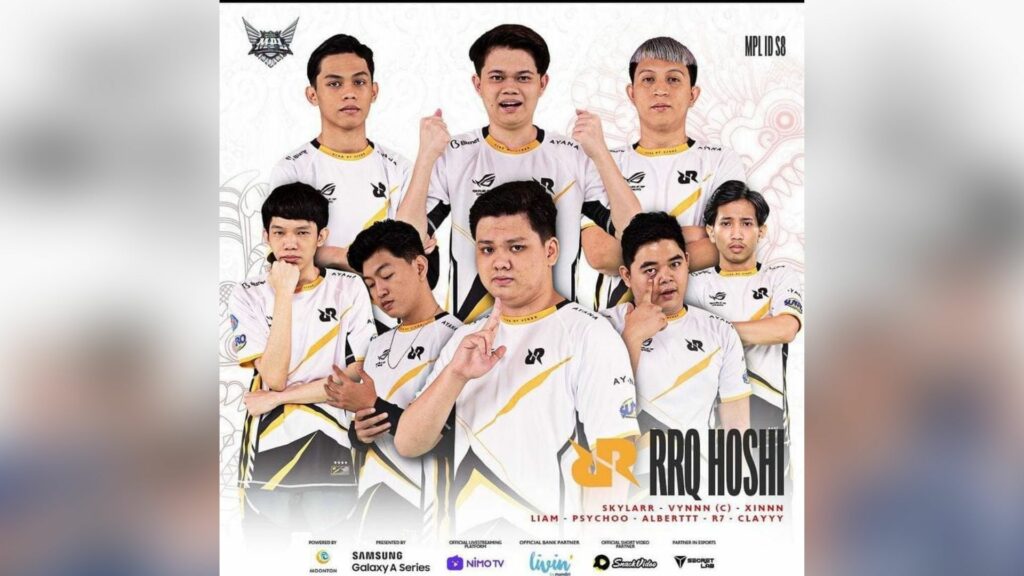 RRQ Hoshi made a lot of adjustments in the offseason. The King of Kings had a rough start last MPL ID Season 8 but still managed to reach the playoffs.
However, Genflix Aerowolf eliminated them early on in the playoffs, which prevented RRQ Hoshi from achieving a three-peat in the league. Even though Lemon is taking a break this season, RRQ Hoshi still hopes to reclaim the championship trophy with flying colors.
RRQ Hoshi MPL ID Season 8 roster
Albert Neilsen "Alberttt" Iskandar
Deden "Clay" Mohammed
Firm Priest "Psycho" Firdaus
Rivaldi "R7" Fatah
William "Liam" Setiawan
Schevenko David "Skylar" Tendean
Armando "Xinnn" Wowiling
Calvin "Vynnn"
Check out Mobile Legends: Bang Bang's official MPL ID Season 8 Facebook page for more updates.
READ MORE: EVOS Legends coach Zeys reveals who is his favorite MPL PH player