After an intense first round of action in the MLBB M1 World Championship, we're down to just six teams left in the tournament.
Here's a quick recap of what happened in the first round of the playoffs:
Upper Bracket matchups:

RRQ (Indonesia) beat Todak (Malaysia), 2-0
EVOS Legends (Indonesia) beat Burmese Ghouls ( BurmMyanmar), 2-0
Lower Bracket matchups:

Sunsparks (Philippines) beat VEC Fantasy Main (Vietnam), 2-0
10 Second Gaming Plus (Japan) beat Axis Esports (Malaysia), 2-0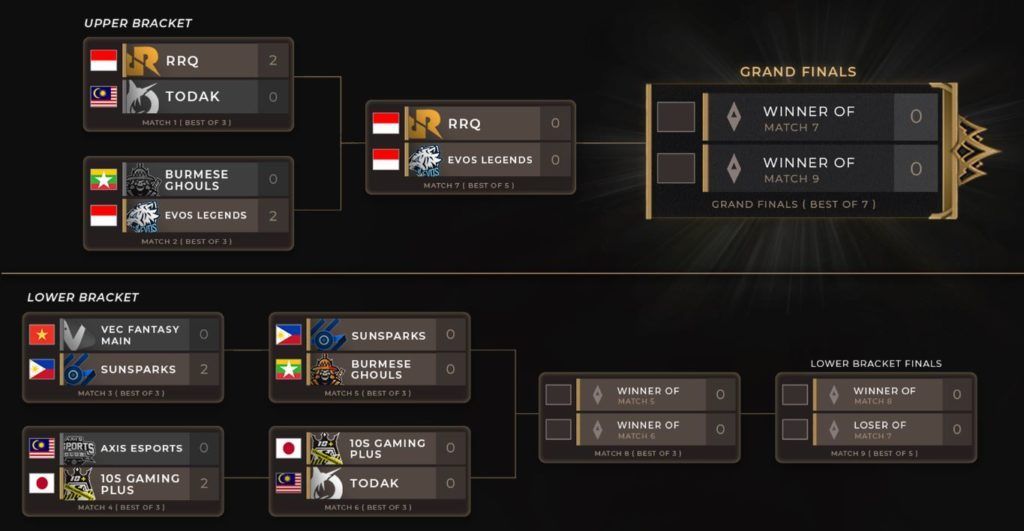 For the first game of the second round, Burmese Ghouls were looking to stay alive after losing their opening-round matchup against Indonesia's EVOS Legends.
On the other hand, Sunsparks had all the momentum on their side after a dominating victory over VFM in their first-round Lower Bracket game.

---
Game one

Game one quickly leaned in BG's favor after Kid001's Lunox delivered a 4-0 kill less than three minutes into the game, snowballing her XP. Lunox's increased damage, along with MayBe's Kaja kept SS on the defensive since that point. On the SS side, Jaypee's Masha kept trying to push for lanes, but BG's tight defense prevented any segues.

Around the eight-minute mark, BG successfully attacked and destroyed SS' mid lane, opening a direct path to the Filipino squad's base. A Lord clash followed two minutes later, with SS nearly stealing the Lord. But with BG succeeding in the clash, the Burmese squad made quick work of their final rally at the Sunsparks base.

---
Game two

Sunsparks launched into game two with an aggressive attack using a quick, 3-2 rotation to pull off a four-man gank less than two minutes into the game.

With momentum on their side, SS maximized their tank combination of Fuzaken on Grock and Rafflesia on Khufra to effectively protect Kielvj's Chang'e and Jaypee's Granger from any BG attacks.
The dual-tank strategy effectively neutralized an otherwise strong offensive lineup for BG, comprising MayBe's Kaja, ACE007's Karrie, and Kid001's Lunox.

As the game approached the 10-minute mark, SS secured the Lord, earning the final piece they needed to pull off an enforced gank and final clash to take the game, tying the series at 1-1 and forcing a decisive game three.
---
---
Game three
The third game gave everyone watching live at the Axiata Arena their money's worth, with a tightly contested battle that saw exciting exchanges between the two teams up until the ninth minute of the game.

BG relied on the quick ACE007's Hayabusa to counter SS's lineup, a strategy that paid off massively in the late game. With BG targeting their team fights to neutralize Fuzaken's Grock, the Burmese five eliminated SS's main enforcer, leading to dominating performances in team clashes.

Sunsparks put up a strong defensive stance, but they couldn't keep up with BG's attacks led by the combination of ACE007's Hayabusa and Kid001's Harith. BG clinched the game three win — and the series — with a gutsy one-man tower lock by Kid001's Harith.

---
With this win, the Burmese Ghouls eliminated Sunsparks from contention and move forward to another Lower Bracket playoff. They will battle against the winner of Todak (Malaysia) versus 10 Second Gaming Plus (Japan), which will take place tonight at 7:00 p.m. GMT+8.

Catch the ongoing action in the livestream below.

READ MORE: M1 2019: A primer for the world's biggest Mobile Legends: Bang Bang clash