The highly anticipated ONE Esports MPL Invitational begins tomorrow as 20 MPLI teams battle it out for US$100,000.
Broadcast talents Momochan, Gerry Eka, and Wolf have singled out which teams and players they think will take it all the way to top.
On the first two days, four teams in each of the four groups will face off in the first round. The two victorious teams will then play each other for a spot in the quarterfinals against one of last season's MPL champions.
All three talents agree that Bracket A is the toughest. Gerry sees Alter Ego making their way up to battle it out with RRQ Hoshi in a rematch of the MPL ID Season 6 grand final.
Logically, Momochan agrees, but she has a feeling that Omega Esports could surprise after speaking to Toshi. Having closely watched Omega Esports compete in MPL PH, Wolf agrees that they have the potential to upset the Indonesian teams within Bracket A too.
According to the Filipino analyst, Omega is really good at studying their opponents systematically, which makes them scary in an established tournament like MPLI because they already know who they're facing. Facing Genflix Aerowolf won't be easy however, as the talk of the town is that their newest player Bottle, "can match up well against already established players like Alberttt and KarlTyz".
Seeing double in Bracket B, Wolf speaks out for his fellow countrymen, Aura PH and Onic PH. "They have an element of surprise coming into MPLI because this is new for them," he elaborated. "They have a new flavor that the Indonesian counterparts won't be able to scout out."
In particular, Bracket C stands out to him because he feels that any of these teams — Geek Fam, Bigetron Alpha, RSG, and Blacklist International — have an equal chance of climbing out of the bracket, which makes it interesting to watch. Waiting at the peak is Todak, whom Momochan thinks will be the dark horse of the competition, especially since they finished MPL MY/SG Season 6 perfect.
Placed in Bracket D, Gerry believes that Ronin Esports could upset some of the bigger teams in the competition, especially since Burmese Ghouls coach PVNDV intentionally tried to avoid them. "I hope there will be a good match between Burmese Ghouls and Ronin Esports," he added.
---
---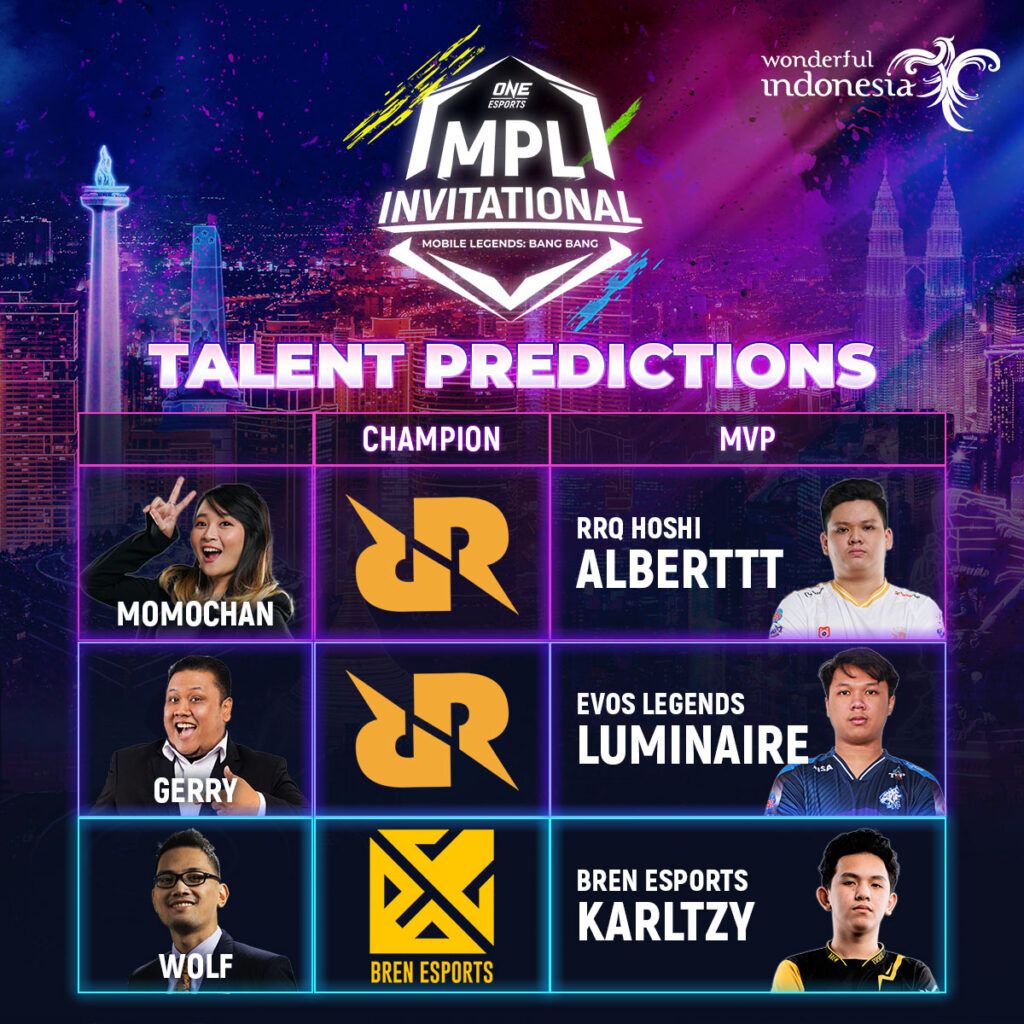 At the very top, both Momochan and Gerry picked tournament favorites RRQ Hoshi of MPL Indonesia to win the championship. Momochan echoes many fans when she says that RRQ Hoshi "are so strong", for they are sticking to the same roster that earned them the MPL ID Season 6 title.
"I think with their two cores and Lemon as well, we knew that this guy can play anything, so I'm 100% confident that RRQ Hoshi can win," added Momo, who picked Alberttt to be the MVP of the tournament. "No one knew him before (Season 6). I can see that he has a lot of consistency as well, so I think I will cheer for him!"
Wolf acknowledges that RRQ Hoshi are "very scary" as well, but the analyst is here to support his home region, MPL Philippines. "Knowing the coach of Bren Esports and knowing the players, they are very confident. They're saying that they can really matchup against Indonesian teams," explained Wolf. "So you have to watch out for Bren Esports for sure."
The star of Bren Esports is KarlTzy, whom Wolf knows on a personal level. "He says that he's already done here in the Philippines, and he wants to prove himself on the international stage," Wolf revealed. "He wants to compete and prove to himself that he's one of the best. Not one of the best, the best in the whole world."
Seeing these two teams as forerunners of their regions, Gerry predicts that RRQ Hoshi will meet Bren Esports in the grand final. He recognizes RRQ's strengths in consistency, stability, and possessing a large hero pool.
"RRQ vs Bren Esports will be a good match to see. If it's a best-of-five, I think 3 for RRQ, 2 for Bren Esports," Gerry foresees.
READ MORE: The MPLI Show – Omega Esports: '100% we will beat RRQ Hoshi'