In his debut game with Weibo Gaming this League of Legends Pro League (LPL) Spring Split 2022, Kang "TheShy" Seung-lok did not disappoint.
After leaving Invictus Gaming at the end of last season (therefore "breaking up" with best friend Song "Rookie" Eui-jin), the LPL's most popular top laner is back, this time with a rebranded Suning roster, Weibo Gaming.
Replacing Chen "Bin" Ze-Bin in the top lane, he has been duo queuing with star jungler Lê "SofM" Quang Duy on the ranked ladder.
Known for either completely dominating a game with his incredible mechanics, or incessantly feeding kills to the opposing top laner or jungler, LPL fans just can't get enough of TheShy's swinging performances.
And so, while it wasn't a surprise that Weibo Gaming started off a little shaky in their first match of the season against Team WE, they did manage to pull through for a well-earned 2-0 sweep.
---
---
Weibo Gaming's TheShy on Gwen was absolutely clutch in the last team fight against Team WE
Both teams were equal in gold in the early game. Team WE, however, started to open up the map in the mid game and found an opening at the 24-minute mark around Baron.
As the rest of Weibo Gaming grouped up behind the Baron pit, TheShy on Gwen walked through mid all the way from the bot lane. The moment he made contact with Yu "Biubiu" Lei-Xin's Renekton, the entire Team WE turned on him. Isolated from his squad, they took him down quickly.
With a numbers advantage, Team WE pressed on and got another pick before comfortably securing the Baron. Still, despite the kill, gold, and dragon deficit, Weibo Gaming held on and defended well by utilizing their wave clear.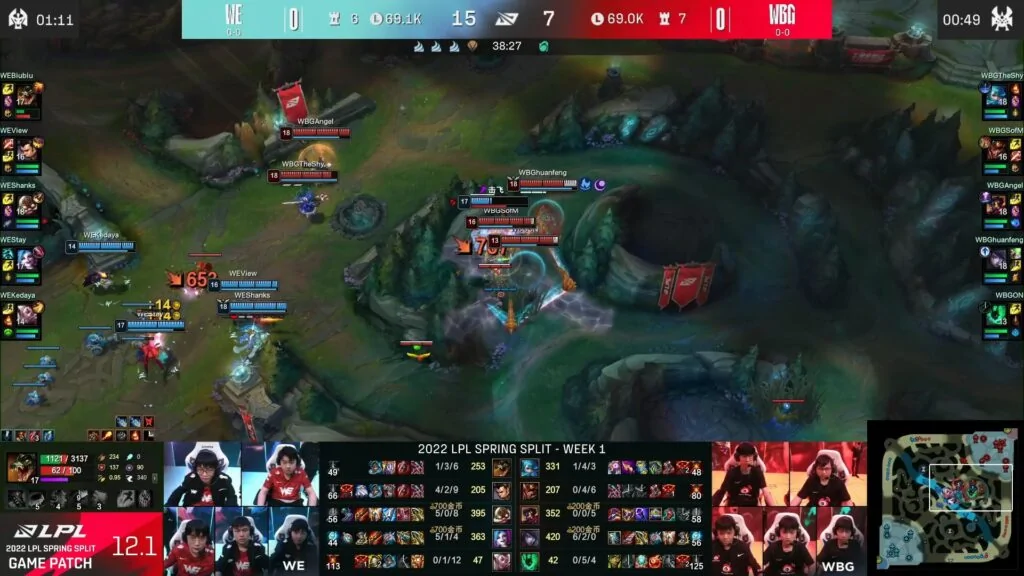 38 minutes in, the tables turned. This time, it was Biubiu who got caught out of position in a side bush. Once Weibo Gaming found the pick they were looking for, they killed another three from WE, and bulldozed down mid lane.
Finding himself in a 1v4 situation, Cui "Shanks" Xiao-Jun on Corki did his utmost best to defend the horde. Pushing the limits of his champion, he took down two in the process.
He was then joined by Biubiu's resurrected Renekton, who focused on zoning TheShy away from their Nexus. Despite going all-in with his full combo, which brought Gwen down to a sliver of health, she simply refused to die.
Clutching it out with sharp mechanics, TheShy completely turned the situation around, and instead, obliterated the full HP Renekton while Angel focused on hitting the Nexus, juking out Shanks' Corki for the game one victory.
What an unbelievable ending!
Weibo Gaming went on to win game two, sweeping Team WE 2-0 in their first match in the LPL Spring Split 2022.
---
The LPL Spring Split 2022 continues, with daily matches livestreamed on their official Twitch and YouTube channels.
READ MORE: Rare Atom's Leyan shows why this Rek'Sai build is surprisingly overpowered