The League of Legends MSI 2021 Rumble Stage had a lot of surprises during the last few days, including unexpected upsets from the Pacific Championship Series (PCS) representative, PSG Talon.
MAD Lions' support, Norman "Kaiser" Kaiser, praised the team for their recent performance in a post-match interview with ONE Esports.
MAD Lions Kaiser sizes up PSG Talon
The Mid-Season Invitational audience saw a different PSG Talon during Day 3 of the Rumble Stage. After handing tournament favorites Royal Never Give Up their first MSI 2021 loss, the Pacific Championship Series (PCS) squad proceeded to battle European representative MAD Lions.
PSG Talon startled MAD Lions with a level one jungle invade courtesy of Chiu "Doggo" Tzu-Chuan's Xayah, Ling "Kaiwing" Kai Wing's Leona, and Kim "River" Dong-woo's Udyr.
The trio snatched first blood by killing Javier "Elyoya" Batalla's Rumble, but MAD Lions managed to clap back by taking down Doggo.
This invasion did not bode well for the League of Legends European Championship (LEC) team.
They were behind from the beginning according to MAD Lions Kaiser. He also admitted that the team really had a difficult time dealing with Kaiwing's Leona, who zoned them out with quick stuns.
"I just wasn't able to set up proper fights with the team," he shared with ONE Esports.
PSG Talon snowballed so hard during the game that they emerged victorious for the first time against MAD Lions at MSI 2021. The Rumble Stage Day 3 was a great day for the former especially since they just defeated two major region teams.
"I didn't really expect them to defeat RNG," commented MAD Lions Kaiser. "Seeing as how we beat them in the group stage, they really stepped up their gameplay and they really showed it to us. I give props to them for really stepping (up) and showing how skilled they really are."
---
---
MAD Lions Kaiser and his chicken mishap
During MSI 2021 Rumble Stage Day 2, Kaiser had a mini accident while facing PSG Talon in a match.
As his Nautilus was running away to safety with a pixel of HP left, he got caught at the enemy raptor camp. His Titan's Wrath expired just before he could get away, giving him quite the Zelda moment.
"I like to eat chicken of course but after yesterday, maybe I'll turn it down a bit because they are looking angry at me and I'm a bit scared of it," joked MAD Lions Kaiser. "It's fine, I'll get over it after some time."
Kaiser is grateful to have Carzzy as his bot lane partner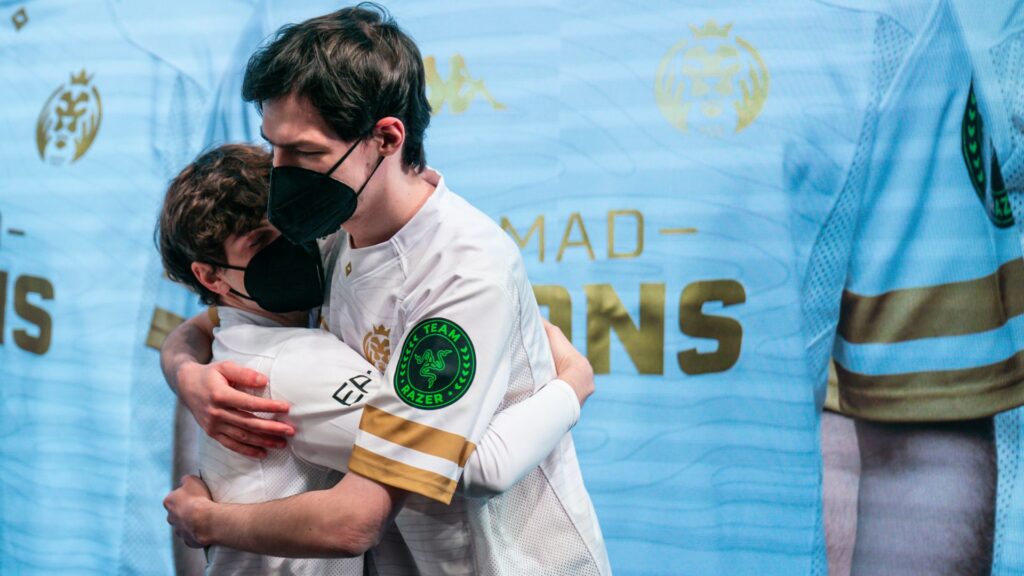 The MAD Lions support player also shared reasons on what makes his bot laner, Matyáš "Carzzy" Orság, a great partner.
"Whenever I bring any new strategies to him, he's very open to trying them. If they work, they work. If they don't, we try other ones," Kaiser added. "He's just a good friend and partner overall."
Carzzy claimed that he and Kaiser are the best tandem in the LEC right after their victory against Rogue during the Spring playoffs.
"I think we have the best understanding of the mid and late game, plus we know how to punish opponents and snowball a game," said Carzzy in an interview with LEC.
READ MORE: Blink confirmed: MAD Lions' Carzzy loves singing to Blackpink!