Worlds 2021 hopefuls MAD Lions have added a new volume of hopium to the League of Legends European Championship (LEC) community after they pulled off an impressive wombo combo during Day 2 of the Group Stage which led them to victory against Gen.G in the best-of-one.
With this single MAD Lions play, the LEC team made the biggest comeback in the competition so far against LCK's second seed.
---
---
Watch this epic MAD Lions wombo combo at Worlds 2021
MAD Lions started the game slow, and eventually trailed by 3,000 gold to Gen.G at the 20-minute mark.
Things took turn for the worse for MAD after Gen.G aggressively pushed the LEC team's top lane, taking down two turrets in the process, which increased their gold lead to 4,000, 22 minutes in.
However, a crucial clash brought the Lions back to the game.
An epic mid game team fight broke out near the dragon pit, with both teams contesting for the Ocean Drake. After finding himself surrounded by Gen.G members, İrfan "Armut" Tükek's Monkey King cast Cyclone simultaneously with Norman "Kaiser" Kaiser's Yuumi ultimate. This bought some time for the rest of MAD to respond and save the two players.
Layering the AoEs, Matyáš "Carzzy" Orság's Lucian used The Culling, which was followed up by Marek "Humanoid" Brázda's LeBlanc, who dealt further damage to Gen.G.
Javier "Elyoya" Prades Batalla's Qiyana then came in to chain the wombo combo with a flawless Supreme Display of Talent, stunning four Gen.G members, locking them up even longer.
With a ton of crowd control spells at their disposal, MAD Lions greatly hindered Gen.G's movement for a good six seconds. This brief period of time was enough to wipe out the entire LCK team.
MAD Lions swung the gold difference around against Gen.G
The match's gold graph depicts one of the biggest comebacks in Worlds 2021 history. The one team fight by the river clearly turned the tides in MAD Lions favor.
They finished the game strong with 9,718 gold lead ahead of their opponent.
Additionally, this is the longest match at Worlds 2021 so far, at 46 minutes.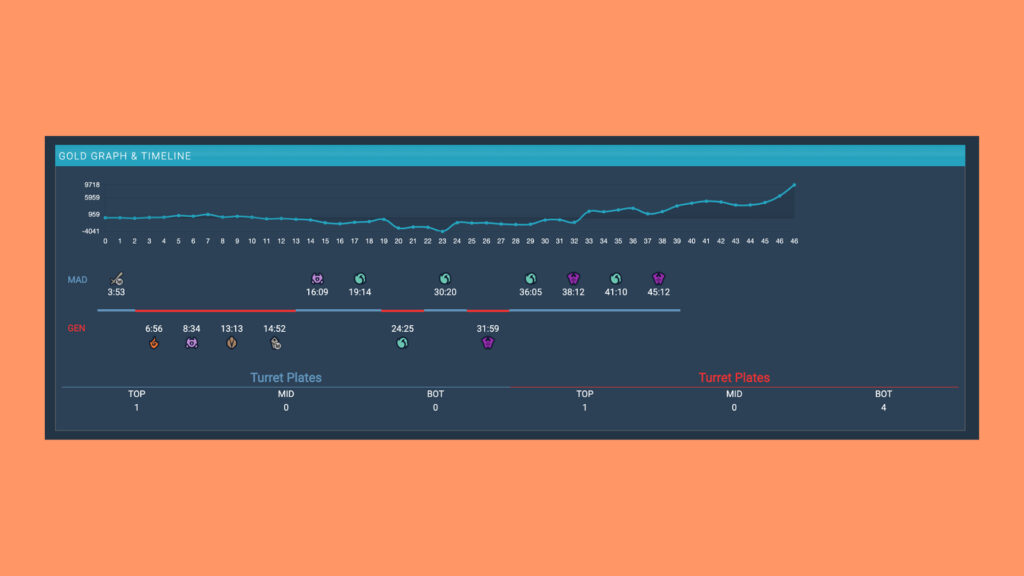 MAD Lions will be facing LNG Esports on Day 3 of the Worlds 2021 Group Stage. Will we be seeing more surprising comebacks from this LEC team?
League of Legends esports fans can watch the 2021 World Championship matches live on Riot Games' official channels on Twitch and YouTube.
READ MORE: DFM Aria's honest opinion on why the LJL hasn't found international success