After slipping to sixth place two weeks ago, JD Gaming had a fantastic week in the LPL this week, sweeping both the first and second-ranked teams, Invictus Gaming and eStar, to climb back up to fourth.
LGD Gaming had a perfect week as well, taking a surprise victory over Royal Never Give Up and Oh My God.
---
Week 6 results
Suning 2 – 0 Victory Five
Vici Gaming 1 – 2 Oh My God
Rogue Warriors 1 – 2 Top Esports
Bilibili Gaming 2 – 1 Dominus Esports
JD Gaming 2 – 0 eStar
FunPlus Phoenix 2 – 0 LNG Esports
Rogue Warriors 2 – 1 Vici Gaming
Suning 0 – 2 Oh My God
Top Esports 1 – 2 Team WE
LGD Gaming 2 – 0 Royal Never Give Up
LNG Esports 0 – 2 Edward Gaming
JD Gaming 2 – 0 Invictus Gaming
Victory Five 0 – 2 Dominus Esports
FunPlus Phoenix 1 – 2 Vici Gaming
Top Esports 0 – 2 Bilibili Gaming
LGD Gaming 2 – 0 Oh My God
Team WE 0 – 2 eStar
Rogue Warriors 2 – 1 Royal Never Give Up
Suning 1 – 2 Dominus Esports
FunPlus Phoenix 2 – 1 Edward Gaming
Bilibili Gaming 1 – 2 Invictus Gaming
---
Match of the week: FunPlus Phoenix vs Edward Gaming
Going into this match, Edward Gaming were on a roll and looking to extend their 4-series win streak this week. Reigning World Champions, FunPlus Phoenix, on the other hand, were looking to bounce back after an unexpected loss to Vici Gaming.
Rookie jungler, Zhao "Jiejie" Li-Jie, set the tone for EDG early in game one. He foiled Gao "Tian" Tian-Liang's early invade at Krugs, and collapsed with his bot lane for first blood.
When FPX gained full control of the top side of the map and stole EDG's blue buff, it was JieJie who showed up just in time. Together with top laner Lim "Jinoo" Jin-woo and mid laner Lee "Scout" Ye-chan, they punished FPX's invade, killing Tian's Lee Sin again.
With two deaths already and no kills or assists, Tian was not having a good game. Nonetheless, FPX utilized their crowd control and strong 5v5 team comp to tide through the mid game. Kim "GimGoon" Han-saem's Aatrox came out big, even solo killing Scout's LeBlanc.
Displaying superior communication and team work, FPX were united in every call around Baron. Starting the buff at 21 minutes, whenever a member of EDG walked up to try to get vision, FPX turned on them immediately. Wiping out four EDG members, FPX closed out game one swiftly.
Completely out-jungling Gao "Tian" Tian-Liang again, EDG managed to translate JieJie's early leads into a Game 2 victory.
Matching Tian's first gank at bot lane, JieJie caught FPX by surprise. With extra help from Scout who teleported in, EDG took advantage of the early kill to secure the first Mountain Dragon.
Using mid and bot lane priority, EDG sniffed out Tian's location once more – this time in his own jungle. With another death on the board, Tian found himself once again with two deaths and no kills or assists.
The one team fight that pushed EDG's lead was played around the dragon pit. A well-timed teleport by Jinoo placed him right in the middle of FPX as he wiped them out with a massive Slicing Maelstrom.
Profiting from Kennen's and Miss Fortune's AoEs in team fights, EDG held on to their gold lead to finish the game 19 kills to two.
---
---
When Kim "Doinb" Tae-sang decided to pull out his signature Rumble pick, you know that FPX meant business in game three. A key adaptation they made was to rotate support Liu "Crisp" Qing-Song around the map early.
At level five, he visited top to help Crisp get a kill onto his opposing laner. At level six, he followed Tian to find a pick off JieJie in his jungle. These early rotations meant FPX outnumbered EDG on one side of the map, which in turn gave their carries individual leads.
Similar to game one, it was a Baron call that sealed the deal for FPX. As EDG funneled from blue buff to Baron pit, Doinb saw the perfect opportunity to lay down Equalizer. A well-timed stopwatch by Lin "Lwx" Wei-Xiang on Aphelios bought his team time to wipe the floor giving FPX a hard-earned 2-1 series win.
---
Player of the week: Han "Peanut" Wang-ho
Earning two MVPs out of four LGD wins this week, the former LCK superstar Han "Peanut" Wang-ho finally had a chance to shine on his signature pick, Lee Sin.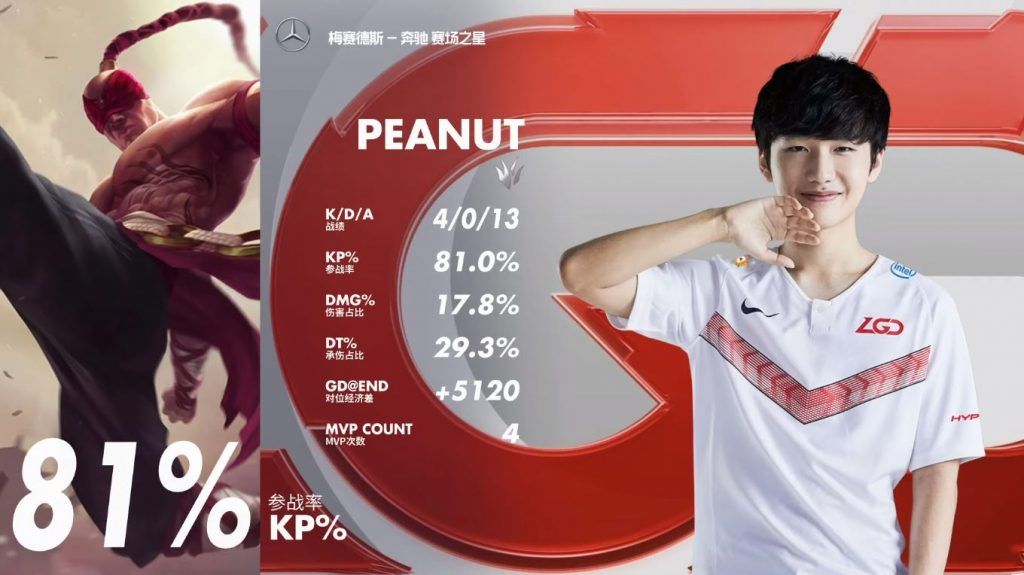 Against Royal Never Give Up, he went deathless in game one. Working flawlessly with his team to get early kills and objectives, LGD closed with Cloud Dragon Soul and a pentakill for Hu "Yuuki" Hao-Ming on Azir.
Peanut's mechanical aptitude on Lee Sin was on full display in LGD's second series of the week against Oh My God. After he landed Sonic Wave on Ornn, he used him as a spring to ward hop to get up close to OMG's bot duo.
He then flashed to position himself directly behind Han "Smlz" Jin and Liu "cold" Shi-Yu before using Dragon's Rage to propel them into his teammates for the double kill.
Boasting a 100% kill participation that game, Peanut played a big part in LGD's perfect 4-0 week.
---
Standings
1. Invictus Gaming (11-2)
2. FunPlus Phoenix (10-3)
3. eStar (10-4)
4. JD Gaming (9-4)
5. Edward Gaming (8-5)
6. Top Esports (8-5)
7. Royal Never Give Up (7-6)
8. Oh My God (7-6)
9. Team WE (6-6)
10. Rogue Warriors (6-7)
11. Vici Gaming (6-8)
12. LGD Gaming (5-7)
13. Suning (5-9)
14. Bilibili Gaming (5-9)
15. Dominus Esports (5-9)
16. LNG Esports (4-9)
17. Victory Five (0-13)
READ MORE: TheShy's Fancy footwork turns a Vayne flank into a triple kill