The LPL is back and will begin again on March 9. All matches will be played online, with players based in their headquarters.
It's been almost two months since the LPL left off due to the coronavirus outbreak in China, but it hasn't been all quiet since then.
Here's a refresher to gear you up for the rest of the season.
---
Opening of LPL Spring 2020
Reigning World Champions Funplus Phoenix and 2018's winner Invictus Gaming opened the LPL Spring season on January 13 in an explosive match.
It was the first time we witnessed former SK Telecom T1 Kim "Khan" Dong-ha playing for FPX, as he went up against one of the best top laners in the world, Kang "TheShy" Seung-lok.
As expected, the two teams had many back-and-forth moments, but IG pulled through 2-1 for the victory. IG also took their next series against Dominus Esports.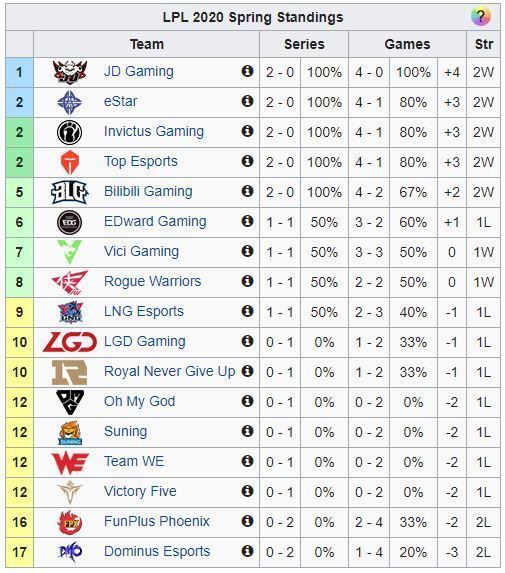 Despite winning both series, the current number one spot belongs to JD Gaming as they have not dropped a single game.
Players in JD Gaming you might recognize include Seo "Kanavi" Jin-hyeok, a former substitute jungler for Griffin, and Zeng "Yagao" Qi who is best known for his skills on Zoe and Azir.
---
---
Other teams who had a strong 2-0 start are eStar, Top Esports and Bilibili Gaming. Top Esports' most valuable transfer is former RNG jungler Hung "Karsa" Hao-Hsuan, who could very well push the team to make Worlds this year.
Fellow former LMS star Chu "FoFo" Chun-Lan made his debut with Bilibili Gaming. Despite J-Team's underwhelming results at Worlds last year, FoFo's performance did not go unnoticed.
---
Online scrims
In February, the LPL broadcast open scrims online involving Top Esports, Suning, JD Gaming, Victory Five, and eStar.
It was the first time we saw LPL teams play on Patch 10.3. Teams drafted Aphelios and MF in the bot lane, aggressive supports, early game junglers, and Soraka top.
Besides the usual meta picks, there were also unique choices like Zed mid, Ezreal mid and Nidalee jungle.
The LPL teams did not disappoint when it came to fun and entertainment.
---
Changes to LPL Spring 2020
With the official split resuming, we will still have matches every day of the week. However, instead of 2 best-of-three matches a day, week two to five will pack in three best-of-three series on all days except Tuesday to make up for lost time.
The first series on 3-match days will begin at 2 p.m. (GMT+8) and 5 p.m. on 2-match days.
In addition, when it comes to circuit points for Worlds qualifications, the number of points required has been reduced compared to previous years.
The winner of LPL Spring 2020 will only receive 60 points as opposed to the usual 90, while subsequent places have their points reduced accordingly.
This move places more importance on the Summer split, where points could be reverted and the winner directly qualifies for Worlds.
Nonetheless, we're looking forward to seeing if the current teams at the top can sustain their standings and how they would stack up against one another. We're not ready to count out RNG, Suning or FPX yet either!
READ MORE: New Dark Star legendary skins are out of this world