Cloud9 is flying high after a dominant 3-1 win over Evil Geniuses in round two of the upper bracket at the League of Legends Championship Series (LCS) Summer playoffs.
The fourth game saw an exceptional performance from C9 Jensen, who played Zilean against Joseph Joon "jojopyun" Pyun's Ahri. The Chronokeeper player worked wonders in team fights, zoning out enemies with Time Bombs while keeping Robert "Blaber" Huang's Olaf alive with Chronoshift.
After sending the reigning champions down to the lower bracket, Nicolaj "Jensen" Jensen didn't shy away from stoking the flames with their next opponent, 100 Thieves.
---
---
C9 Jensen talks about their upcoming match with 100 Thieves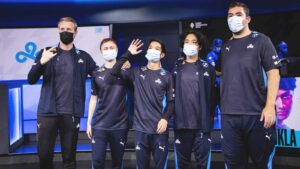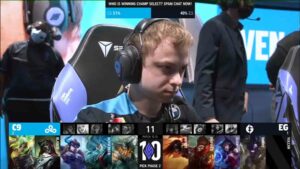 Jensen picked up a few highlights throughout the series. At the 20-minute mark of game four, the Zilean player assisted his team in a clutch re-engage.
Jeong "Impact" Eon-young's Jax came close to eliminating Kim "Berserker" Min-cheol's Zeri, but Jensen's Zilean turned things around with a double Time Bomb stun. This gave enough time for Berserker to kite out the Jax player.
With the rest of EG now low on health, the Zeri player zoomed through the river to secure a quadrakill.
---
---
The C9 mid laner believes that 100 Thieves won't be a problem. Even after the victory, Jensen still considers Evil Geniuses the best team in the LCS and the toughest opponent they've had to face.
"It'll be a walk in the park. If we can 3-1 EG, I don't even know about 100 Thieves," he said.
Cloud9's victory over Evil Geniuses now locks them in for Worlds 2022. Jensen was relieved that they've qualified and said that he can now focus on the rest of the playoffs. The C9 mid laner has never missed Worlds since joining the LCS.
Taking a break from pro play in Spring, Jensen saw the Summer season as an opportunity to return back to form and find his place on Cloud9. Despite encountering a few bumps throughout the split, Jensen said that they've figured out how to play as a team in the playoffs.
"This meta is a lot about the AD carry. I think we have the best AD carry so that definitely helps. It feels like we can finally see how we want to play in the early, mid, and late game," he said.
Cloud9 will face 100 Thieves in the upper bracket semifinal on September 4, 4 a.m. GMT+8 | September 3, 8 p.m. GMT | September 3, 1 p.m. PT.
Follow ONE Esports on Facebook and Twitter for more LoL news, guides, and highlights.
READ MORE: LCS Summer 2022 playoffs: Schedule, format, teams, where to watch