It's 2022. JD Gaming and Top Esports are once again the top two teams in the LPL.
Just two years ago in 2020, they were also at the pinnacle of their region, meeting in the Spring and Summer final, where they each claimed their first domestic title in series that stretched the full five games. At Worlds 2020, they also shared the same fate after Suning (now Weibo Gaming) knocked them out in the playoffs 3-1.
But after taking a year's break, JDG's longstanding head coach Yoon "Homme" Sung-young has returned, helping bring the team back to their full potential. Most recently, they finished second in the LPL Summer 2022 regular season behind Top Esports.
In the Summer playoffs, JD Gaming swept LNG Esports 3-0 before meeting Top Esports in the upper bracket semifinals. Here, they found themselves down 2-0, one game away from losing the series, before going on to do the impossible — they reverse swept their rivals to book the first ticket to the final.
---
---
TES Tian's Poppy might have been the deciding factor in the last JD Gaming versus Top Esports team fight in game five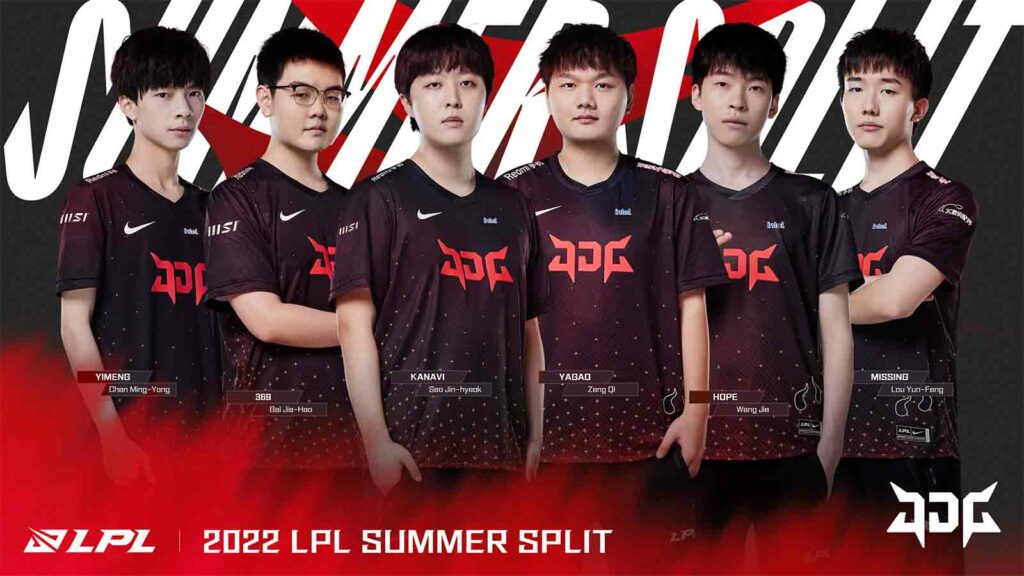 Game one went well for JDG, who found themselves in a 5,000 gold lead after taking down the mid tier two turret. However, one botched engage in the top side jungle, and suddenly, their stack of cards fell.
Huang "Wayward" Ren-Xing's Camille had the perfect flank position over the wall at red buff onto Wang "Hope" Jie's Lucian. Once the AD carry and jungler Seo "Kanavi" Jin-hyeok died, TES got a free Baron.
From then on, Bai "369" Jia-Hao struggled with engages on Sion, as JDG lost fight after fight, and eventually the game.
Game two told the same story — once again, JDG were in the lead. At 40 minutes, they had pushed into Top Esports' base and taken down one Nexus turret. Utilizing Ocean Soul, they had enough regen to sustain them as they downed top lane's inhibitor and waited for minions to gather.
Still desperately defending TES' base, Yu "JackeyLove" Wen-Bo's Zeri eventually found an opening onto Hope's Lucian, chipping him down to less than a quarter health. In an effort to peel back and protect him, Lou "Missing" Yun-Feng's Nami stepped forward and perished.
---
---
In a blink of an eye, the entire JDG squad was eliminated as JackeyLove scored a skillful quadra. Tragically, they lost game two in a matter of seconds as TES ran down mid to take down the Nexus on the opposite side of the map, 51 minutes in.
Backs against the wall, JDG first picked Wukong, then Kalista, the strongest and most-banned AD carry in the current meta, in game three. Their draft paid off — this time, they snowballed from early to mid game and closed out the fastest game of the series at 26:24.
As expected, game four was intense, with TES looking to close out the series while JDG were still fighting to stay in it. Only this time, it was JDG who out-scaled their opponents with Zeri and 369's Gangplank, who contributed 37.1% of total damage.
Going into Silver Scrapes, it was rough for JDG from early to mid game. Top Esports had three dragons to JDG's one, and 11 kills to JDG's two. They also had more map control and towers downed, with a 6,000 gold lead.
However, similar to what transpired in game one, 369, like his counterpart Wayward, hid behind blue buff's wall in Fog of War, and surprised TES from behind, targeting their AP and AD carries.
---
---
Even though this one fight did not win JDG the game, it certainly swung the tempo in their favor, narrowing the gold gap. 20 minutes later at the 45-minute mark, TES challenged JDG at Baron when Wayward was in Mega Gnar form.
It looked good for Top at first, as it forced Missing to blow Amumu's ultimate on the tank to stop him in his tracks. However, barely a second later, we saw 369's Aatrox fly toward the top side jungle.
Gao "Tian" Tian-Liang's Poppy had used Keeper's Verdict, but JDG were on red side and TES on blue. Because TES engaged from JDG's top side jungle, both teams were actually postured on opposite sides of the river, which meant that Poppy's ultimate caused Aatrox to fly in the direction of JDG's base — right into Top Esports' backline.
Flashing back in from an advantageous angle, 369 went straight for JackeyLove's Zeri. Once the AD carry went down, the game was over. Hope's Sivir even won a 1v2 on 80 HP in the backline, healing from auto attacks and Spell Shield and acing their longtime rivals to complete the reverse sweep.
---
---
Top Esports were sent to the lower bracket, where they bested Edward Gaming 3-0, setting up a rematch with JD Gaming again in the final.
Catch the match live on September 1, 5 p.m. GMT+8 live on Twitch and YouTube.
READ MORE: Doinb has gambled on 7 unique champions in 13 LPL Summer playoffs games