With the 2020 LCS Summer Split regular season concluded, the LCS has announced the results of the All-Pro ballot representing the best players in the league.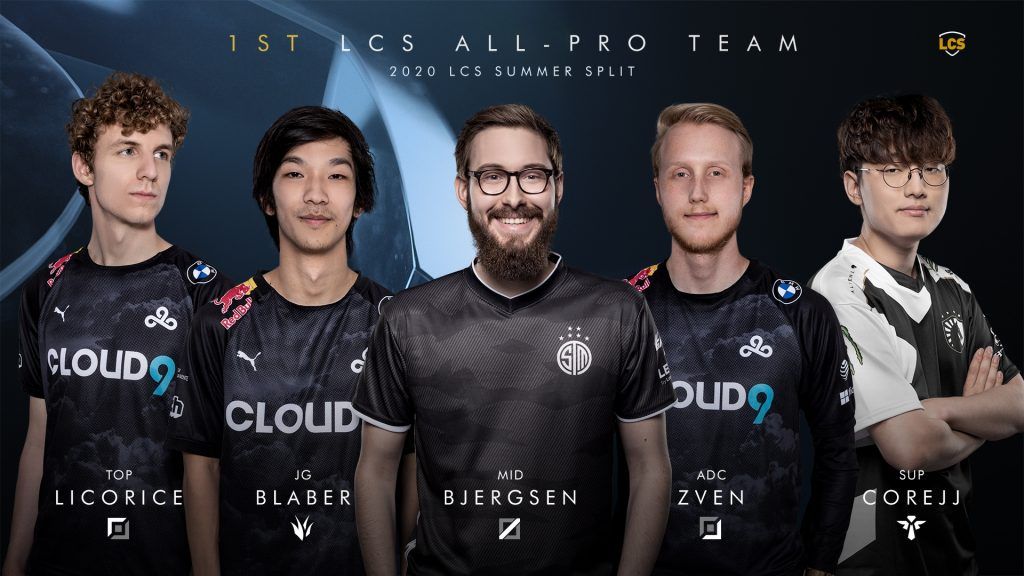 1st LCS All-Pro Team
Top – C9 Licorice (102 Points)
Jungle – C9 Blaber (115 Points)
Mid – TSM Bjergsen (115 Points)
Bot – C9 Zven (104 Points)
Support – TL CoreJJ (137 Points)
2nd LCS All-Pro Team
Top – 100 Ssumday (83 Points)
Jungle – FLY Santorin (86 Points)
Mid – TL Jensen (93 Points)
Bot – TL Tactical (78 Points)
Support – C9 Vulcan (85 Points)
3rd LCS All-Pro Team
Top – TL Impact (55 Points)
Jungle – GG Closer (70 Points)
Mid – (Tie) C9 Nisqy and FLY PowerOfEvil (36 Points)
Bot – GG FBI (70 Points)
Support – FLY IgNar (35 Points)
Cloud9's trio of Eric "Licorice" Ritchie, Robert "Blaber" Huang, and Jesper "Zven" Svenningsen dominated the 1st All-Pro team, taking the top, jungle, and ADC roles respectively while veterans Søren "Bjergsen" Bjerg of TSM and Jo "CoreJJ" Yong-in fill the mid and support roles.
Though Cloud9 dominated the split early on, TSM relied on Bjergsen's skills and leadership to lead them to a fourth-place finish while Team Liquid slowly snuck into first place with CoreJJ's impressive crowd-control that aided Edward "Tactical" Ra and Nicolaj "Jensen" Jensen.
In terms of team efforts, we see both Team Liquid and Cloud9's line-ups scattered throughout the three All-Pro Teams. Their success could be correlated to both their individual skill-levels and just overall chemistry on the Rift.
Cloud9 basically carried over their greatness from the Spring Split while Team Liquid reformed into a new dynamic force to keep the Spring champions on their feet.
---
---
Riot has also announced the top coaching staff of the split, with Team Liquid running away with first place.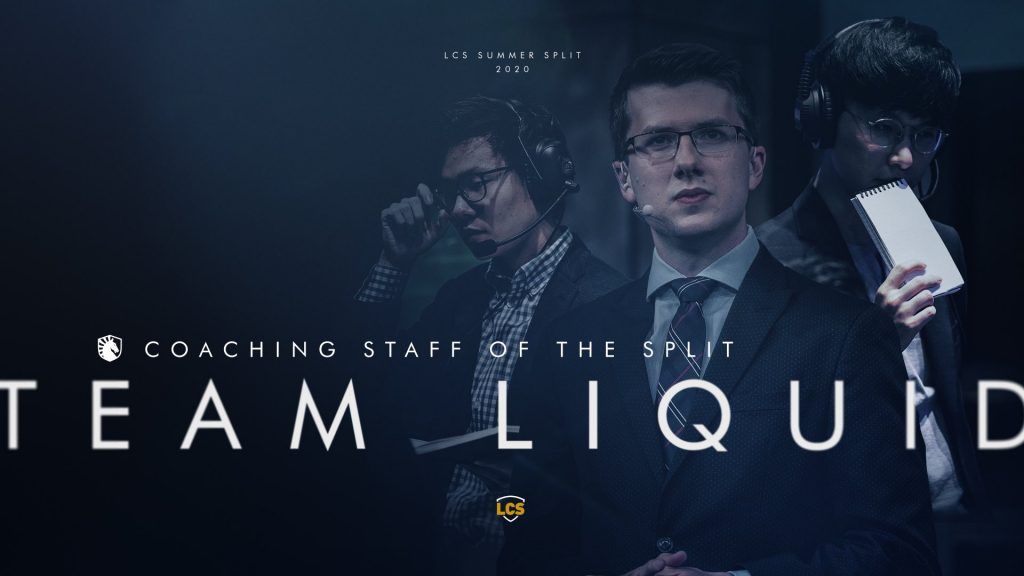 1st – Team Liquid (121 Points)
2nd – Cloud9 (62 Points)
3rd – Golden Guardians (25 Points)
Liquid beat Cloud9 by a whopping 59 points, with Joshua "Jatt" Leesman and the rest of the TL coaching staff redeemed their ninth-place finish in Spring with a slow yet steady takeover of the leaderboard in the final weeks of the summer.
Though Cloud9 may have fallen from grace in terms of their invincibility, their coaching staff still did their best to experiment in the regular season with unorthodox team compositions to prepare Blaber and the boys for the LCS playoffs and possibly Worlds. Whether or not it will pay off, Cloud9's still a significant powerhouse that TL should look out for.
The 2020 LCS Summer Split awards will reveal its Rookie of the Year on August 28 and the Honda Most Valuable Player on September 4.
READ MORE: Hauntzer leads Golden Guardians to a shocking upset over TSM