Traveler, do you remember the first time you stepped inside the vast, magical world of Teyvat?
There were so many sights to see, so many places to visit, and so many characters to meet. Feelings of elation and curiosity take over as you head toward the city of freedom, all while talking to a floating, talkative "emergency food."
The very same feelings struck me after setting foot inside the venue of HoYoFEST Philippines 2022, HoYoverse's themed cafe event, happening from September 28 to November 6 at Moon Rabbit Cafe & Restaurant in San Juan, Metro Manila, Philippines.
---
Ad astra abyssosque, HoYoFEST Philippines 2022
Every nook and cranny of the restaurant was decorated with gorgeous, life-size prints of official HoYoverse art, including the most recent ones featuring Sumeru content.
There were also standees of the traveler twins, Paimon, Nilou, and the Raiden Shogun scattered around the venue.
Just a few steps from the entrance was the establishment's café extension, which showcased art pieces from Archon quests throughout the years. As an avid Genshin Impact player, seeing these posters made me feel nostalgic and reminded me of all the epic battles we've been through, from Mondstadt to Sumeru.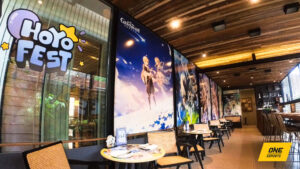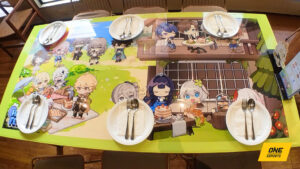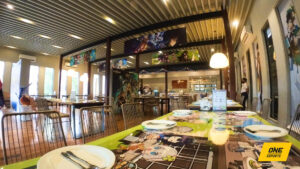 ---
---
A taste of Teyvat in every bite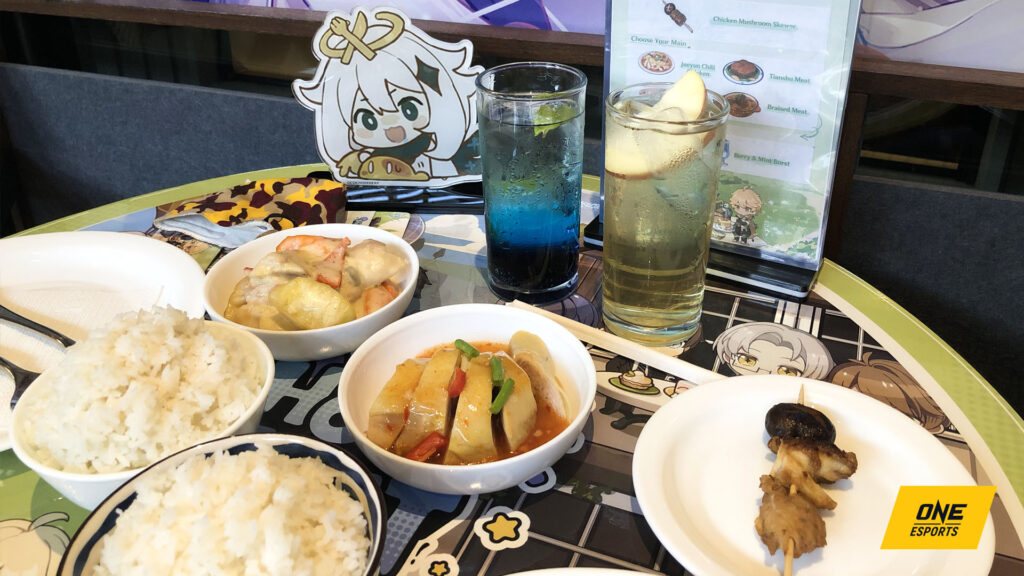 Just like in the game, the food that they served replenished the energy of weary travelers who came from different regions.
The Chicken Mushroom Skewer was very tasty, comprised of a piece of mushroom and two chunks of grilled chicken on a stick. The Cream Stew and Jueyun Chili Chicken were both very filling, and came with steaming bowls of rice. The Apple Cider and Berry and Mint Burst drinks were cool and refreshing.
I really appreciate the organizer's efforts to bring Genshin Impact's in-game dishes to life, following their visual presentations to a T. Considering the ambiance and the event's menu, I felt like I was dining in Mondstadt's Good Hunter and Angel's Share!
Now bring out bartender Diluc — no, seriously.
---
Dozens of official merchandise within your reach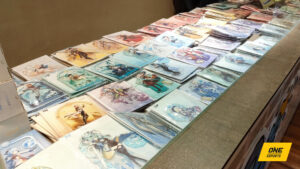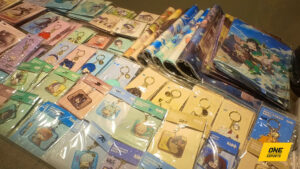 Displayed at the restaurant's counter were hundreds of official Genshin merchandise, featuring the game's beloved 4-star and 5-star characters. Button pins, standees, keychains, mouse mats, folders, notepads — you name it, they got it!
Similar to last year's HoYoFEST, there were lots of freebies that came with each merchandise purchase. Travelers who spent a minimum amount received postcards, paper bags, and themed folders, all for free.
Even if you didn't bring any merch money with you or if you're broke like a certain 5-star Geo character, you can still get a chance to win goodies through the event's scratch card on-site activity, which gives away either a postcard or a random merch — all depending on your gacha luck, of course.
---
Is HoYofest Philippines 2022 worth going?
Attending this year's HoYoFEST event will renew your spirits as a long-time traveler and will definitely make you appreciate playing the open-world game more.
The best part of my experience was hanging out with my fellow Genshin players and exchanging stories about our past and upcoming adventures around Teyvat. Overall, HoYoFEST 2022 was the perfect, sentimental anniversary gift from HoYoverse.
If you'd like to drop by this official Genshin Impact event, check out our full guide on how to attend HoYoFEST 2022 here.
---
Follow ONE Esports on Facebook for more Genshin news, guides, and highlights.
READ MORE: Perfection! Yelan cosplayer's underarms are brighter than our future