Now you see her… now you don't.
Like a phantom in the night, Genshin Impact's 5-star Hydro character, Yelan, mysteriously appears in the most unexpected places, then immediately disappears with a snap of a finger.
This Liyue character has a lot of secrets to hide, some of which were revealed during travelers' encounter with her at The Chasm.
A Yelan cosplayer, Aim, brought the water-associated waifu to life, and even nailed down the character's signature pose at a Genshin event in Thailand.
Aim's Yelan cosplay is so shockingly accurate, we can't tell the difference between the poster and the real thing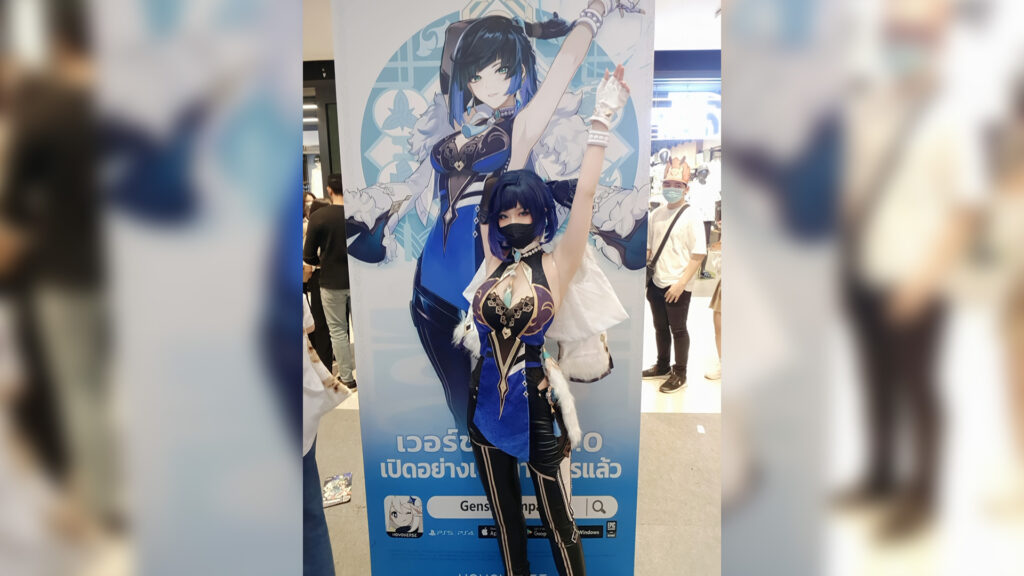 Aim's Yelan cosplay has got to be the most perfect one we've ever seen. She portrayed the character to a T, seen in her costume, gradient wig, and bright blue eyes.
One of her photos showed her posing beside a Yelan poster, depicting the character's post-burst animation stance. With all the attention on her underarms, the image might as well be an advertisement for the world's leading deodorant brand.
---
---
Aim actually dropped by the Central World shopping mall in Bangkok, Thailand to visit the game's life-size Teleport Waypoint display.
From August 24 to September 6, 2022, fans took photos with the real-life Teleport Waypoint and won free Genshin goodies as well like a Hilichurl mask, Sumeru character bookmarks, and postcards.
This one-of-a-kind exhibit took place in Southeast Asia and parts of the United Kingdom and the United States.
If you love Aim's Yelan cosplay, you can follow her on her Facebook page, Cos Aim.
READ MORE: Cute Collei cosplayer, reporting for duty!