Nathayos Sirigaya has successfully defended his Toyota GR GT Cup Asia title with a tightly-contested victory to make it two in a row for the Thai racer. Despite just one win from four races, consistency proved to be the key to victory for Sirigaya, with strong finishes across the board giving him the points he needed to repeat as champion.
The stakes were higher than ever at this year's competition, with not only US$21,000 in prize money up for grabs, but also two coveted places in the GR GT Cup Global Final 2022 on the line.
This year, 20 competitors from seven teams raced across four tracks in a variety of high-performance TOYOTA GAZOO machinery, ranging from the road-going GR Yaris, to the hybrid Le Mans winning sportscar, the GR010.
Semi Final Race (Group A, B, and C)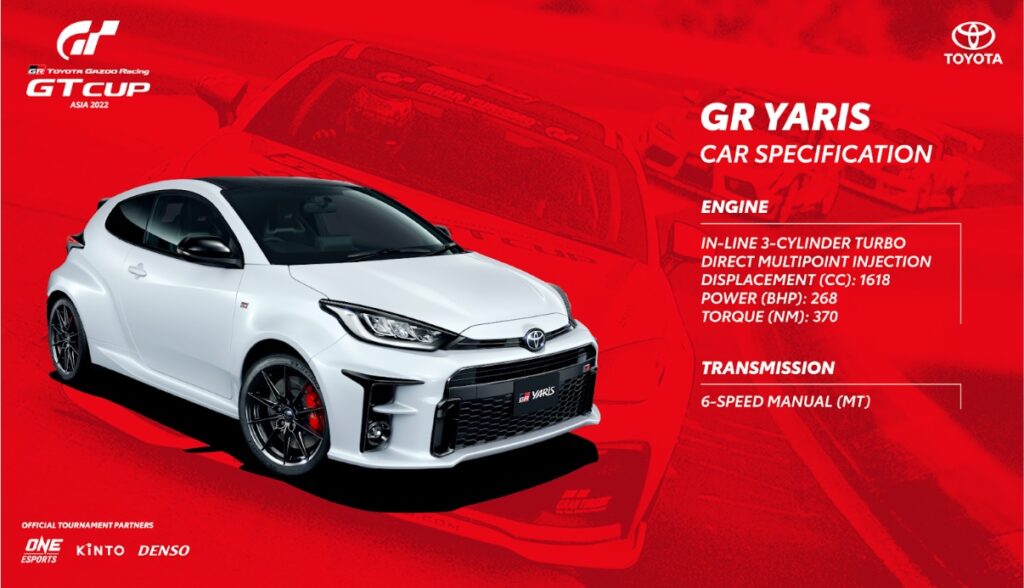 The semi final races split the 20 competitors into two groups of seven, and one of six, as they raced around the iconic Fuji Speedway in Japan in the GR Yaris. 
While surviving the group stages and qualifying for the final races were the most important things on every competitor's mind, it was also a good opportunity to earn some valuable points, and many of the big names came out swinging.
Andika Rama Maulana, Nathayos Sirigaya, and Muhammed Uzair were some of the tournament favorites in group A, although a strategic error by Uzair resigned him to last on the grid in qualifying, and a lot of work to do.
Rama pitted early to swap to the faster medium compound of tires, and the undercut and subsequent time gain ended up giving him enough of a cushion to maintain position over Sirigaya, and a charging Russell Reyes, to win the first semi-final. Meanwhile, Uzair drove a strong race to recover to fourth position.
Group B was up next, featuring most notably the recent winner of the Toyota GT Velocity championship, Iqbal Suji, who got his campaign off to a great start with a blistering lap for pole ahead of surprise performer Pradana Yogotama.
Contrary to the rest of the field, Suji started on mediums rather than hards, and was able to dart away at the front of the race. Suji eventually pitted for the slower tire on lap 7, coming out just ahead of Yogotama on the mediums. However, Yogotama eventually made his way past on lap 9, holding on to take victory.
Meanwhile, the other racers got into a fierce scrap, most notably Jun Kim and Thanaphat Pungphat who exchanged positions multiple times over the course of the lap, with Pungphat just managing to grab third position.
In Semi Final Race C, the field included tournament favoritesTaj Aiman from Malaysia and Y T Chou from Taiwan who battled from the start with a tense qualifying session that saw Chou take pole by a staggering 0.004 from Aiman, setting up a great battle for the race.
The two drivers ran alternate strategies with Aiman using mediums first and hoping to hold onto the lead, while Chou ran hards and hoped to finish strong.
As it transpired, Aiman was just able to hold off Chou, followed by Pratama in third place.
Final Race Round 1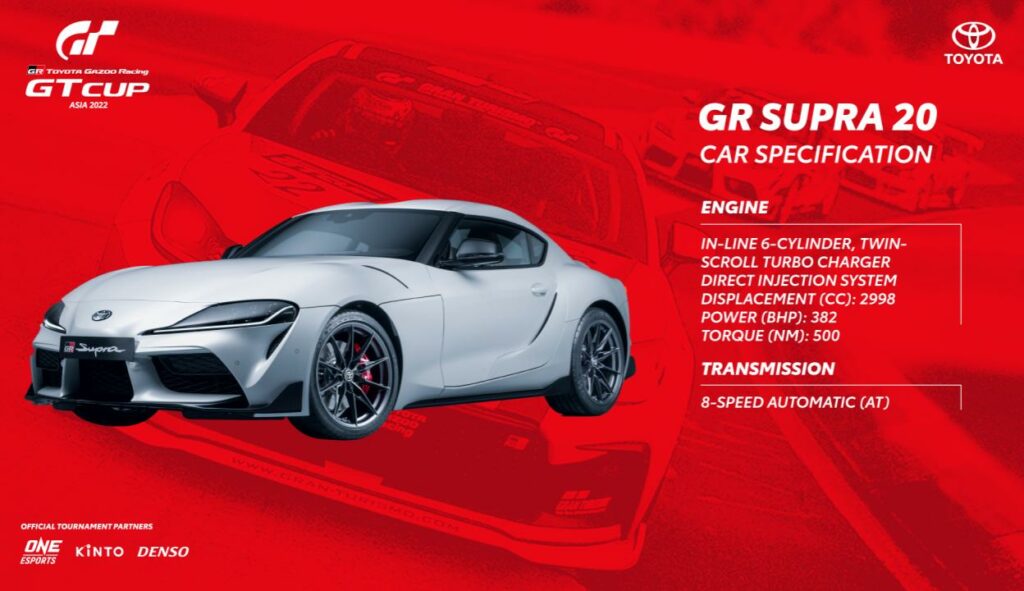 With the Semi Final Races complete, it was time for the Final Races to decide the Toyota GR GT Cup Asia 2022 champion.
The first race took place at the Catalunya circuit, in the GR Supra road car. Competition favourites Sirigaya and Aiman qualified well, but both were beaten to pole by Moreno Pratama.
The order stayed the same until the pitstop, where Sirigaya took the lead from Aiman and maintained his position throughout the race, with Rama hot on their heels in third.
As for Pratama, an unfortunate incident when he was battling fellow Indonesian drivers Rama and Yogotama, ended in disaster when an error from Yogotama resulted in a collision that wiped them both out of contention.
A 5-second penalty for Yogotama (soon to be 6 with a 1-second shortcut penalty added on), would shuffle him back to finishing in 10th place.
Final Race Round 2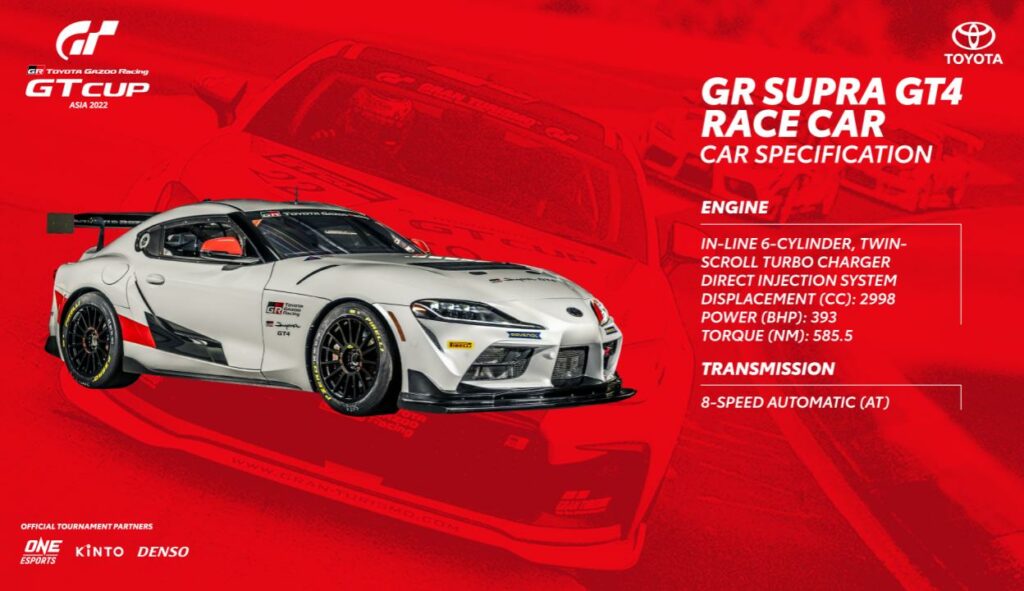 Race 2 took place in the challenging wet conditions at the Nürburgring, where the slightest mistake could prove extremely costly. The car of choice for the race was the GR Supra GT4 car, a racing car suitable for the conditions.
Yogotama's bad day got worse as he ended up receiving more penalties on his laps in qualifying, burying him in last place. At the front, Sirigaya looked to continue his stellar run with pole, ahead of Suji and Rama, with the pair separated by an incredible 0.001 seconds over a 2-minute 15-second lap!
Suji pitted early to give himself clear air (and good visibility), which proved decisive, as everybody exited the pits behind him. A tense battle near the end saw Suji fending off Sirigaya as he exited the pits, holding him off for the final two laps to take victory. A similarly great battle between Rama and Aiman had them finish in third and fourth respectively. 
After two rounds, with a first and second-place finish under his belt, Sirigaya was in the lead in points heading into the last race of the day.
Final Race Round 3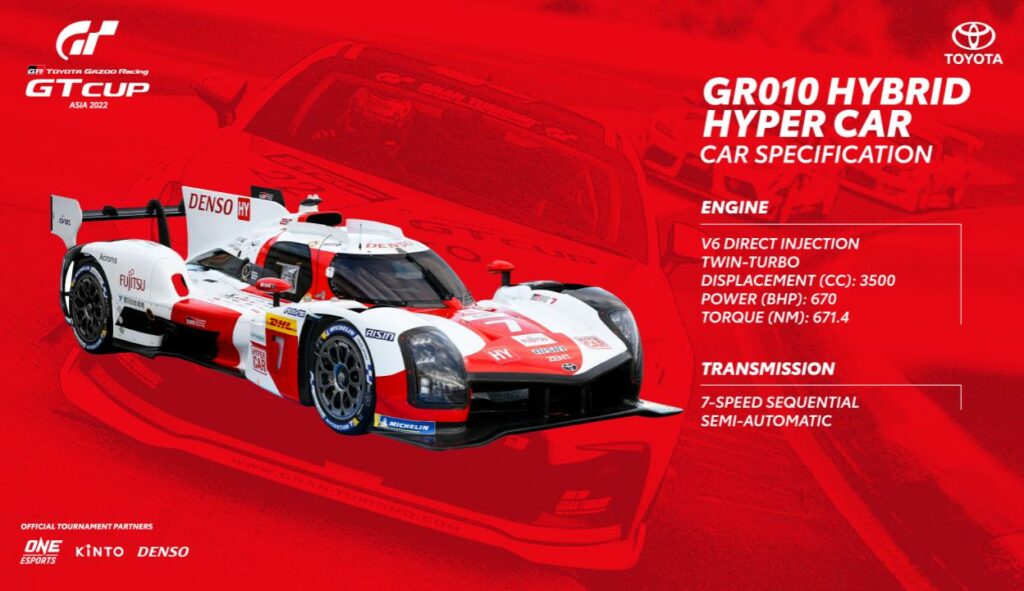 The stage was set for a showdown in the last race of the day, with a blast around the iconic Le Mans circuit in the Toyota GR010 Hybrid Hypercar. Vastly different from the previous cars driven, this would test the competitors' abilities to be precise while maintaining speed.
The drivers would get only one lap in qualifying, and with track limits being very strict it would be very easy to get counted out with a penalty. Surprisingly, not a single competitor got one, with pole going to Pungphat just ahead of Chou.
Chou took the early lead after Pungphat received a penalty and was mostly defenseless on the straight to the cars behind. 
A close battle between Pungphat and Aiman had disastrous consequences for Pungphat, as the Thai racer went off the circuit and saw any hopes of victory slip away.
Penalties were being handed out generously, in stark contrast to qualifying, and one such penalty allowed Rama to get past Sirigaya. This could prove crucial given Aiman was leading on the alternate strategy of running the soft tires first.
Chou, running the conventional strategy of starting on mediums was only able to retake the lead when Aiman pitted at the end of lap four.
Aiman ended up emerging from the pits just ahead of the soft runners, but being on mediums meant he was vulnerable to attack. Rama eventually got passed him, and then after a great battle, Sirigaya was just behind him and was also able to make his way past.
Chou drove brilliantly throughout and was never challenged up front, cruising to a relatively comfortable victory. However, sitting in third place, Sirigaya knew he just needed to keep position to take the championship, and he did just that, carefully guiding his car home to defend his title.
With 74 points, Sirigaya was crowned champion, with Rama, who was 3 points behind with 71 points in second. Y T Chou, the first runner-up in 2021 only managed to finish in third place with 67 points, despite his stellar finish in the Final Race round 3.
After his victory, Sirigaya told ONE Esports, "Coming into this year's event as a previous champion and winning the title back-to-back, you can imagine how big of a mountain I pushed off my chest. The last race was the only race I was worried about, and it was only during the last lap that I saw the light at the end of the tunnel. I thought I had lost the title until I realized the frontrunners were using a different strategy and that I still had a chance in the later stages of the race due to our tire advantage in the last laps."
The team prize award was won by Malaysia, thanks to consistently strong performances from Suji and Aiman who together totaled a massive 120 points. They were followed by Indonesia in second and Thailand in third.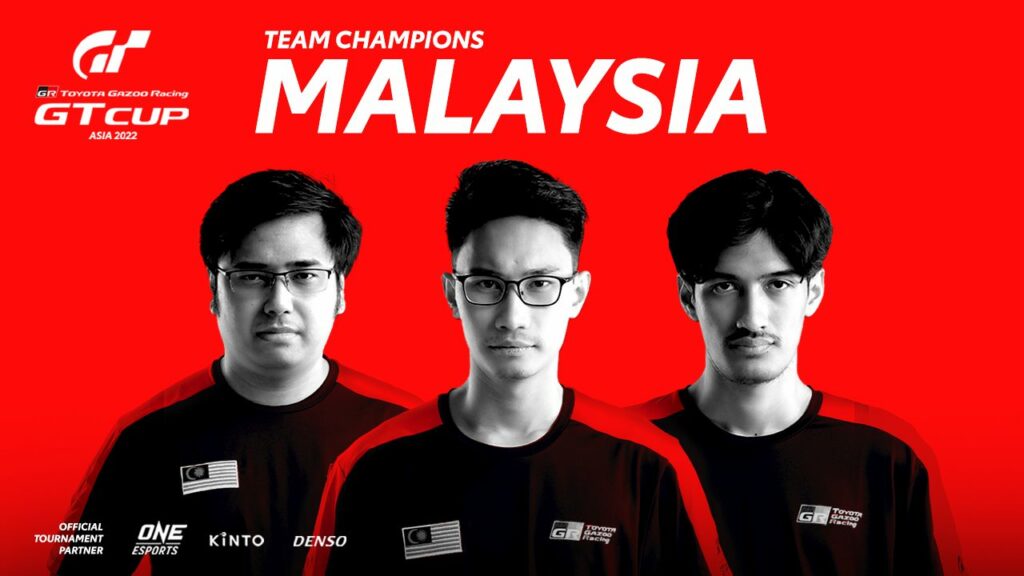 Sirigaya's next challenge will be the GR GT Cup Global Final 2022 in Monaco, where he will be joined by Rama, as well as the best drivers from around the world, as they go for global glory in the Toyota GR GT Cup 2022.
"My goal is to just enjoy myself and do the best I possibly can," said Sirigaya of the Global Final. "Whatever happens next will go down in the Gran Turismo history books as the first event on Gran Turismo 7 and in Monaco."