Singapore's *SCAPE is holding an Events and Commentary Mentorship (ECM) program for youths over two weekends this month. I went down last weekend to find out what the esports commentary workshop is all about.
For each session, 30 participants were divided into three groups, each led by an industry professional. In between these breakout sessions were group lectures on topics about shoutcasting.
Every block was snappy, and had a clear goal. On the first day, the mentors – Lysander Lim Lyn Feng, Eugene "Abstract" Eu and Daryl "HungryCasts" Lim – each gave a presentation on the fundamentals of commentating, play by play and color commentary.
They also touched on related topics like personal branding, camera presence, voice projection, and etiquette.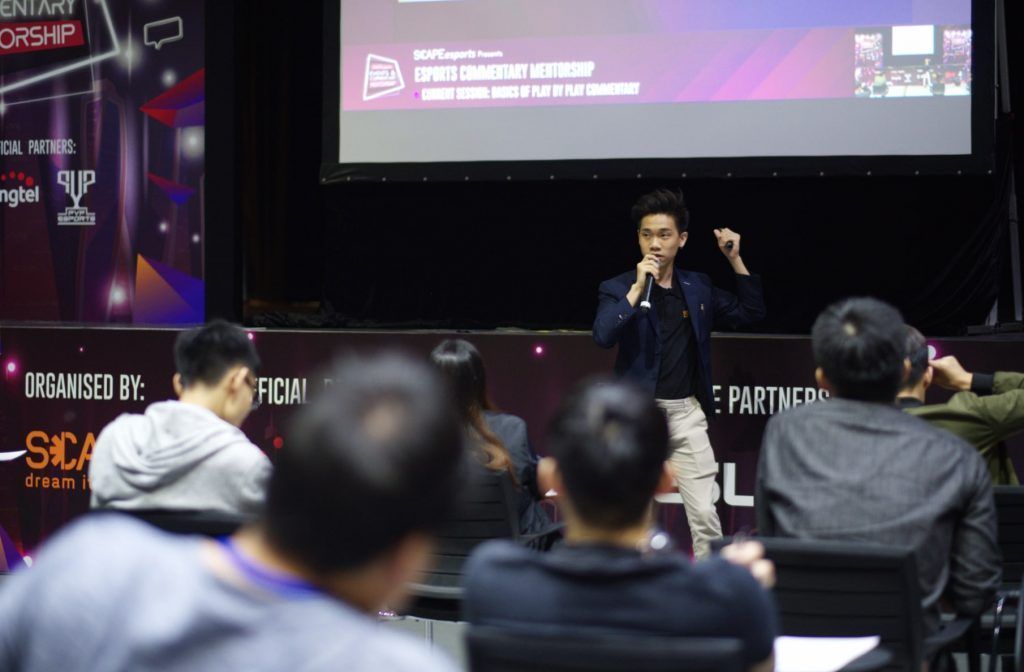 Besides explaining concepts, they presented clips of themselves in action for that personal touch.
The clip Abstract played during the session.
A lot of information was packed into the slides, and I could tell that the tips given came from years of accumulated experience
---
---
One of the more interesting topics was the subject of graphs. No, not mathematical ones, but the ones that reflect stats like energy levels throughout a match. Shoutcasters are not just announcers or analysts. They are also storytellers, and these stats help them tell the story of the game.
During the small group sessions, participants dived straight into game commentary. Each person chose a game they were familiar with, and took turns shoutcasting a clip for a minute. Mentors gave immediate feedback, tailoring their observations towards each individual.
Marcus Lim, a polytechnic student, said that this was his first time trying shoutcasting and felt a little anxious doing so. He was grateful for the feedback received from his mentor Daryl, who outlined ways for him to improve, such as "doing tongue twisters to be more smooth and precise."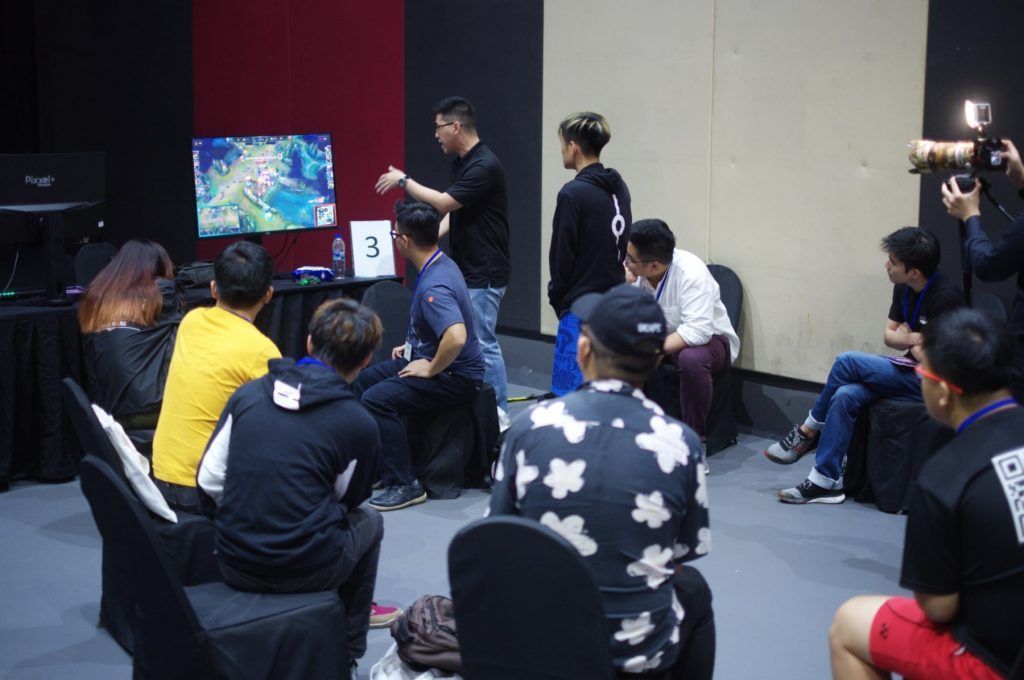 Besides shoutcasting, these sessions also included public speaking practices to improve impromptu speech. Talking to an audience requires us to think on our feet, and it is not something we get to do every day.
It was refreshing to hear fellow participants speak on a variety of topics, some of whom shared stories about the effect the COVID-19 coronavirus outbreak has had on their lives, or reasons why they chose their cell phone model.
These practice sessions led up to a final showcase on day two where the top two best performing students from each group competed against each other. In front of a panel, competitors made an impromptu speech about a given topic, followed by three minutes of solo esports commentary.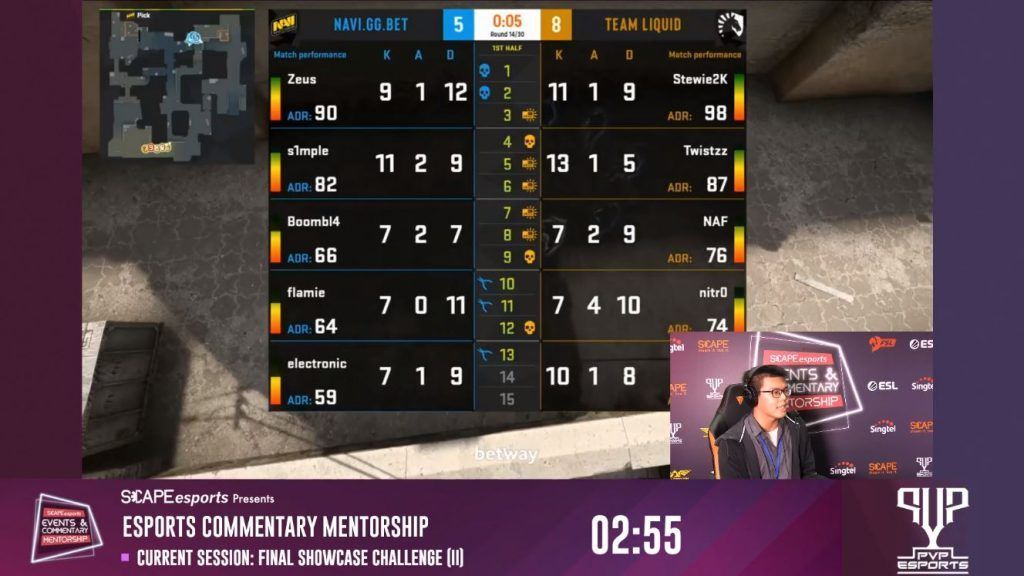 Competitors were put on the spot, literally. They had to cast in a live production setup with a recording camera, bright lights and a live audience comprising fellow students and online viewers. I could tell that nerves got to some of them, while others thrived in the spotlight.
Rex Ho clinched first place, and was awarded with an Armaggeddon monitor, Blue Yeti microphone, and a Logitech webcam. Kentrell Kwek came in second, while Ray Chong took third. All three winners will also be offered a one-year esports commentator contract with Sin Esports and future opportunities to work with PVP Esports.
"I'm always in full support for initiatives that aid youths in chasing less explored passions like esports. I'd hate to look back a decade from now and think about all the amazing talents that withered away," said Lysander Lim.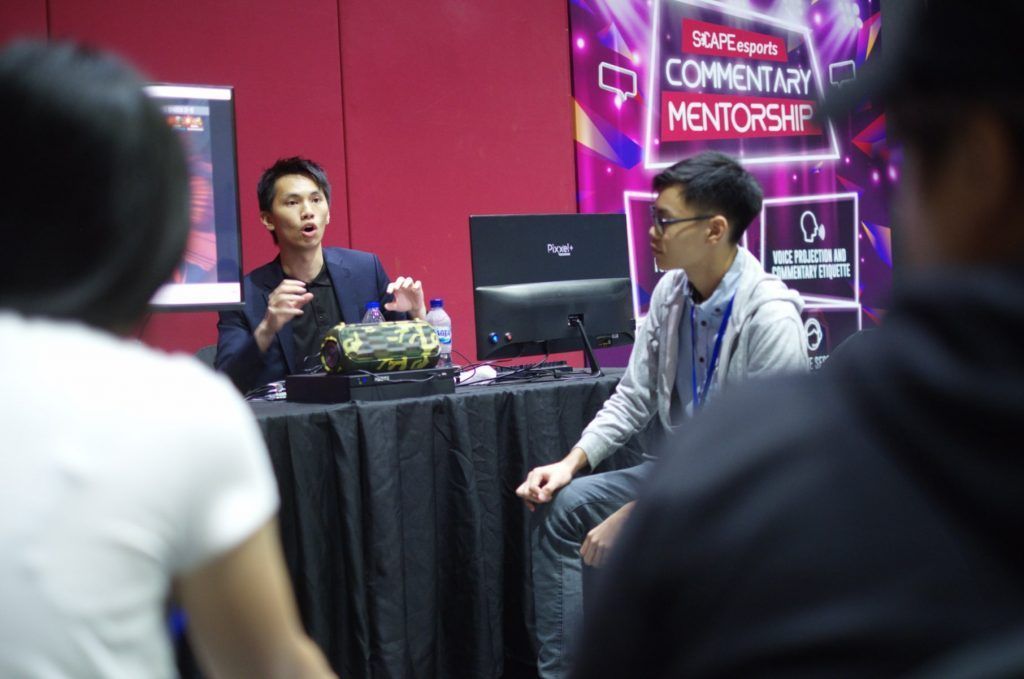 The workshops were live-streamed online so you can watch the VODs on *SCAPE's newly launched esports channel, twitch.tv/scapeesports.
Places are still available for this weekend's upcoming workshop on esports events management. You can sign up now on *SCAPE's event page for a fee of $10 per person.
READ MORE: Learn how to be a shoutcaster with *SCAPE's esports workshops