Epic Games hosted its second annual Fortnite Celebrity Pro-Am event last weekend, pairing professional players and streamers with celebrities, athletes, actors, and personalities, all battling it out for a charitable cause.
Each duo competed in a series of four battle royale matches with points awarded for eliminations and placement in each match.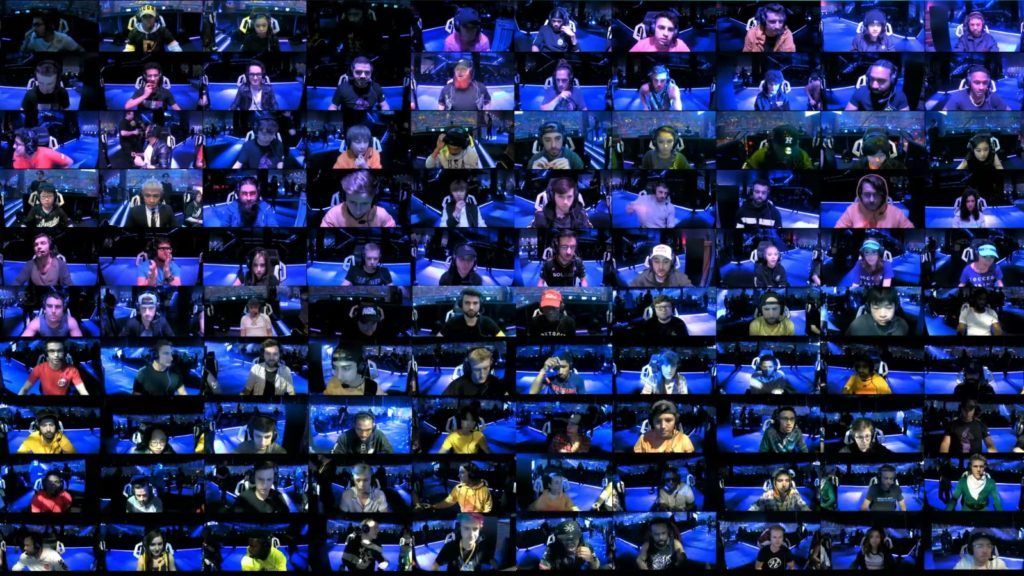 Carried by the momentum of an incredible first game, which saw them score Victory Royale and 16 eliminations, pro player, Karim "Airwaks" Benghali and music producer, Henry "RL Grime" Steinway walked away with the golden pickaxe trophy.
"It was easy," Airwaks said on Twitch after winning Game 1. "Simple as that. I don't know if it was 50 pros and 50 amateurs but I only saw 98 bots."
Second place went to the duo of Aydan "Aydan" Conrad and American DJ duo Lost Kings. Superstar streamer, Turner "Tfue" Tenney and NBA player, Josh Hart, came third.
One of the favorites for the competition, Richard "Ninja" Blevins, who won last year's event with American DJ, Marshmello, placed 19th with his partner, NFL running back, Marshawn Lynch.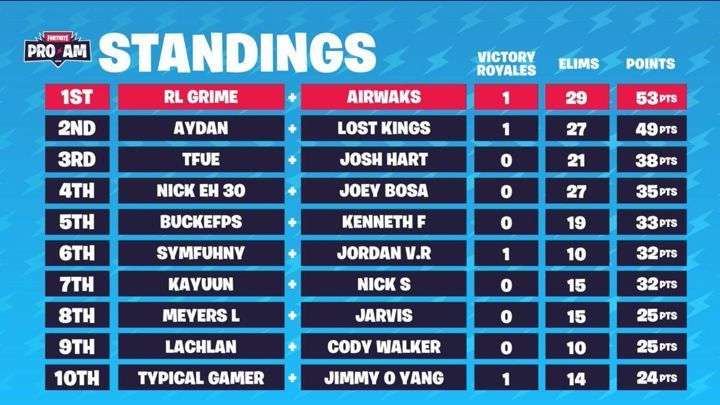 Here's how it all went down, including highlights from all four games:
---
Game One:
Airwalks and RL Grime demolished the competition in the first game, with 16 eliminations and a first-place finish. With their huge lead, they were the clear favorites to win the Pro-Am, even with three more games still to be played.
Airwaks played out of his mind, eliminating both Ninja and Tfue in the same game.

---
Game Two:
One of the best Fortnite controller players in the world, Aydan "Aydan" Conrad and Robert Abisi from Lost Kings won game two thanks to some amazing high ground control from Aydan.
Aydan and Robert finished the game with 10 eliminations and the Victory Royale.
---
Game Three:
Jarvis "Jarvis" Kaye and Myers Leonard from FaZe Clan almost won game three thanks to a stellar performance by Jarvis. With a sick smoke bomb play, he eliminated Airwaks and racked up 9 eliminations.
Despite losing the high ground advantage to Jarvis in the final moments of game three, Andre "Typical Gamer" Rebelo was able to get the final elimination and the Victory Royale.
---
Game Four:
The final game of the Pro-Am came down to a 1v1 build battle against Mason " Symfuhny" Lanier and Aydan "Aydan" Conrad.
With the high ground advantage, Aydan tried to get closer to his opponent by building down, but at the exact same moment, Symfuhny shot down the structure Aydan had been building next to. This caused Aydan to free fall all the way down and gave Symfuhny and his duo partner Jordan V.R. the Victory Royale.
READ MORE: Fortnite v9.21 patch adds the Proximity Grenade Launcher and nerfs the Storm Flip