With this year's roster of All-Stars decided through the Fantasy Challenge on the Compendium of the TI9 Battle Pass, players who had earned the most fantasy points throughout the Group Stage of the tournament would get the nod, unlike previous oens that were largely decided by fan votes.
The All-Star team formats also followed that of the Fantasy Challenge teams with two core players, one mid player, and two supports. Only one player per participating team was allowed in the roster as well.
The TI9 All-Star Match will be held before the matches start on Day 4 of the Main Event in the Mercedes Benz Arena in Shanghai, China on August 24. Here are the list of participating players.
Johan "pieliedie" Åström, Lu "Somnus丶M" Yao, Timothy "Tims" Randrup, Michał "Nisha" Jankowski, Amer "Miracle-" Al-Barkawi, Sumail "SumaiL" Hassan, Ding "Dy" Cong, Michael "miCKe" Vu, Roman "RAMZES666" Kushnarev, and Akbar "SoNNeikO" Butaev will form the two five-man rosters that will be competing in The International 2019 (TI9) All-Star Match.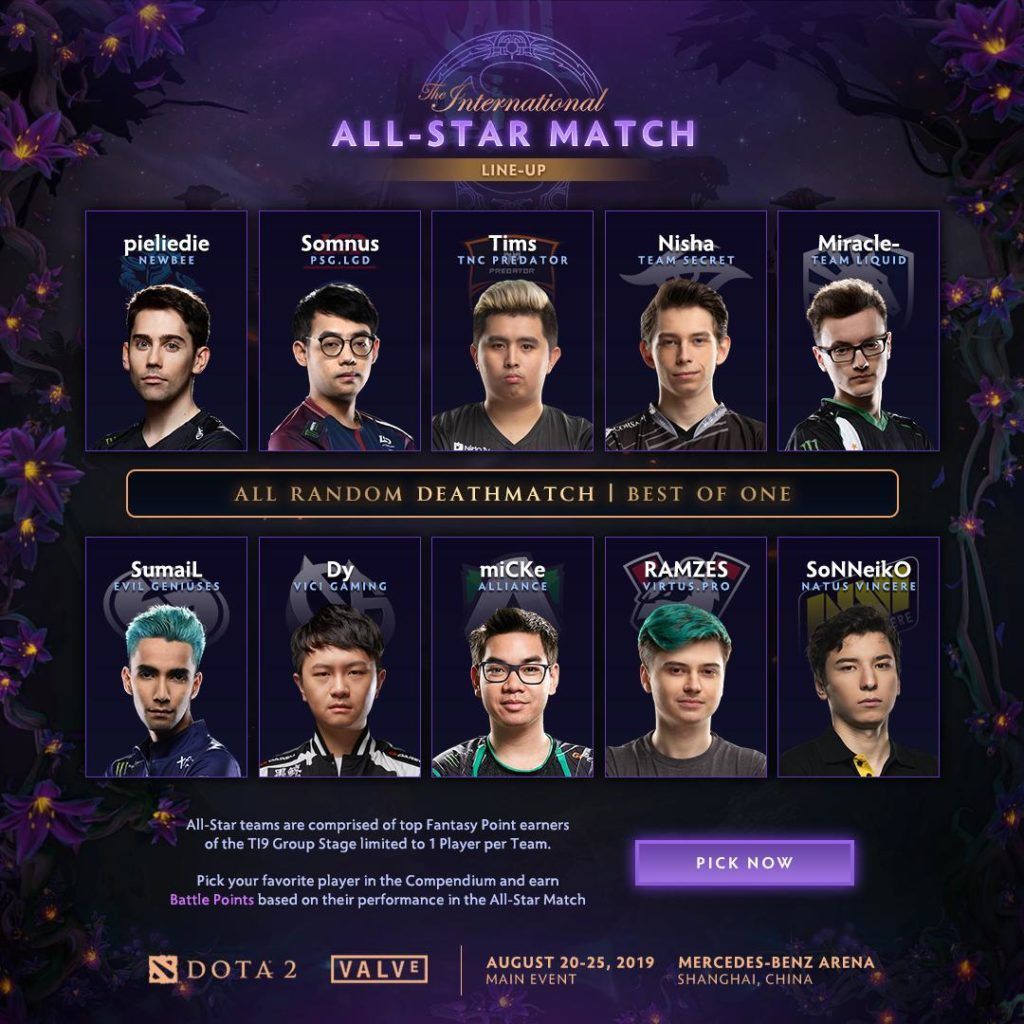 Pieliedie, Somnus, Tims, Nisha, and Miracle- will form one team, while the other will comprise of SumaiL, Dy, miCKe, RAMZES, and SoNNeikO. The two teams will face off in an All Random Death Match (ARDM) game mode, where players are given a random hero at the start of the match and a new one whenever they die until the pool of available heroes is depleted and the last team left standing wins.
This year also marks the third straight time that Miracle- has made the TI All-Star team, while SumaiL also made the roster in 2015 and in 2017 — where he was teammates with Ramzes.
Valve has not yet revealed the team names, or whether or not they will have Dota legends as captains as with previous All-Star Matches, however.

Be sure to check out our coverage of The International 2019 Group Stage for more TI9 action.