Updated on October 30 at 11:29 a.m. (GMT+8): The total number of Dota 2 players who've logged into the game in the last 30 days has surpassed 1 million. It is the most number of players Dota 2 has had since 2019.
Everybody loves free stuff, especially Dota 2 players.
Valve's decision to hand out digital freebies has caused the Dota 2 community to flock to the game. At the time of writing, over 920,000 players have logged into Dota 2 in the past 24 hours, according to SteamCharts.
The TI11 Swag Bag gave players a free Arcana, a level one TI11 Battle Pass, and a free month of Dota Plus, as long as they've played at least 10 games this Battle Pass season.
As soon as Dota 2 fans knew they could get their hands on a free Arcana that was available in the store, the game's player base skyrocketed in hours.
---
---
Valve's TI11 Swag Bag brought in over 920,000 Dota 2 players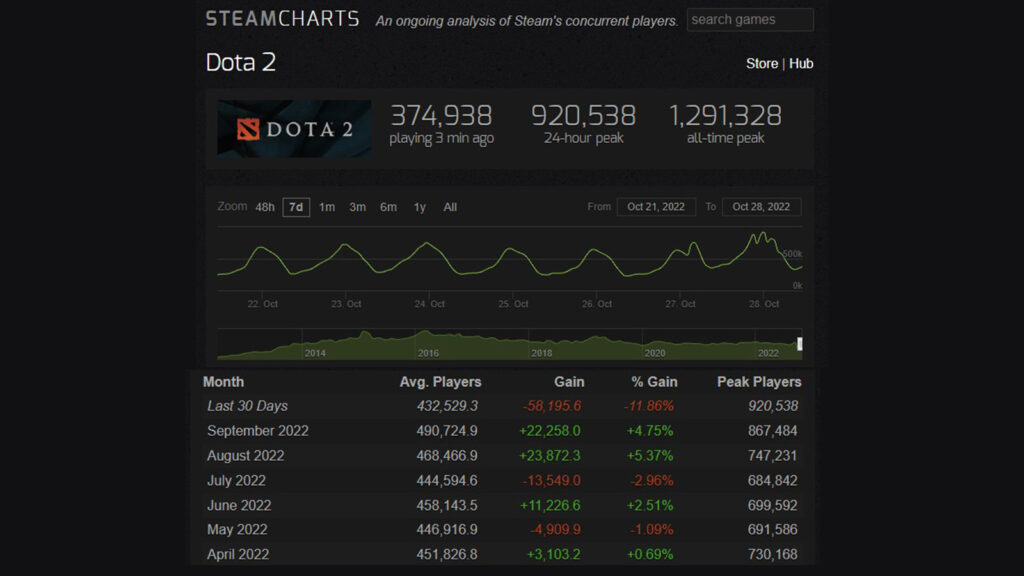 From January to August this year, Dota 2's average player count was around 725,771. The game received an influx of players when 867,484 of them logged in to play the game in September, a month before The International 2022 began.
With Valve giving new and old players a reason to log in through their free TI11 Swag Bag, Dota 2 is nearing its peak number of players again for October. This is the highest number of players in the Dota 2 client since May 2019 when the game had 997,341 players.
Aside from Valve's early Christmas present, the increase in players could also be a result of TI11's incredible group stage and main event matches.
We've seen world-class Dota 2 on full display since the TI11 Last Chance qualifier, and this could have ignited some players' passion to play the game again.
READ MORE: Exclusive: N0tail says TI prize money didn't change his life