The battle royale genre stormed the gaming world with popular titles like Fortnite and Call of Duty Warzone, but its core concept of "survival of the fittest" has made countless appearances in literature and filmmaking.
With Kinji Fukasaku's hit film adaptation Battle Royale (2000) popularizing the game term, it looks like we've gone full circle with the release of Netflix's latest series, Squid Game.
---
Netflix's Squid Game revels in intense competition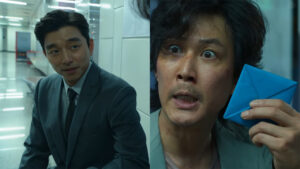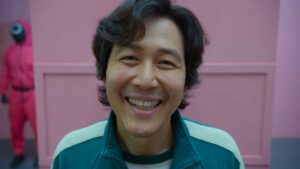 Squid Game starts off with a quaint beginning, peering into the life of Seong Gi-hun, a downtrodden divorcee with a gambling addiction.
After being confronted by one of his disgruntled creditors, Gi-hun meets a dashing man in a subway station who challenges him to a high-stakes game of ddakji.
Our hopeful protagonist eventually wins amidst taking a flurry of slaps and gets invited to join the main event with an even bigger prize of KR₩45.6 billion (US$38.5 million).
This is where Squid Game shines as a novel representation of the battle royale competition. Once Gi-hun accepts the invitation, he joins a group of 456 willing members on an isolated island, tasked to play traditional children's games.
Right from the first game, Red Light, Green Light, the contestants are left speechless when they find out that a small mistake in the game could lead to their untimely demise.
The series' fantastic mix of familiar childhood fun with life-and-death consequences takes the audience on a thrilling rat race, showing what people are willing to do to stay alive and cash in the hefty jackpot.
---
The inherent fairness in battle royales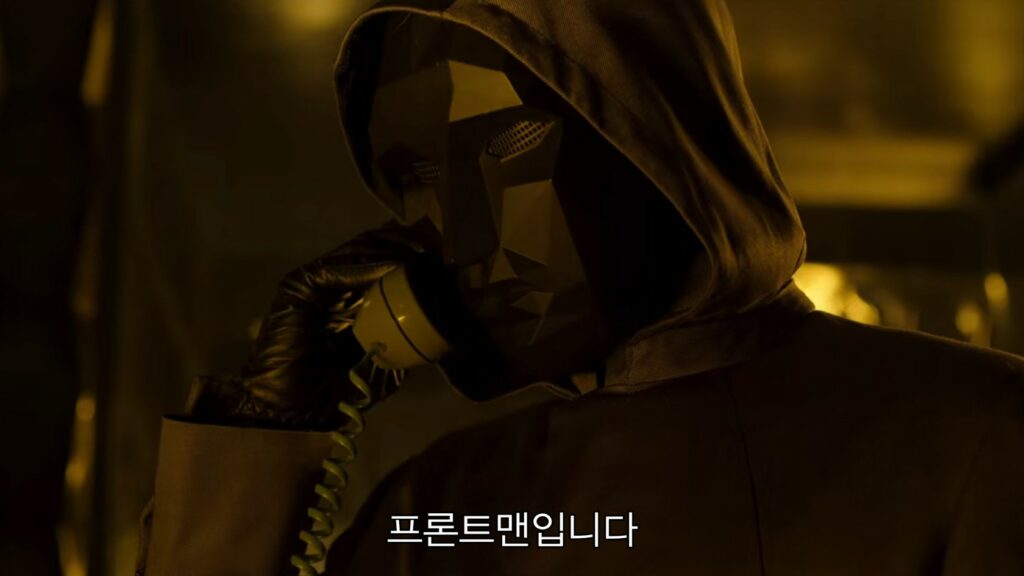 Another factor that sets Squid Game apart is its peculiar belief in fairness.
While other survival films and series tend to embrace the chaos of cheating and bad behavior, The Game's masked leader, Front Man, has a strict code of equality.
Without spilling too much about the plot, the Front Man has a great monologue on why The Game exists.
"Equality. Everyone is equal while they play this game. These people suffered from inequality and discrimination out in the world, and we're giving them one last chance to fight fair and win."
Of course, morality in a place that kills contestants is obviously questionable, but The Game captures the basic foundation of what makes battle royales so great.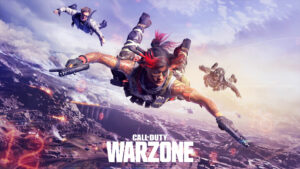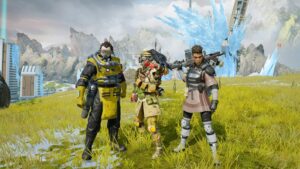 Look at any battle royale out there. You're put into lobbies where you and your opponents start in the same place at the same time. Once you hit the ground, you could get out-looted, punched, and eliminated, but it's all fair game since you all began with nothing. Squid Game echoes this sentiment through and through.
---
---
Is it all child's play?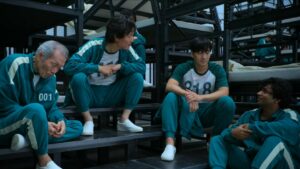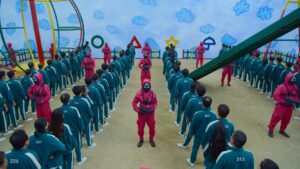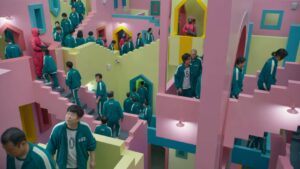 As a final note, Squid Game stands out as a series because of its beautiful juxtaposition of the cutthroat competition and its playground aesthetic.
Throughout all the episodes, Gi-hun and his fellow contestants wear matching tracksuits and play in bright rooms with colorful walls, evoking a sense of innocence during the dreadful experience.
The stark contrast between setting and circumstance shows the harsh realities Gi-hun and his friends eventually have to face. Though they're able to bond with each other in these child-like activities, only one will survive with the final cash prize.
---
If you're into survival stories that emphasize dramatic storytelling over action, Squid Game might be the series for you.
You can check out Season 1 of Squid Game on Netflix.
Follow ONE Esports on Facebook for more gaming news, highlights, and guides.
READ MORE: Alice in Borderland is the best show about gamers that's not actually about video games