Hikaru "GMHikaru" Nakamura has announced his decision to sign with the new streaming platform, Kick.
The non-exclusive contract will see the renowned chess player continue to stream on Twitch, but also put in hours on the green site.
Hikaru is the latest large creator to announce a contract with the platform, following in the footsteps of Adin Ross.
---
---
GMHikaru to start streaming on Kick in addition to Twitch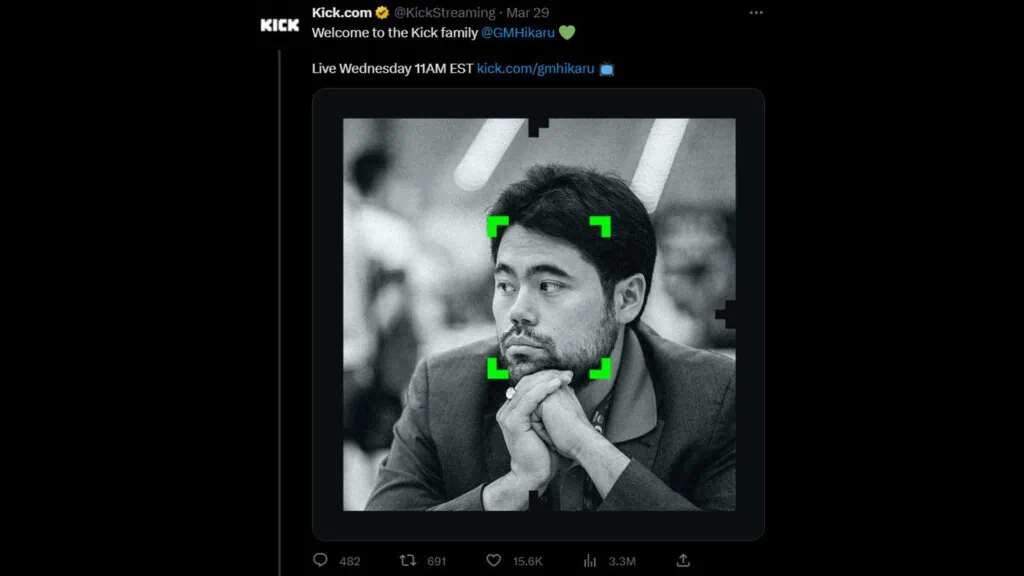 A chess grandmaster and five-time United States chess champion, Hikaru has netted over 1.8 million followers on Twitch. His streams tend to bring in thousands of viewers, and if he can bring that audience with him, it would be a big win for the platform.
Co-owner of the Twitch competitor, Tyler "Trainwreck" Niknam, tweeted out that the platform would be announcing six new content creators making the move to streaming on the site back on March 26.
This was followed by a tweet from Ross claiming another "superstar" was making the switch, but that tweet has since been deleted.
The 95/5 split the new platform offers is the main selling point. This would mean the streamer takes home 95% of the subscription payments while the site would only take 5%. Twitch offers a 50/50 split to its creators.
Screenshots of streamers sharing their increased revenue have been making the rounds on Twitter as people hail the site for the decision to offer more money.
It's currently unknown who the other five signees are, although there are plenty of folks guessing. Some even believe the record-setting Kai Cenat could be making the switch.
Regardless, competition normally proves to be fruitful for the consumers, and hopefully, this shakeup in the industry does exactly that.
READ MORE: TwitchCon 2023 dates revealed with two brand new locations