Streamer Zack "ZLaner" Lane recently dropped his Krig 6 class that's looking to be the next best assault rifle in Season 4 of Call of Duty: Warzone.
The FARA 83 has been the top AR ever since the first World Series of Warzone tournament, leaving the streamer to believe that it may face a few nerfs in upcoming patches.
To prepare for the potential nerf to FARA 83, ZLaner tried his hand at the Krig 6, and believes that it could be a solid contender in the long-range AR meta.
Details of ZLaner's Krig 6 class in Call of Duty: Warzone
As a seasoned AR user, Z slaps his usual long-range attachments on the Krig 6 class.
The triple threat of the Agency Suppressor, the 18.7″ Ranger Barrel, and the Field Agent Grip minimizes the gun's horizontal and vertical recoil when taking shots from afar.
While the gun sports an impeccable range, its only weakness is its lack of mobility. To keep himself on the move, ZLaner pairs the Krig 6 class with a more mobile MP5 SMG.
The streamer showcased the Krig 6 class in a duos match, grabbing 29 kills and dealing a total of 9,976 damage.
---
---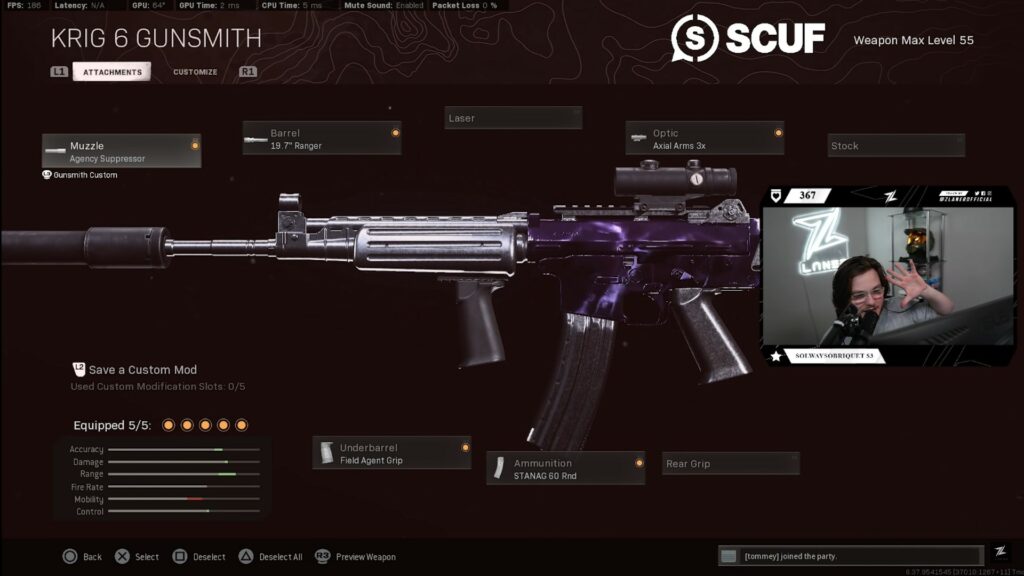 Here are the details of the Krig 6 class in Call of Duty: Warzone:
Muzzle: Agency Suppressor
Barrel: 19.7″ Ranger
Optic: Axial Arms 3x
Underbarrel: Field Agent Grip
Ammunition: STANAG 60 Rnd
Watch ZLaner and his Krig 6 fry some operators in his video down below:
READ MORE: TeeP's new Milano 821 class destroys opponents from afar