After weeks of experimenting with different loadouts, streamer Zack "ZLaner" Lane selected this specific MP5 class as his go-to secondary weapon in Call of Duty: Warzone.
With the meta being the most balanced than it's ever been, the streamer tried his hand at various submachine guns. While the MAC 10 and the Bullfrog were completely viable options, ZLaner eventually landed on the MP5 as his favorite SMG.
Details of ZLaner's MP5 class in Warzone
One big benefit of the MP5 is that it has a half-circle iron sight on almost all of its blueprints. With an iron sight already built into the SMG, you can open up one attachment slot to further improve your class attributes.
ZLaner equips the Tiger Team Spotlight to amp up his overall movement speed. With a specific increase in walking movement speed, he's able to move swiftly and clear sharp corners and rooms with ease.
For his muzzles, the streamer switches between the Sound Suppressor and the Agency Suppressor. While the Sound Suppressor offers a more silent approach to skirmishes, the Agency Suppressor offers a bit more bullet velocity and effective damage range.
As the secondary weapon to his trusty long-range CR-56 AMAX, ZLaner conquered the streets of Verdansk with a total of 48 kills and 16,764 damage.
---
---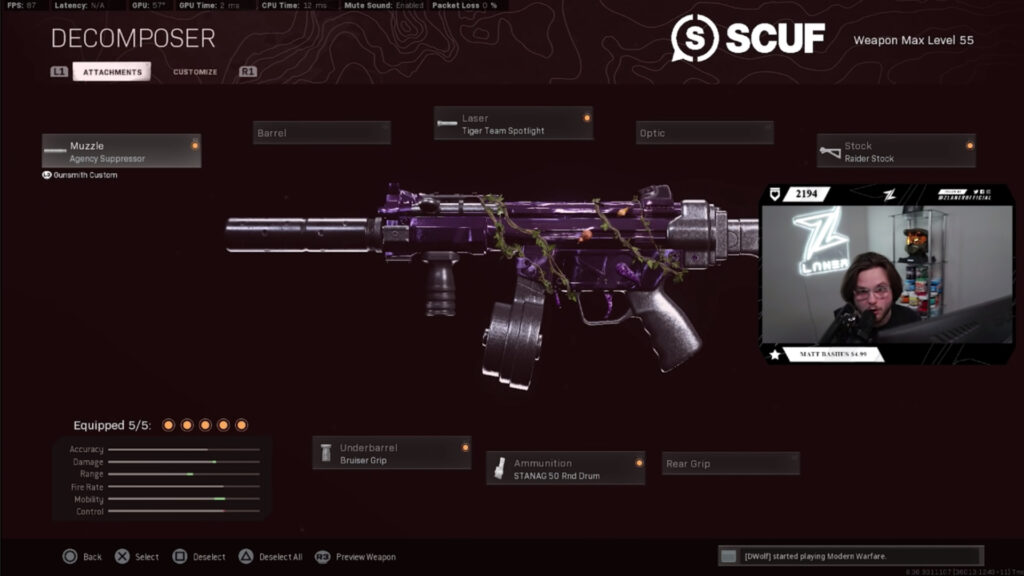 Here are the details to the MP5 class in Warzone:
Muzzle: Agency Suppressor
Laser: Tiger Team Spotlight
Stock: Raider Stock
Underbarrel: Bruiser Grip
Ammunition: STANAG 50 Rnd Drum
You can check out ZLaner's official video about the MP5 class down below: