Warzone 2 ranked play is on the horizon, and if you're looking to rank up then you need to understand the systems to do it.
Set to launch with Season 3 Reloaded, Warzone 2 ranked be played on Al Mazrah with a trios party size. There will be some restrictions such as no heavy choppers, no firesales, and no flinging rocks in the gulag.
You can find the full details in the overview we've put together.
---
---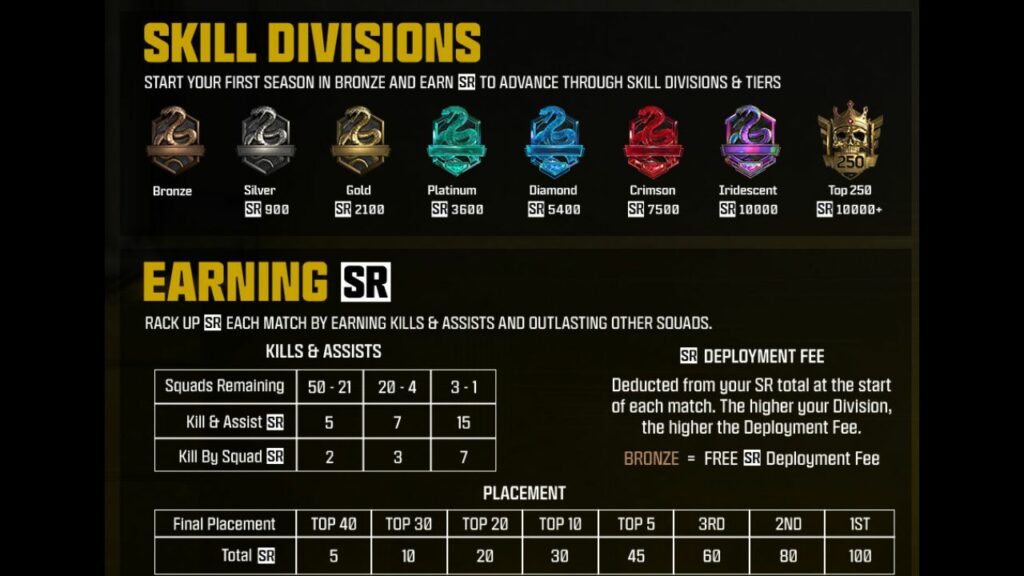 There will be a total of seven divisions in Warzone 2 ranked play when it launches on May 10. If you manage to get into Iridescent, you'll then be vying for a spot in the top 250.
Warzone 2 ranked play skill divisions:
Bronze: 0–899 SR
Silver: 900–2,099 SR
Gold: 2,100–3,599 SR
Platinum: 3,600–5,399 SR
Diamond: 5,400–7,499 SR
Crimson: 7,500–9,999 SR
Iridescent: 10,000 SR minimum
Top 250: 10,000+ SR (see below)
It's worth noting that the "highest Division at which players can start a new Season is Diamond I, so anyone in Crimson, Iridescent, or Top 250 will be brought down to Diamond I at the start of a new season," according to the official Warzone 2 ranked post.
---
Earning SR in Warzone 2 ranked play
There are several factors that will impact how much Skill Rating (SR) you earn during a match. The following are the basics, which we'll dive a little more into after.
Placement (e.g., 1st, 2nd, 20th)
Kills
Assists
Kills by your squad.
While that is the core of how you earn SR, there are factors that can change how much some of those accomplishments actually provide.
For instance, the SR earned for kills, assists and squad Kills is increased based on the number of squads remaining. If you have two kills, but the lobby is still nearly full, they will be worth less. The longer you survive, the more your kills can be worth.
Below you can find how these numbers change based on placement.
21+ Squads Remaining: +5 SR per Elimination/Assist, +2 SR per Squadmate Elimination
3–20 Squads Remaining: +7 SR per Elimination/Assist, +3 SR per Squadmate Elimination
1–3 Squads Remaining: +15 SR per Elimination/Assist, +7 SR per Squadmate Elimination
---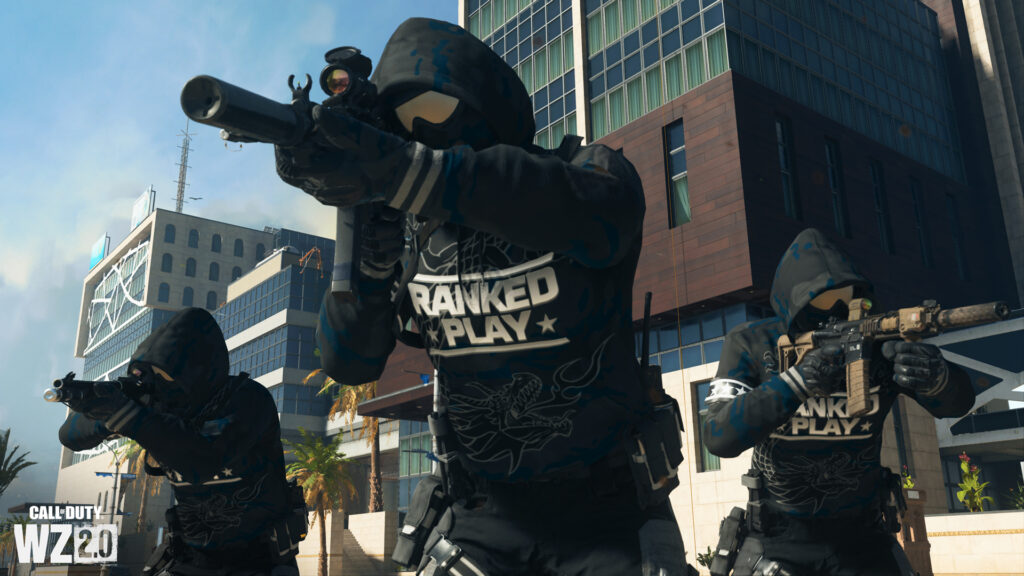 How much SR do you gain for placement?
If you're wondering how much SR you gain depending on your placement, well, we've got that too.
Top 40: Five SR
Top 30: 10 SR
Top 20: 20 SR
Top 10: 30 SR
Top five: 45 SR
Third place: 60 SR
Second place: 80 SR
First place: 100 SR
The deeper into the game you get, the greater those numbers become. 100 SR is a huge jump, and that's not even including the additional SR you're gaining from your eliminations and assists.
---
Warzone 2 ranked play Deployment Fee
Important to note that it's not all gains, however, as there's also a "Deployment Fee" that will be deducted each time you drop into the map. The amount the deployment fee will cost is determined by the rank the player currently has.
This will give players the added challenge of needing to perform even better in the higher divisions to earn their way out and into the next one.
Bronze I–III: No Deployment Fee
Silver I: –10 SR
Silver II: –14 SR
Silver III: –18 SR
Gold I: –23 SR
Gold II: –28 SR
Gold III: –33 SR
Platinum I: –39 SR
Platinum II: –45 SR
Platinum III: –51 SR
Diamond I: –58 SR
Diamond II: –65 SR
Diamond III: –72 SR
Crimson I: –80 SR
Crimson II: –90 SR
Crimson III: –100 SR
Iridescent and Top 250: –110 SR + 10 SR every 500 SR above 10,000 up to a max Deployment Fee of –210 SR
---
READ MORE: CDL pro Arcitys makes young Call of Duty player cry with act of kindness