The Warzone 2 ranked play beta is nearly here, so it's time to make sure you know what's happening.
Launching alongside the Season 3 Reloaded update, Warzone 2 ranked has been long asked for. The new mode will certainly bring some players back to the game, and give those who stuck around all the more reason to play and see just how high they can get.
---
---
Everything to know about Warzone 2 ranked play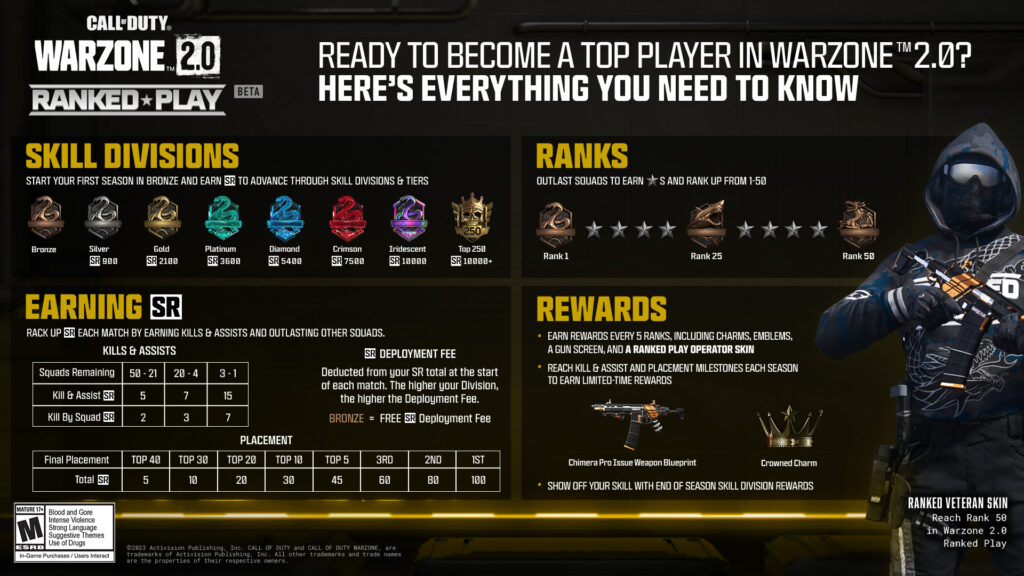 When is Warzone 2 ranked play coming?
The wait is nearly over for those longing to jump in with points to gain. Warzone 2 ranked play is going live on May 10 alongside the Call of Duty Season 3 Reloaded update. It's expected the update will follow the pattern of previous patches and go live at 12 pm CT.
The update will add new gameplay mechanics, points of interest, new skins, operators, weapons, and more, in addition to Warzone 2 ranked play.
---
Warzone 2 ranked play tiers
There will be a total of seven divisions in Warzone 2 ranked play. If you manage to get into Iridescent, you'll then be vying for a spot in the top 250.
Bronze: 0–899 SR
Silver: 900–2,099 SR
Gold: 2,100–3,599 SR
Platinum: 3,600–5,399 SR
Diamond: 5,400–7,499 SR
Crimson: 7,500–9,999 SR
Iridescent: 10,000 SR minimum
Top 250: 10,000+ SR (see below)
It's worth noting that the "highest Division at which players can start a new Season is Diamond I, so anyone in Crimson, Iridescent, or Top 250 will be brought down to Diamond I at the start of a new season," according to the post.
---
Warzone 2 ranked play overview
The ranked mode for Warzone 2 won't play exactly like the normal game and will have certain game requirements and rules in place.
One of those requirements is the party size, which is set to trios. This means if you're hoping to jump in solo, duo, or quads, you're out of luck.
The following settings and rules will be in effect for the Warzone 2 ranked playlist.
Party Size: Trios
Map: Al Mazrah
Game Mode: Battle Royale
Public Event restrictions (e.g. No Firesales)
Vehicle restrictions (e.g. No Heavy Choppers)
Restricted gameplay elements (e.g. no multi-circles, changes to redeploy mechanics)
Buy Station Inventory Adjustments
No flinging rocks at people in the Gulag, because that is just mean
---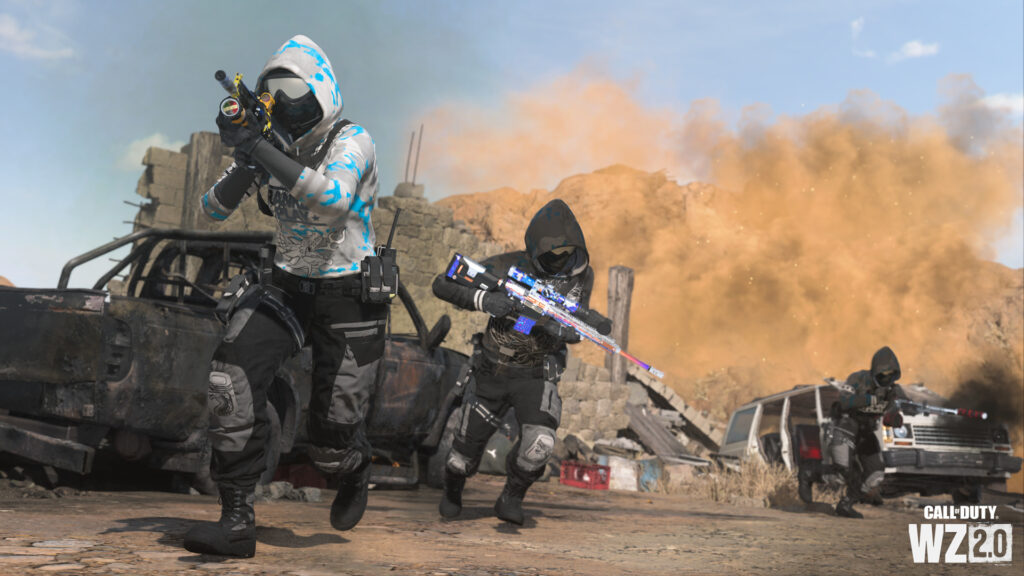 How to rank up in Warzone 2 ranked play
Now that you know the ranks and the SR required to reach them, it's time to talk about how exactly you earn those points in Warzone 2 ranked play.
Below is the information provided by the developers in regard to earning more SR per match.
Players will earn a Skill Rating (SR) based on match performance, specifically:
Placement (e.g., 1st, 2nd, 20th)
Kills
Assists
Kills by your squad.
The SR earned for Kills, Assists and Squad Kills is increased based on the number of squads remaining:
21+ Squads Remaining: +5 SR per Elimination/Assist, +2 SR per Squadmate Elimination
3–20 Squads Remaining: +7 SR per Elimination/Assist, +3 SR per Squadmate Elimination
1–3 Squads Remaining: +15 SR per Elimination/Assist, +7 SR per Squadmate Elimination
It's not all gains, however, as there's also a "Deployment Fee" that will be deducted each time you drop into the map. The amount the deployment fee will cost is determined by the rank the player currently has.
Bronze I–III: No Deployment Fee
Silver I: –10 SR
Silver II: –14 SR
Silver III: –18 SR
Gold I: –23 SR
Gold II: –28 SR
Gold III: –33 SR
Platinum I: –39 SR
Platinum II: –45 SR
Platinum III: –51 SR
Diamond I: –58 SR
Diamond II: –65 SR
Diamond III: –72 SR
Crimson I: –80 SR
Crimson II: –90 SR
Crimson III: –100 SR
Iridescent and Top 250: –110 SR + 10 SR every 500 SR above 10,000 up to a max Deployment Fee of –210 SR
---
Now that you have all the details, make sure to take some time to perfect your craft before next week. It's likely that you'll need it!
READ MORE: CDL pro Arcitys makes young Call of Duty player cry with act of kindness