With the new Call of Duty Modern Warfare 2 and Warzone 2 Season 3 update upon us, the Cronen Squall is now in the game.
The battle rifle is being touted as a "new medium-long range contender" by Call of Duty expert WhosImmortal in a recent video. He goes over the best Cronen Squall loadout to use in the current meta to dominate the map.
---
---
This brand-new Cronen Squall loadout is everything you need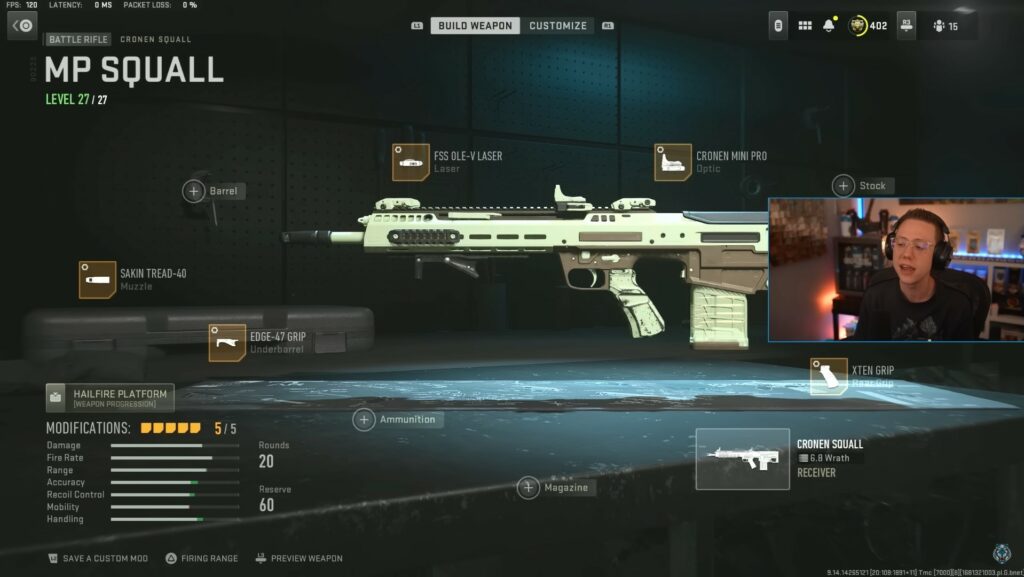 The focus for this build is "a decent bit of aggression, but also we want some stability and some control as well."
Opening things up, he suggests the Cronen Mini Pro for the optic. This is because it makes it easy to track and "stay on target."
For the laser, he chooses the FSS OLE-V Laser thanks to its aim-down-sight and sprint-to-fire speed buffs alongside increased aiming stability.
When it comes to the rear grip, it's the XTEN that makes the cut. This, once again, stacks up some more improvements to the sprint-to-fire and aim-down-sight speeds.
To help with great stabilization, he adds the Edge-47 grip underbarrel. This greatly improves the weapon's accuracy at the mid-range and long-range.
And lastly, the Sakin Treat-40 rounds out the attachments in the muzzle slot. This muzzle is focused on improving both the vertical and horizontal recoil of the weapon.
| | | |
| --- | --- | --- |
| SLOT | ATTACHMENT | TUNING (VERTICAL, HORIZONTAL) |
| Muzzle | Sakin Tread-40 | +0.54, +0.19 |
| Underbarrel | Edge-47 Grip | +0.44, +0.22 |
| Laser | FSS OLE-V Laser | -0.23, +27.97 |
| Optic | Cronen Mini Pro | -1.35, -2.25 |
| Rear Grip | XTEN Grip | -0.42, -0.22 |
READ MORE: Call of Duty League broadcast platform change draws applause from the community