Streamer Kris "Swagg" Lamberson picked up a massive championship win at the Twitch Rivals Call of Duty: Warzone Showdown NA.
With Nuke Squad clan mates Ean "Booya" Chase and Diaz "Biffle", Team Swagg powered through five private lobby matches filled with North America's finest Warzone players.
Biffle holds out in the first match of Warzone Showdown NA
Team Swagg had a strong start in match one, with each player collecting a handful of kills.
The trio eventually ran into some trouble heading into the final circle, where they lost both the team captain and Booya in numerous crossfires.
As the last man standing, Biffle padded their score with a solid pick inside the Torsk Bloc diner, and finished eighth place for the 1.3x point multiplier to their score of 16 kills.
---
Booya snags 11 kills and the Warzone victory in match four
Despite struggling in the next two matches, Swagg and his crew brought a winning mindset into match four.
As the map closed into Novi Grazna Hills, Booya came through as the team's sweeping crew around the circle's perimeter. Biffle and Swagg supported the sharpshooter by holding their ground inside the upcoming circle.
Once the circle started to push enemy operators out of cover, Booya landed killer shots across the open field that granted them the Warzone victory.
With Booya grabbing 11 of Team Swagg's score of 25 and the first place 2x multiplier, the team rose to the top of the standings with a whopping 50 points.
---
---
Team Swagg grabs two consecutive victories against TeeP to win the tournament
The last match of Warzone Showdown NA turned into a thrilling point race between Team Swagg and Tyler "TeeP" Polchow's trio.
The two squads were neck-and-neck in the standings. Though TeeP was leading throughout the first half of the tournament, Team Swagg's match four victory accumulated enough points to overtake TeeP by a small margin.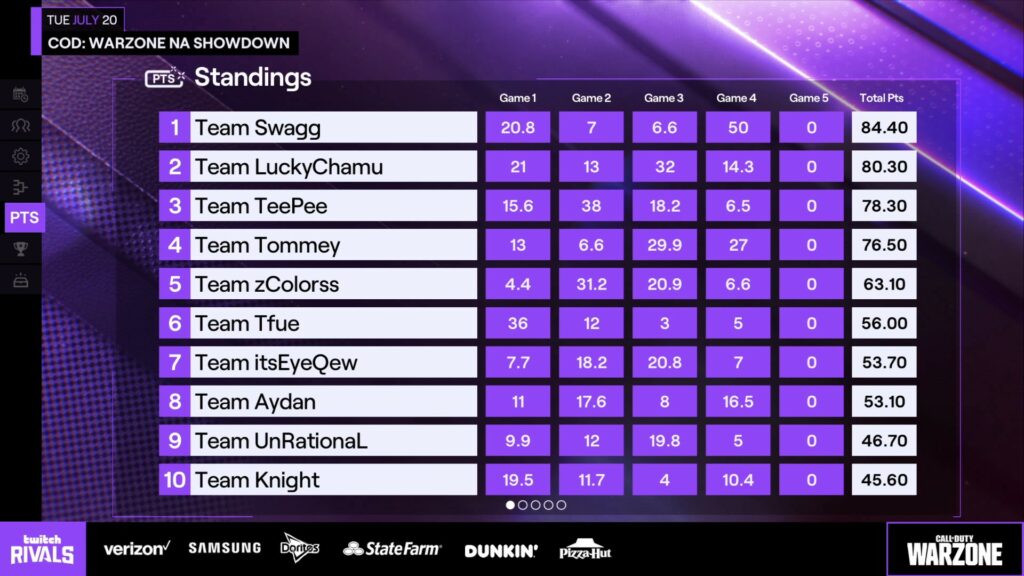 By the fifth and final match, it came down to a three-way duel between Booya, TeeP, and another solo operator.
Even though TeeP was racking up points with kills left and right, Booya knew that the first place multiplier would seal the Warzone Showdown NA win for Team Swagg.
Once TeeP set his sights on the third grounded operator, Booya peeked over the bridge and rained bullets on TeeP, claiming their second Warzone victory.
On the final scoreboard, Team Swagg finished with 104.4 points, beating Team TeeP for first place by a mere 3.6 points. With the championship win, Swagg and the boys took home US$15,000.
You can catch Swagg's reaction to the final Warzone Showdown NA standings down below:
READ MORE: Team Swagg dominated the WSOW Captain's Cup with 4 victories