Streamer Kris "Swagg" revealed his latest FARA 83 class in Call of Duty: Warzone.
The rise of this specific assault rifle class came about during the first World Series of Warzone, where Team Swagg won the Captain's Cup.
After their dominating performance in Verdansk, fans of the streamer were eager to know what kind of attachments went on this new in-meta AR.
Details of Swagg's FARA 83 class in Call of Duty: Warzone
Swagg uses the FARA 83 as his go-to gun for long-range skirmishes. He noted that the AR even has "no recoil" with the specific attachments he uses.
One attachment to note is the 18.7″ Spetsnaz RPK Barrel, which was recently buffed at the start of Season 4.
The barrel substantially increases bullet velocity, effective damage range, and horizontal recoil control, making it the perfect add-on to any longshot assault rifle.
One downside of the FARA 83 class is its lack of mobility. The FaZe streamer remedied this by pairing it with the XM4 rifle, a quicker secondary weapon for close combat.
In the video, Swagg picked up a Warzone victory with 25 kills and managed to deal over 10,000 total damage.
---
---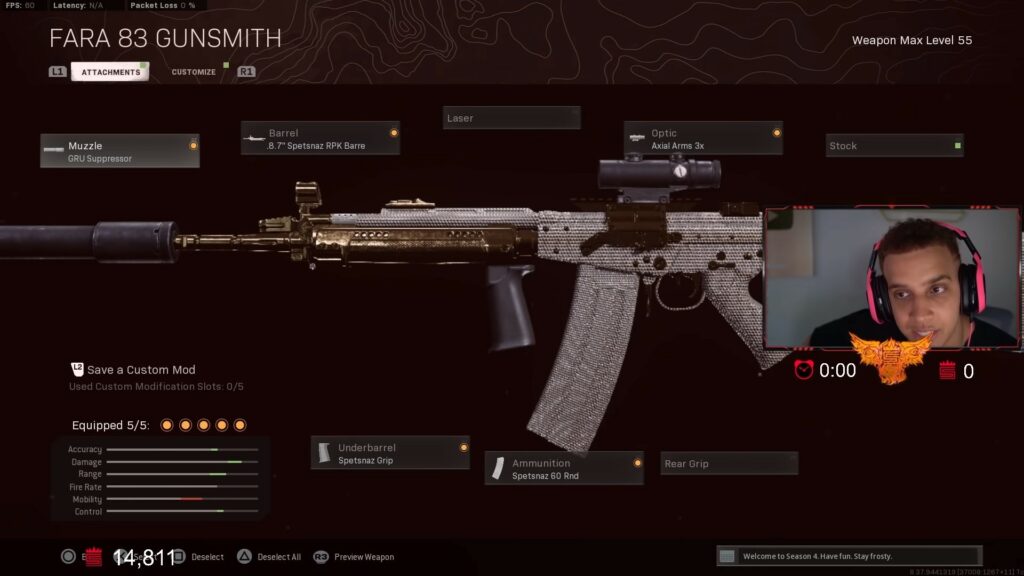 Here are the details of the FARA 83 class in Call of Duty: Warzone:
Muzzle: GRU Suppressor
Barrel: 18.7″ Spetsnaz RPK Barrel
Optic: Axial Arms 3x
Underbarrel: Spetsnaz Grip
Ammunition: Spetsnaz 60 Rnd
To see the streamer's FARA 83 conquer Verdansk from a distance, check out his official video down below:
READ MORE: Is ZLaner's C58 class the next best AR in Warzone?