Infinity Ward has announced a two-week delay to Season 2 of Modern Warfare II and Warzone 2.0.
Originally expected to release on February 1, following the expiration of the Season 1 battle pass, Season 2 will drop on February 15 instead.
The new season will bring big updates for both multiplayer and battle royale, and several fan-requested changes will be rolled out to improve the overall experience, according to the official Call of Duty Twitter account.
---
---
Modern Warfare 2 and Warzone 2.0 Season 2 release date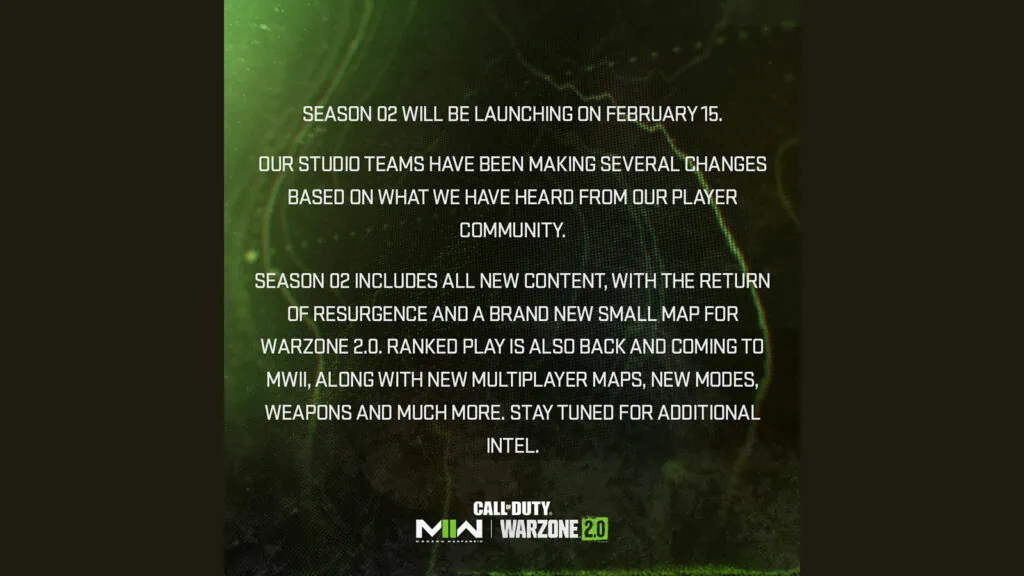 Come February 15, players can look forward to new content, including the return of Resurgence and a brand new small map for the battle royale mode.
Resurgence was a fan-favorite mode in the original Warzone that offered faster-paced gameplay compared to regular battle royale. If a member of your squad is still alive 20 seconds after your death, you can respawn again to rejoin your team.
This duration can be reduced if your teammates take down opponents and continue looting. This mechanic takes the Gulag out of the equation, and provides a quicker and more forgiving route back into the game.
For multiplayer, Infinity Ward is also introducing ranked play, the highly anticipated competitive mode that will give players an additional goal to work toward.
On top of that, the developer teased new multiplayer maps, new modes, weapons, and more, promising more details closer to the date.
READ MORE: Warzone circle explained: Multiple circles, splits, and merges