Updated on April 20, 10:42 a.m. (GMT+8): Added information on episodes and seasons.
Are you eagerly anticipating the release of Netflix's live-action adaptation of the beloved One Piece anime? The long-awaited television version is set to finally hit the streaming platform later this year.
But before you dive into the live-action version, why not revisit the humble origins of Monkey D. Luffy and his crew in the anime adaptation of Eiichiro Oda's iconic action-adventure masterpiece?
Yes, this is not a drill — seasons of the One Piece anime are on Netflix!
---
---
One Piece anime episodes are streaming on Netflix
Toei Animation's anime series, One Piece, has arrived on the streaming platform.
The first three seasons of the anime — East Blue, Entering into the Grand Line, and Enter Chopper at the Winter Island — can be binged on Netflix, with a total of 92 episodes.
Before this, the anime was only available in a few regions, including Japan and USA. Netflix Japan has all the seasons and complete episodes of the anime, while Netflix USA only has its first 10 seasons.
How to watch One Piece episodes on Netflix
To watch One Piece on Netflix, simply log in to your account on mobile, desktop, or TV. In the search bar on the upper right corner, search for "One Piece" or click on this link.
One Piece follows the adventures of a pirate named Luffy, together with his crew called the Straw Hat Pirates. They travel around the seas in search of a treasure known as One Piece, left by the legendary Pirate, Gol D. Roger.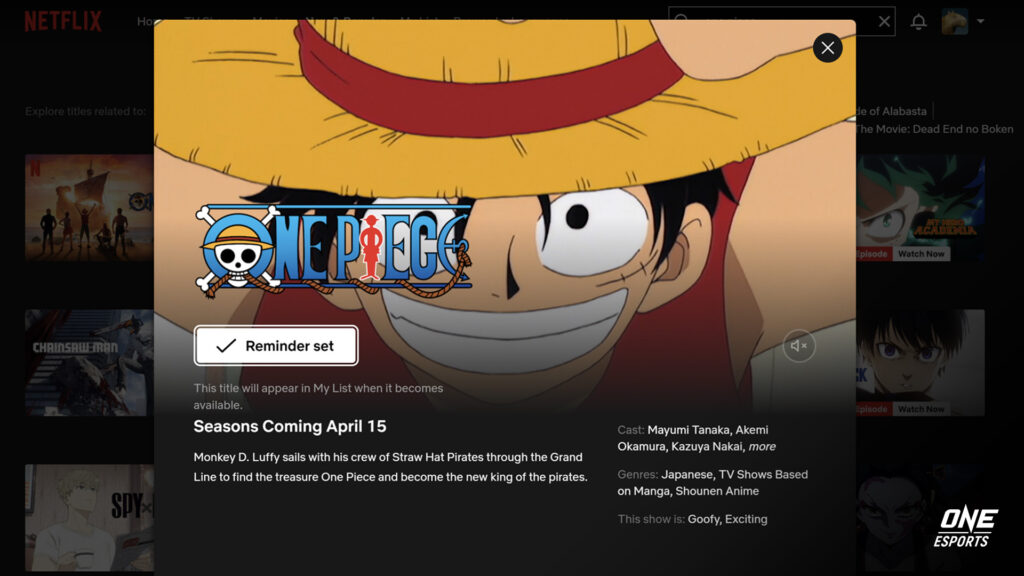 It is one of the most popular anime shows in the world, as well as one of the longest-running anime series with over 1,000 episodes. It is also considered one of the "big three" in anime alongside TV Tokyo's Naruto and Studio pierrot's Bleach, both of which are also on the streaming platform.
The anime and manga both have a huge following around the world, and have been featured in live attractions, movies, watches, and soon, television drama.
One Piece live-action will air this 2023. Check out the full cast and episode list here.
---
Follow ONE Esports on Facebook for more anime stories.
READ MORE: Alden Richards' massive Demon Slayer figure collection costs over US$11,000