Philippine representative Rex Regum Qeon (RRQ) is definitely one of the most fun teams to watch during Wild Rift Icons 2022. The Filipino squad has exuded nothing but good vibes during the live broadcast, smiling at the camera and busting out hilarious antics to break the tension on the international stage.
The team even put on an impromptu beatbox performance during their Group B opening match against Japanese team Sengoku Gaming, like a scene straight out of the musical movie "Pitch Perfect."
---
RRQ breaks into beatbox during Wild Rift Icons 2022 groups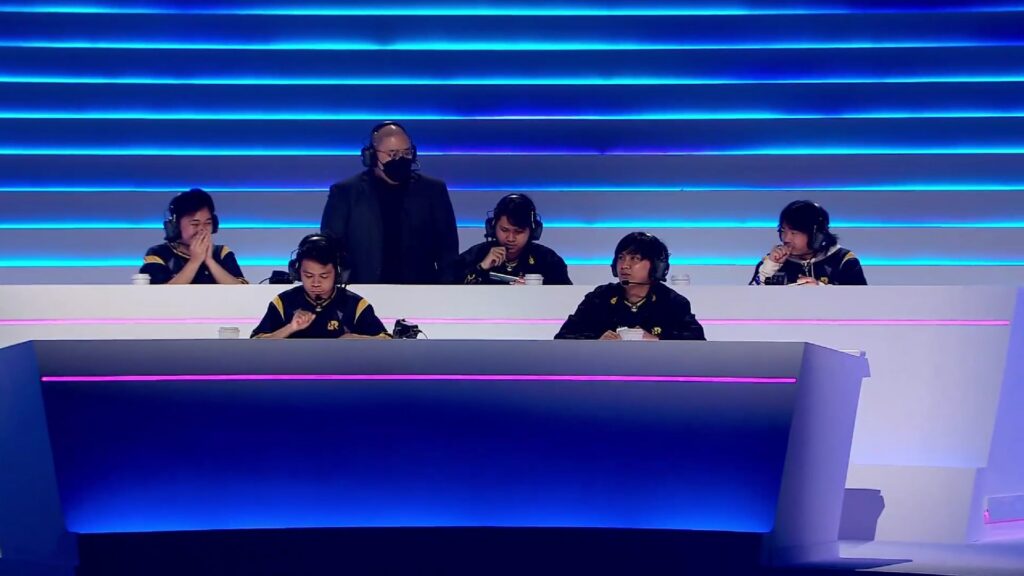 Rex Regum Qeon dominated game one of the best-of-two series, taking down Sengoku Gaming's Baron and Dragon turrets in the early game. Marc "Marky" Ilagan's Ziggs took the first blood, eliminating Kim "Hak" Do-yeop's Corki around the seven-minute mark.
While SG secured two Dragon buffs during the mid game, Sean "Helios" Palisoc's Camille split-pushed the Baron lane to destroy the Japanese team's inhibitor. The mid laner continued to apply pressure to Sengoku Gaming's side of the map, demolishing a second inhibitor and eventually the Nexus to take game one 1-0.
---
---
With the momentum at their backs, RRQ suddenly started beatboxing while waiting for game two's drafting phase to begin. Led by Helios, the team performed Michael V.'s "Anghang," a parody of Black Eyed Peas' "My Humps." Michael V. or Bitoy is a Filipino comedian and actor known for his musical spoofs.
Baron laner Keith "DevilJ" Gonzales even belted out the lyrics by heart. At the same time, Charles "Chaazz" Esguerra served as the background singer while Marky drummed on the table to provide percussion in the performance.
However, the act was soon cut short — the team was all business again once the pick and ban phase started to usher in game two.
---
---
Fans witnessed a more fast-paced match in game two, with DevilJ's Riven taking the first kill, deleting Toshihiro "Kai" Shibuya's Renekton before the one-minute mark. The Filipino team showed their aggression and scored an Ace in the mid game, then went straight to kill the Baron Nashor and end the series 2-0 against Sengoku Gaming.
Fans can watch the full series here:
---
---
Follow ONE Esports on Facebook for more Wild Rift news, interviews, and more.
READ MORE: New Star Guardian Kai'Sa skin? Every clue and Easter egg we found