Riot Games has immortalized one of the most memorable moments at Valorant Champions 2022 with a new Easter egg on Fracture.
In OpTic Gaming's group stage opener against BOOM Esports, both teams faced off on the deciding map of Fracture, where Austin "crashies" Roberts pulled off arguably the best ace in Valorant history.
BOOM were making an attempt to rotate on their attacking half, with all five members hopping onto the zipline. That turned out to be a fatal decision — crashies' was waiting on the other side, calming tapping with the Vandal.
In the blink of an eye, BOOM were obliterated, each member falling off the ropes and into the abyss below.
It was both tragic and downright hilarious. We'll probably never witness that happen ever again on the competitive stage, which is why it seems so appropriate that Riot is paying tribute to that moment on the map itself.
---
---
Where to find crashies' Easter egg on Fracture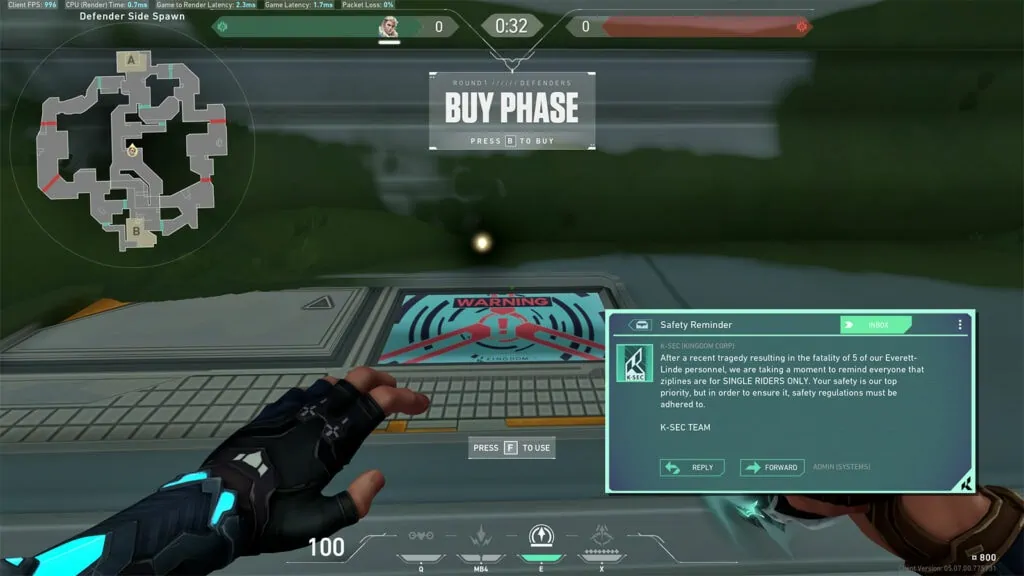 The Easter egg takes the form of an email message that can be found in the defender spawn, and you can interact with it during the Buy Phase.
It talks about the unfortunate death of five Everette-Linde personnel — a cheeky reference to the BOOM players.
"After a recent tragedy resulting in the fatality of five of our Everett-Linde personnel, we are taking a moment to remind everyone that ziplines are for single riders only," the email reads. "Your safety is our top priority, but in order to ensure it, safety regulations must be adhered to."
This is similar to the way Valve has memorialized iconic plays in CS:GO on specific maps. For instance, Overpass sports a sign in German that translates to "Don't climb over the railing!" — a nod to Olof "olofmeister" Kajbjer's controversial boost spot that helped Fnatic come back against LDLC.
Similarly, Mirage's B site has graffiti featuring a winged AWP with four skulls over it, paying homage to Marcelo "coldzera" David's jumping quad-kill in apartments.
It's pretty neat that Riot is celebrating some of the biggest moments on the competitive stage on the map itself. And as Valorant continues to grow and mature, we can perhaps look forward to more such tributes to the most iconic plays.
READ MORE: Sentinels Syyko on roster rebuild: 'We're going to assemble a super team'