South Korean esports organization T1 may have finalized their Valorant roster for next year.
The Pacific league team is looking to re-sign former The Guard star Ha "Sayaplayer" Jung-woo, according to BLIX.gg's Alejandro Gormis.
Bleed Esports' data analyst Sushant "Ominus" Jha also reported that T1 are close to signing former DRX player Kim "Lakia" Jong-min to finalize their roster.
The two newcomers would join Son "xeta" Seon-ho, Byeon "Munchkin" Sang-beom, and Joseph "ban" Seungmin Oh as the organization prepares for the VCT 2023 season.
---
---
T1 looks to sign Sayaplayer and Lakia for VCT 2023 season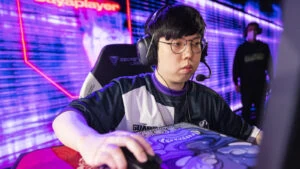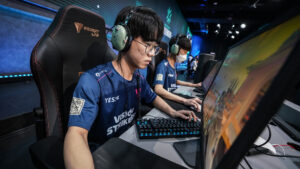 After unsuccessful runs in the North American region, the organization is set to move to South Korea after securing a partnership spot in the Pacific league next year.
And with VCT 2023 rules only allowing one import player, North American players Joshua "steel" Nissan and Zander "thwifo" Kim are also departing the active roster.
T1 is now looking to bring back Sayaplayer, a Korean Overwatch star who first joined their North American Valorant team at the start of the VCT 2021 season. But things only clicked in place for him in 2022. The 24-year-old rose to prominence with The Guard, winning VCT NA Stage 1 Challengers and finishing second in the VCT NA LCQ.
Finally, fans saw why he had been considered such a fearsome force in Overwatch on heroes like Widowmaker.
To complete their roster, T1 looks to also sign Lakia, the former sixth-man of Korean powerhouse squad DRX. The 21-year-old has played mainly in Japan and Korea in 2022, joining IGZIST at the start of this year. However, the Japanese squad ultimately fell behind top teams in the region like Zeta Division, Northeption, and Crazy Raccoon.
At the end of the season, Lakia returned to Korea after he was loaned to DAMWON Gaming by IGZIST.
T1's agent roles for each player remain uncertain with several role overlaps. Xeta, a former Cloud9 player, is an initiator main just like Lakia.
Meanwhile, Ban also plays the same duelist and Chamber position that Sayaplayer is best known for. As it stands, the team is also missing a controller player with Munchkin being a sentinel main.
This means someone in the team could have to take up a new role before they make their international debut in February during the 30-team kickoff tournament in São Paulo, Brazil.
READ MORE: Sentinels rebuild: ShahZaM out, XSET star zekken in