Valorant patch 4.04 didn't just shake up the game's controller meta with major nerfs to Astra and Viper. It also fleshed out fascinating bits of each agent's backstory with agent dossiers hidden in various maps in Valorant, which are potentially linked to the next Valorant agent.
In Episode 4 Act II, Brimstone and his Valorant Protocol team continue to be menaced by a hacker who seems to know everything about the agents. He thinks the team is up to no good, and is threatening to release sensitive details to the public.
To show that he means business, he's hidden dossiers on six agents in different maps in Valorant. For the first time, Riot has revealed the full names of select agents, complete with a tantalizing peek into their past.
---
---
All the interactive agent dossiers in Valorant
| | |
| --- | --- |
| AGENT/NAME | MAP |
| Brimstone/Liam Byrne | Ascent |
| Chamber/Vincent Fabron | Fracture |
| Viper/Sabine Callas | Bind |
| Raze/Tayane Alves | Breeze |
| Omen/Redacted | Split |
| Sage/Ling Ying Wei | Icebox |
All six dossiers are found in the defenders spawn area on their respective maps. They take the form of a red envelope stamped with the blackmailer's signature eye emblem, and you can interact with them during the Buy Phase by pressing the "F" key.
Unfortunately, Omen's full name is still listed as redacted, further adding to the mystery behind the man. It's not for the lack of trying on the part of the blackmailer. "First Light was not kind to you, John. Or was it Fred? Everywhere I look, a new alias," he wrote. "But no true name. Do you even know who you were?"
Interestingly enough, both the blackmailer and Viper refer to Omen as John, which hints that that might actually be his real name. "Joh- I mean, Omen. Keep yourself together, you're still needed," Viper says when Omen is on her team.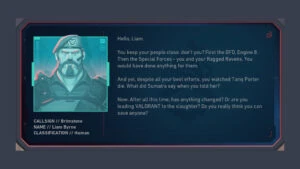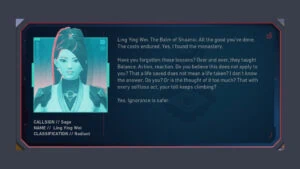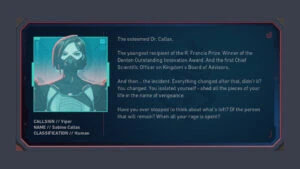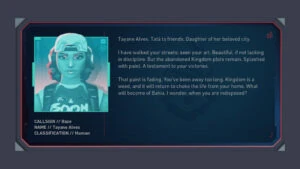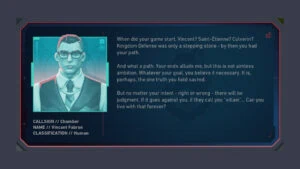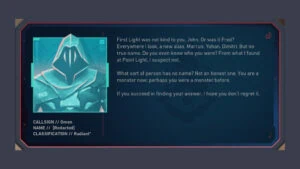 Viper's file also alludes to an "incident" that led to her resigning as Chief Scientific Officer on Kingdom's Board of Advisors. The leading theory is that this is the accident that resulted in Omen being ripped apart and killed.
The dossiers also drop a few interesting nuggets of information about agent abilities. In Sage's file, the blackmailer questions if Sage wonders whether a life saved means a life taken, which echoes a similar voice line from Omen.
When the two agents are on the same team, Omen asks at the start of the round, "Sage, the life you give. Do you ever wonder where it's taken from?"
This seems to suggest that Sage's powers of healing and resurrection are not so benign after all, and she may in fact be taking life from somewhere else.
Six more agent dossiers have shown up in Valorant's Public Beta Environment as well, pertaining to Killjoy, Cypher, Skye, Breach, and Sova. These will likely drop in the next Valorant patch, shedding more light on the stories of these agents.
READ MORE: 5 hilarious times Yoru players pretended to be their decoy and it worked