Moonton's latest Mobile Legends: Bang Bang skin collaboration will definitely put a smile on your face.
The MLBB Sanrio characters skins feature Angela, Chang'e, Floryn, and Claude taking on thematic elements from their chosen counterparts. Full of vibrant, bright colors, all of them look absolutely adorable in their specially designed costumes.
Here's the full list of MLBB heroes, their Sanrio character pair, and a preview of their skins.
---
---
Preview of MLBB Sanrio characters skins
| | | |
| --- | --- | --- |
| SKIN NAME | MLBB HERO | SANRIO CHARACTERS SKIN IS BASED ON |
| Heartstring | Angela | Hello Kitty |
| Moon Artist | Chang'e | Pompompurin |
| Fluffy Dream | Floryn | Cinnamoroll |
| Bad Bro | Claude | Badtz-Maru |
Heartstring Angela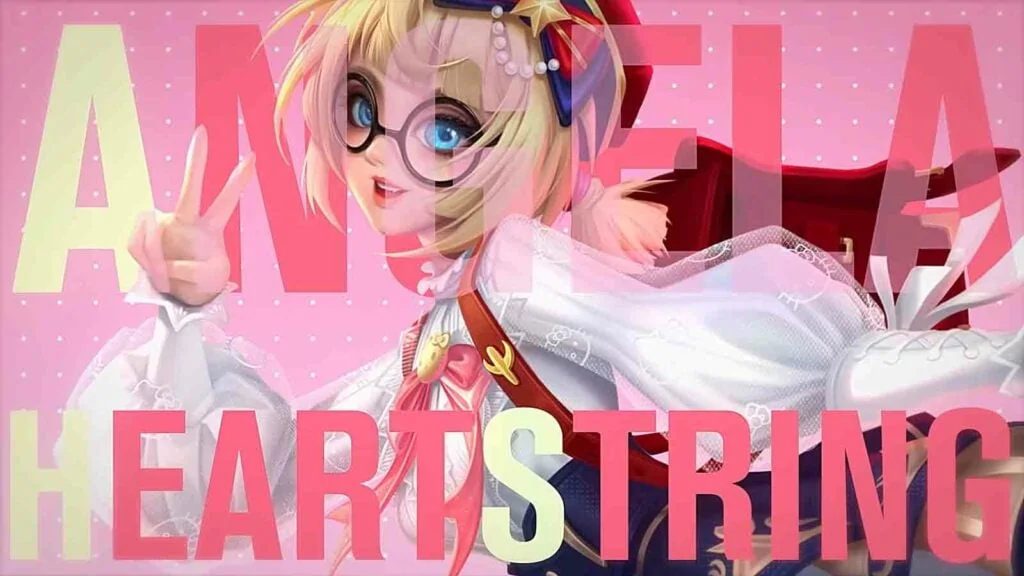 "Pretty kitty, happy kitty," says Angela.
Representing the most famous Sanrio character of all, Angela is the perfect candidate because she is also a puppet doll. In this Heartstring Angela skin, she captures Hello Kitty's signature red, white, and blue colors in a fashionable Japanese-styled Harajuku outfit.
Hello Kitty's signature bow has been pinned as a hairpiece above Angela's forehead, who also tied up her hair in double ponytails for the extra kawaii-ness. Hello Kitty herself appears in gold as a bow on her chest, which stands out from her lace white blouse.
Does this skin tug on your heartstrings?
Moon Artist Chang'e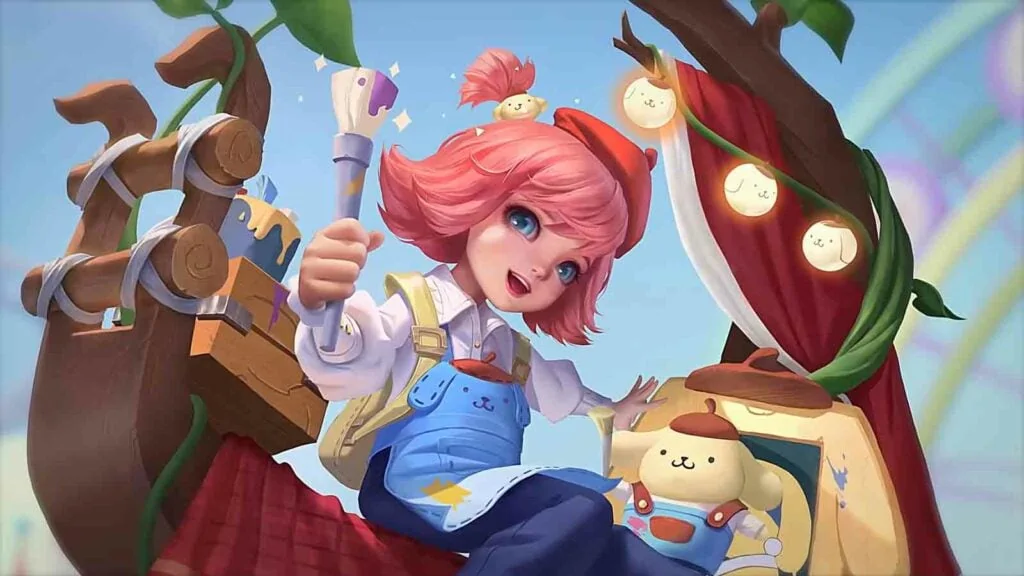 Chang'e and every single one of her skins already reek of cuteness, and Moon Artist is no different.
In this MLBB Sanrio characters skin collaboration, she shares the spotlight with Pompompurin, a golden retriever character who wears a signature brown beret.
His face has been cleverly sewn into the design of her blue smock, which matches her big baby blue eyes. She also wears his trademark beret that goes well with her short, playful watermelon pink hair.
Fluffy Dream Floryn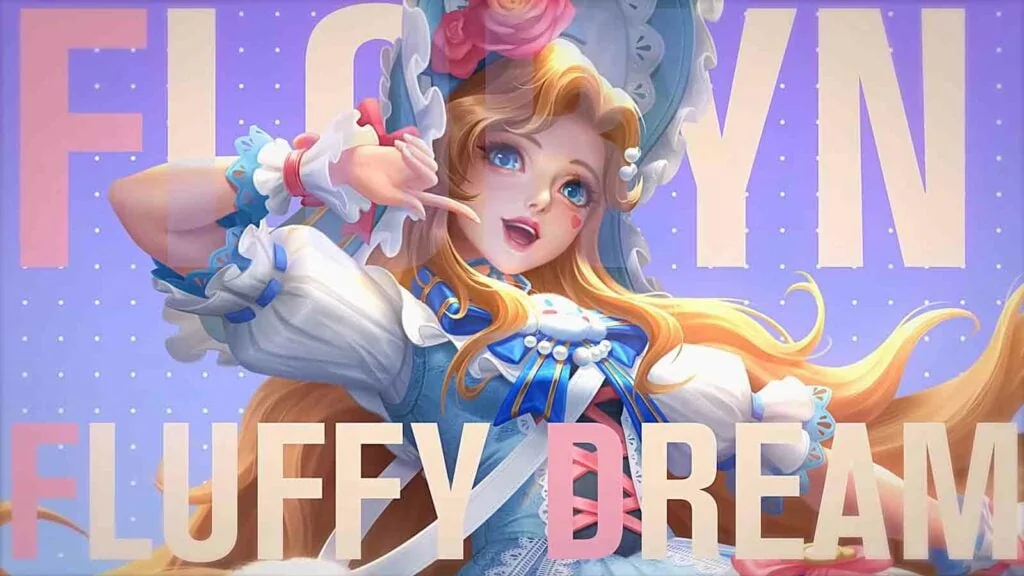 Fluffy Dream will be support hero Floryn's second skin after Springtide.
In this MLBB Sanrio characters skin collection, her maid cafe outfit uses blue and white as a base, Cinnamoroll's key colors, with layers of overflowing lace at the hems.
Looking as sweet as ever, Fluffy Dream Floryn wears a big Cinnamoroll bow in the middle of her chest, the centerpiece of her outfit, paired with a flirty bonnet topped with two pink roses.
Bad Bro Claude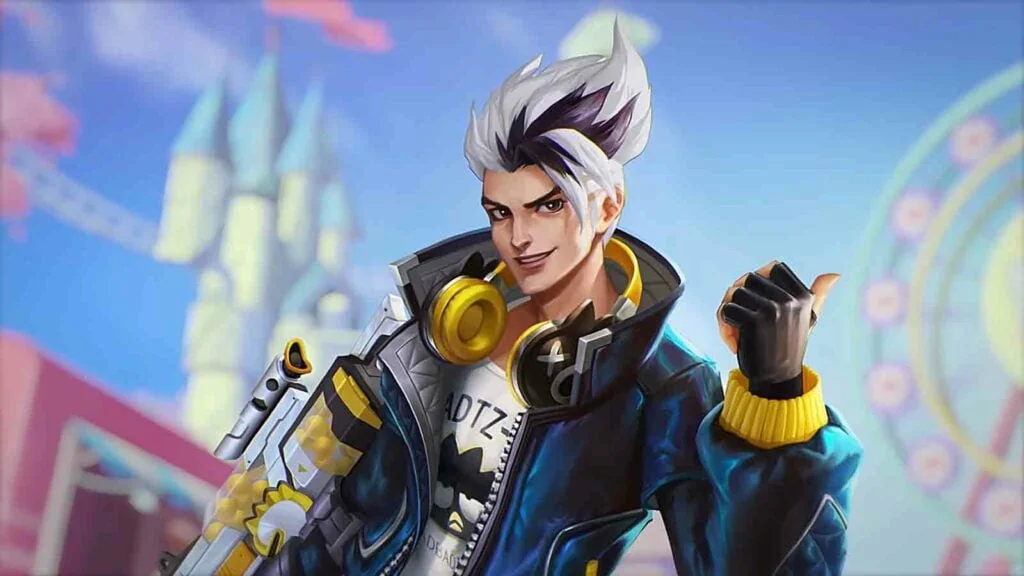 The only male hero in this MLBB Sanrio characters skin collection is Claude. Playful and mischievous, Claude's personality is similar to Badtz-Maru, and they definitely make a good pair.
Maru is a male penguin with brown spikey hair and we love how Claude too made the effort to use an insane amount of hairspray to keep his crown of hair up.
Wearing a printed shirt with Badtz-Maru's face and large headphones that outline his shape and color, the game developers took the liberty to enrich his brown and yellow palette with a dash of denim blue that adds another layer of coolness to Claude's streetwear.
Watch the full MLBB Sanrio characters skins trailer here:
Follow ONE Esports on Facebook for more Mobile Legends news, updates, guides, and more.
READ MORE: Melissa's skills revealed, confirms she's an introvert with dolls for BFFs