LPL second seed JD Gaming completed their Worlds 2020 Group B run finishing just behind DAMWON Gaming with a 4-2 record. It was a rollercoaster ride as JDG dropped a 26-minute loss to PSG Talon, then came back the next game to hand LCK's first seed their first loss in the tournament.
Before the second round robin, PCS representatives PSG Talon were winless. In the rematch against JD Gaming however, they secured first blood, first tower, all four dragons of the game, and ended with 11 kills to just one.
Picking Kayle top, Graves jungle, Galio mid, Ezreal bot, and Karma support, JD Gaming's draft against PSG Talon was heavily criticized by viewers. JD Gaming practically handed over both Ornn and Syndra to PSG Talon — champions that are typically picked or banned at Worlds due to how strong they are in the current meta — and a Caitlyn-Lux duo lane.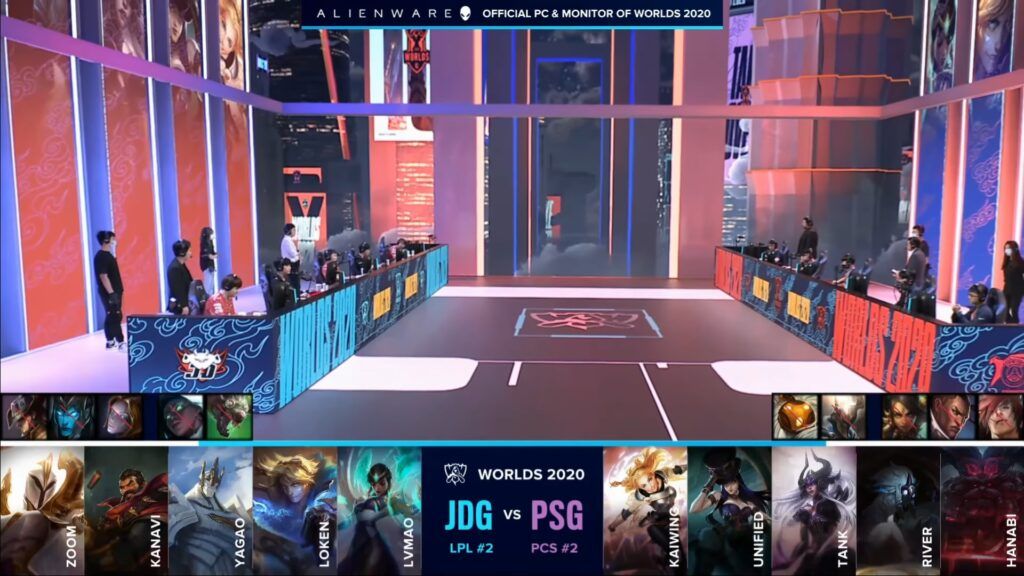 "I have to admit we were letting out guard down against PSG Talon. I just wanted to give the champions that the players wanted to play. At the same time, we didn't ban out most of the OP champions, so it's all on me and my bad," JDG coach Yoon "Homme" Sung-young told ONE Esports.
"Our comp basically had no CC. We had late game scale picks, so we were really weak into the opponent's comp."
In that game, PSG also read JD Gaming's level one tactics like a book. JDG sent five members to bot lane, but PSG had already set up in the bush. Snaring Zuo "LvMao" Ming-Hao's Karma, JDG gave up first blood less than a minute in.
This unsuccessful level one strategy is reminiscent of their debut loss to DAMWON Gaming in the first round robin, where DWG flouted their delayed jungle invade at bot. Both of these games ended in defeat.
"In my point of view, JDG is not a team to make such mistakes. I guess the players were less composed, but since we did make mistakes, we'll work on them and get rid of them to become a team that never makes those mistakes," said Homme.
---
---
When asked to assess JD Gaming's current strength after competing in Group B, Rogue support Oskar "Vander" Bogdan said on the LoL Esports broadcast that their current performance on stage is below their performance in scrims.
Coach Homme agreed, and thought that the second round robin showed that JDG were "not good enough to let our guards down." Taking it upon himself and assuming responsibility, he explained his style of leadership.
"I want the players to do their best in every game and every situation. We were not a team that had huge success before, so after having a huge success [in Spring], we [started] getting more sponsors. We [had] to do a lot of shoots and everything affected our performance," said the coach.
In between the end of LPL Summer Split and Worlds, JD Gaming were involved in two fashion photoshoots, one with Harper's BAZAAR, and another with ELLE MEN, which included Homme.
"The photoshoot was quite okay, but it was a bummer I gained too much weight after I moved to China, which is a bit frustrating. But they did a lot of work on our makeup. Wearing those cool clothes actually turned out to be super nice," shared Homme.
JD Gaming joins Group A first seed Suning as LPL representatives moving into the quarterfinals. Even though they dropped a game to PSG Talon, they had a highly competitive match against DAMWON which shattered their perfect 6-0 dream.
As the team advances, Homme thinks that the second half of Groups will help JDG stay more focused as they pour everything into the upcoming series.
"Above everything else I want to say this: I have to lead the players to have the biggest desire for victory. [If] there were some circumstances [in which] I was unable to make it happen, it's all on my leadership."
READ MORE: 'We were confident we would win the rest of the matches,' says JDG's LvMao after opening day loss