After missing Mid-Season Invitational (MSI 2022), League of Legends European Championship (LEC) host Eefje "Sjokz" Depoortere is back on the international stage. She will be a part of the on-air broadcast talent for the upcoming League of Legends World Championship (Worlds 2022), which kicks off on September 29.
Her fellow LEC talents will be joining her on the desk, as well as other renowned League of Legends Championship Series (LCS) personalities like Clayton "CaptainFlowers" Raines and David "Phreak" Turley.
During the Play-Ins, Riot Games will use the LCS Studio in Los Angeles, California, and then hit the road for the remainder of the tournament. This will be LoL Esports' first in-venue coverage since 2019 after following remote broadcast setups due to the COVID-19 pandemic.
---
---
Worlds 2022 on-air broadcast talent
REGION
BROADCAST TALENT
NA
James "Dash" Patterson
David "Phreak" Turley
Clayton "CaptainFlowers" Raines
Sam "Kobe" Hartman-Kenzler
Isaac "Azael" Cummings Bentley
Joshua "Jatt" Leesman
Barento "Raz" Mohammed
Emily Rand
Julian "Pastrytime" Carr
Mark "MarkZ" Zimmerman
EU
Eefje "Sjokz" Depoortere
Laure "Bulii" Valée
Trevor "Quickshot" Henry
Daniel "Drakos" Drakos
Andrew "Vedius" Day
Marc Robert "Caedrel" Lamont
Mikkel "Guldborg" Guldborg Nielsen
KR
Max "Atlus" Anderson
Maurits "Chronicler" Jan Meeusen
CN
Jordan "Lyric" Corby
Oisín Molloy
Robert "Dagda" Price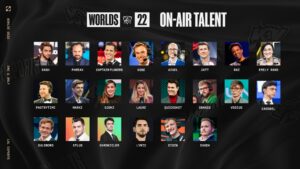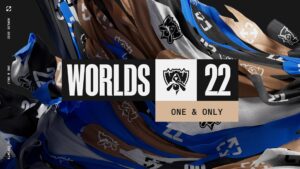 Worlds is scheduled to take place from September 29 to November 5 around North America. League of Legends fans can watch the matches live on Riot Games' official channels on Twitch and YouTube.
READ MORE: Exclusive: Inspired believes RNG are even better at this than Suning was at Worlds 2020